Tens of thousands have signed a petition calling for the Vatican's ambassador to the United States to resign over the claim that he arranged a  controversial meeting between Pope Francis and defiant Kentucky Clerk Kim Davis.
A petition created by Faithful America, a liberal Christian group, takes aim at Archbishop Carlo Maria Viganò, 74, the papal envoy to the U.S., calling the invite to Davis "a mean-spirited insult to the Kentucky couples whose marriage licenses she has tried to deny."
The text calls for Viganò to "resign immediately," and to allow Pope Francis to select a new apostolic nuncio.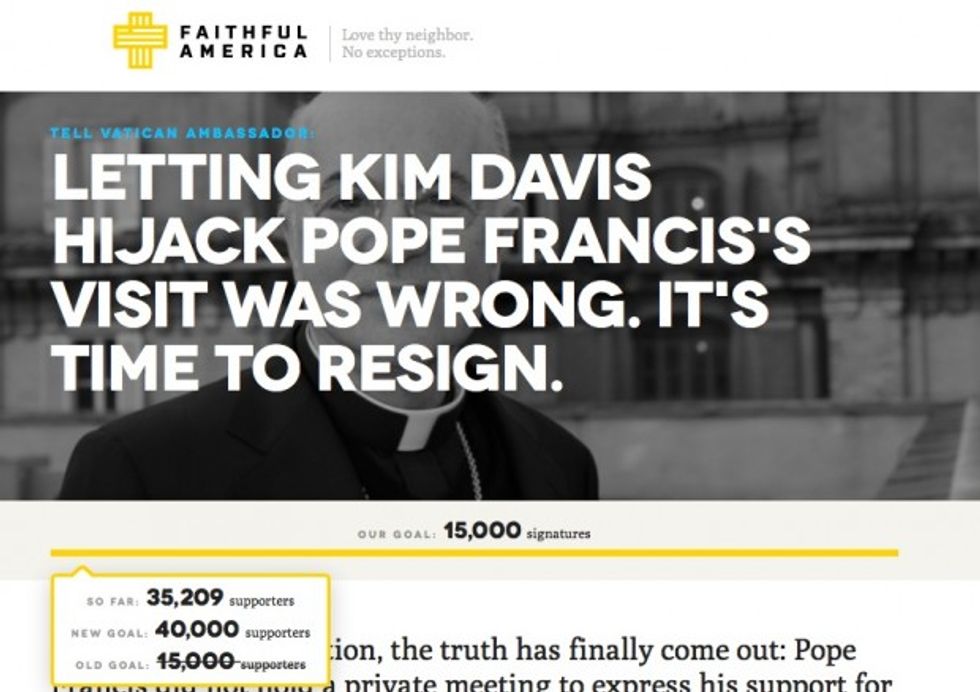 A screen shot from the petition
"According to press reports, one man was likely responsible for Davis's invitation: Carlo Maria Vigano, a conservative church official who was appointed by Pope Benedict as Vatican ambassador to the United States," a description of the petition reads. "Having created an opportunity for right-wing evangelicals to dishonestly hijack the message of the pope's visit to the United States, Vigano must now resign."
Faithful America blew past its initial goal of 15,000 signatures and has set a new goal of 40,000, with more than 35,000 already signing on to the call for Viganò's departure.
Critics of the meeting between Davis and the pontiff took aim at Viganò, who was named in an October 2 New York Times report as the potential key figure behind setting up the controversial encounter.
Debate has surrounded the September 24 meeting, which took place at the Vatican embassy in Washington, D.C., as some have wondered whether the pontiff was properly briefed about Davis' case beforehand.
Following days of controversy, the Vatican issued an important caveat about the meeting: The encounter "should not be considered a form of support of her position."
"The pope did not enter into the details of the situation of Mrs. Davis and his meeting with her should not be considered a form of support of her position in all of its particular and complex aspects," read the Vatican statement from the Rev. Federico Lombardi, according to the Associated Press.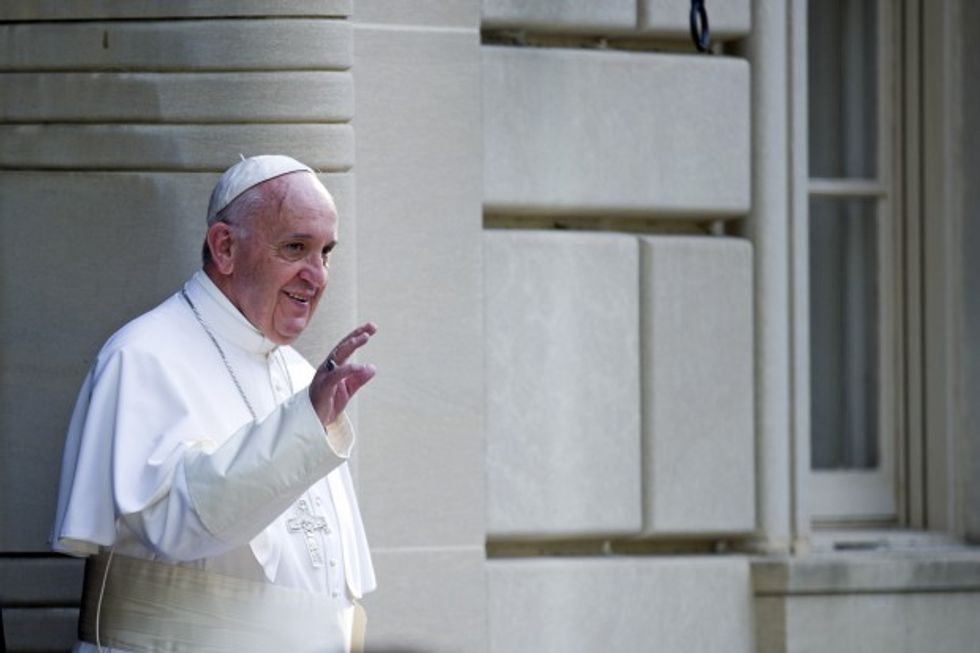 Pope Francis waves as he departs the Apostolic Nunciature, the Vatican's diplomatic mission in Washington, Thursday, Sept. 24, 2015, en route to the Capitol to address a joint meeting of Congress. (AP Photo/Cliff Owen)
The Vatican provided few details about the meeting, though Davis — the Kentucky clerk who made headlines for refusing to issue gay marriage licenses in her name — provided her own account through attorneys at the Liberty Counsel.
A statement issued by the legal firm last month said that Pope Francis met with Davis and her husband, Joe, on September 24, and that the pontiff spoke to the couple in English.
"Thank you for your courage," the pope told Davis, according to the Liberty Counsel. "Stay strong."
The statement said the two "embraced" and each asked for prayer. Expressing his gratitude to Davis, Francis also gave both Kim and Joe Davis each a rosary that he had blessed.
As TheBlaze previously reported, while the Vatican cautioned that the meeting should not be evidence of Pope Francis' position on all aspects of Davis' case, the pontiff uttered some words on Monday about the issue more generally that had many contending that he does, indeed, support her general right to refuse service based on her religious perspective.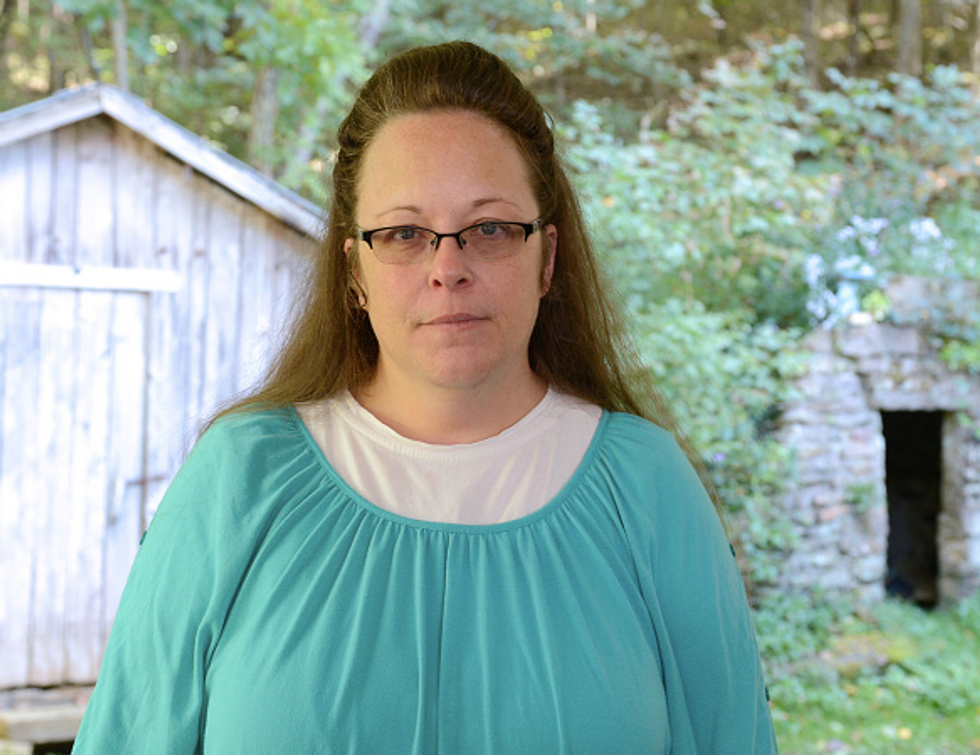 Kentucky clerk Kim Davis (Ida Mae Astute/ABC via Getty Images)
When asked aboard the papal plane whether he supports individuals who refuse to violate religious conscience as in the cases of those who decline to grant gay marriage licenses, the pontiff seemingly offered up support for people like Kentucky clerk Kim Davis, NBC News reported.
"I can't have in mind all the cases that can exist about conscientious objection … but yes, I can say that conscientious objection is a right that is a part of every human right. It is a right," he said in remarks that were translated by pool reporters. "And if a person does not allow others to be a conscientious objector, he denies a right."
Pope Francis also expressed his belief that such protections should be built into judicial systems.
"Conscientious objection must enter into every juridical structure because it is a right, a human right," he said. "Otherwise we would end up in a situation where we select what is a right, saying, 'this right that has merit, this one does not.'"
The pontiff did not name Davis or anyone else for that matter in making these remarks, though he did extend them to government workers.
"It is a human right and if a government official is a human person, he has that right," he said. "It is a human right."
(H/T: Huffington Post)