The Coast Guard has told family members it is ending its search for 33 missing crew members from a U.S. cargo ship that sank last week during Hurricane Joaquin.
The father of a missing crew member said the Coast Guard will end its search for survivors from the El Faro at 7 p.m. Wednesday. Robert Green, father of LaShawn Rivera, said the Coast Guard informed relatives Wednesday afternoon.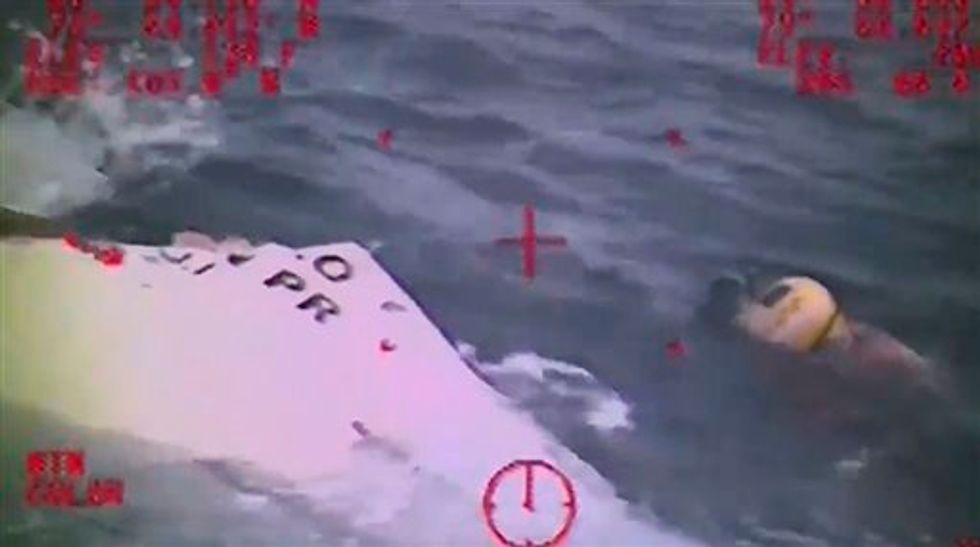 In this Sunday, Oct. 4, 2015 photo made from video and released by the U.S. Coast Guard, a Coast Guard crew member investigates a life boat, that was found from the missing ship El Faro. (U.S. Coast Guard via AP)
The 790-foot cargo ship sank Thursday off the Bahamas during Hurricane Joaquin, a Category 4 storm with 140 mph winds that was producing 50-foot waves. Officials say the ship's captain had plans to go around the storm as he headed from Jacksonville, Florida, to Puerto Rico but the El Faro suffered unexplained engine failure that left it unable to avoid the storm.
Three Coast Guard cutters, two C-130 aircraft, helicopters, three commercial tugboats and a U.S. Navy plane were searched across a 300-square-mile expanse of Atlantic Ocean near Crooked Island in the Bahamas. The searchers found a body in a survival suit, but were unable to retrieve it. They also found an empty life raft, empty survival suits, a life ring and other debris.
The water in the area is 15,000 feet deep.