An outrageous new video encouraging Palestinians to launch knife attacks on Jews was posted by Hamas on social media Tuesday.
The dramatization, which called an Palestinians to begin a new "intifada" and "free Al-Aqsa" (that is, Jerusalem), came in a week in which Palestinians attacked multiple Jewish Israelis, including a deadly stabbing spree in Jerusalem Saturday night killing two rabbis.
YouTube removed the video from Hamas' channel Wednesday morning, noting that it had violated YouTube's policy of promoting hate speech. However, the pro-Israel blog Elder of Ziyon posted it again to highlight Hamas' incitement to violence.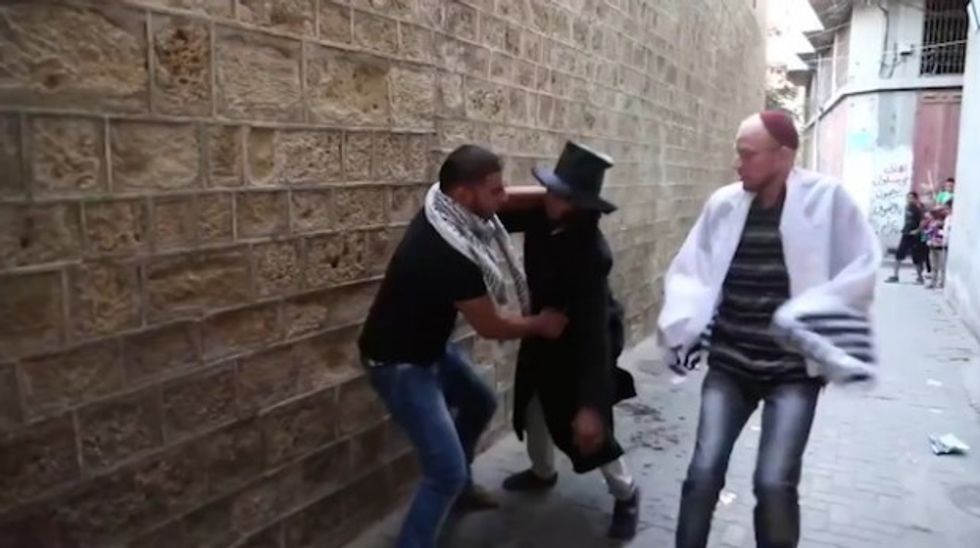 Image source: YouTube
"Disgusting video encourages Arabs to murder Jews," the blog noted, adding that Hamas was specifically targeting "not Israelis — Jews."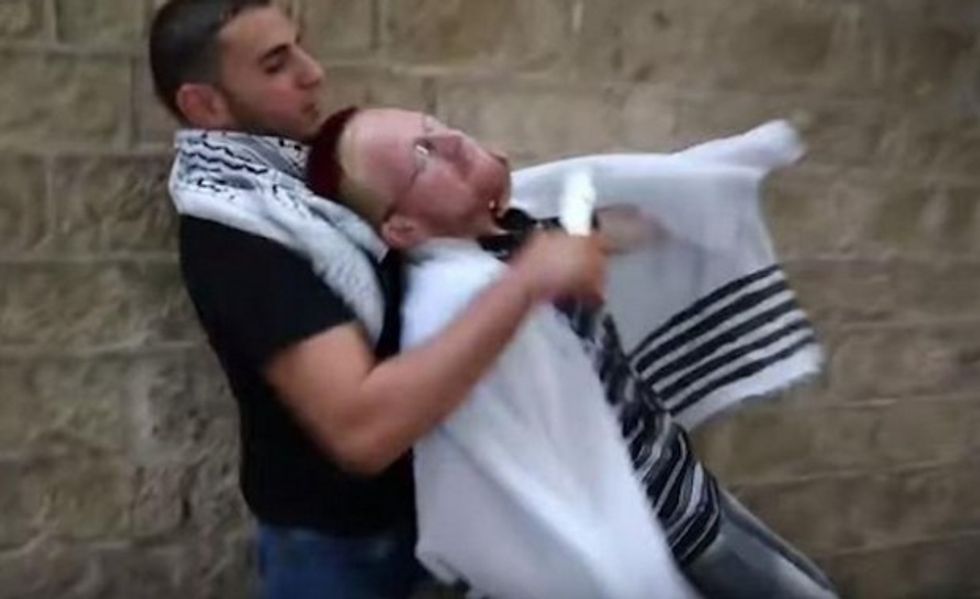 The Arab attacker puts a knife to the throat of his second victim, wearing a traditional Jewish prayer shawl. (Image source: YouTube)
In the video, the Jewish characters, dressed in stereotypically religious clothes, are portrayed as bullies, knocking over Palestinian boys playing in an alley that bears an uncanny resemblance to the alleys of Jerusalem's Old City. The actions of the "Jews" in the video upset a nearby Arab man wearing a keffiyeh scarf around his neck, who then brandishes a knife and waits surreptitiously for the evil caricatures to walk past.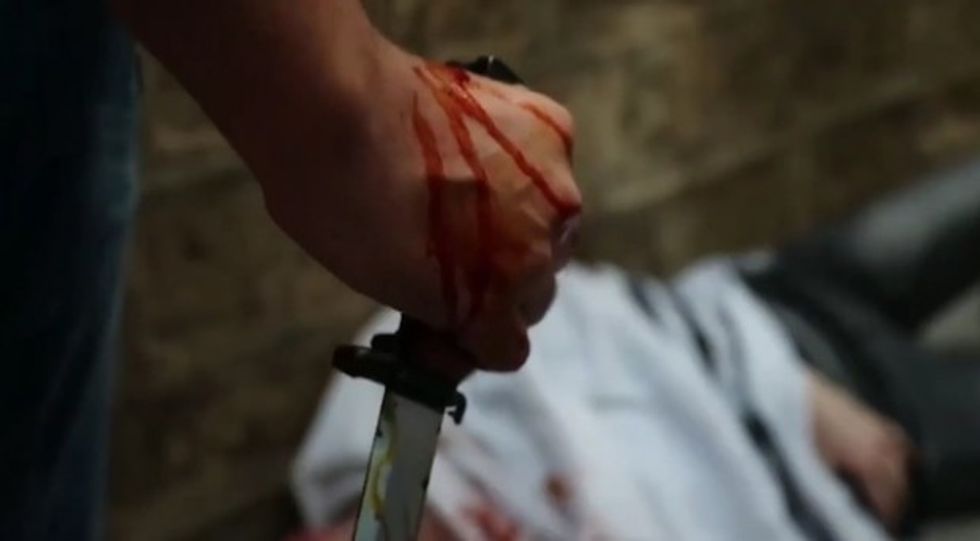 Image source: YouTube
The Arab man stabs one man in the heart and then chases the other. Once he catches up to the second "Jew," he slashes the man's throat.
(Content warning: disturbing images.)
On Wednesday, one day after the original video was posted by Hamas, two Israelis were stabbed in separate knife attacks.
In Jerusalem, an 18-year-old Palestinian woman stabbed an Israeli man in the back at the entrance to the Old City. The Times of Israel reported that her victim responded by shooting her, injuring her critically.
Shortly after, in the city of Kiryat Gat, an Arab man stabbed and grabbed the gun of an Israeli Defense Forces soldier, according to the Jerusalem Post. The suspect fled to a nearby building where he was shot by police, an Israeli police spokesman said. Israel media reported that the attacker died of his wounds.
Besides the stabbing attacks, over the past month, an Israeli man, Alexander Levlovitz, 64, was killed in a September rock-throwing attack on his way home from a holiday meal celebrating the Jewish new year, and last week, Eitam and Naama Henkin were shot to death in their car by Palestinian men while four of their small children looked on.