It wasn't your everyday social media post from a 15-year-old high school student.
"One million retweets and I'll blow up the school," Devon Foster allegedly tweeted Sept. 4 while in the nurse's clinic at Florida's New Smyrna Beach High School.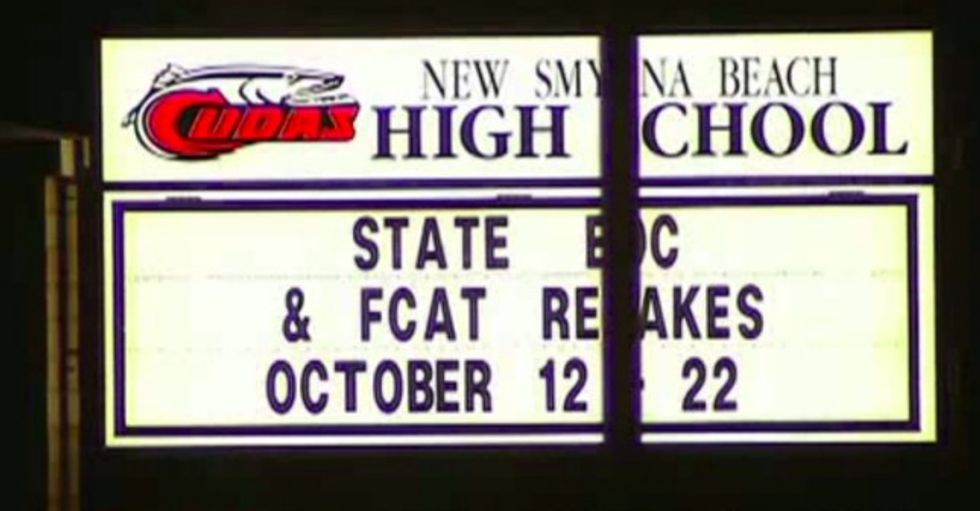 Image source: WFTV-TV
While investigators said Foster deleted the tweet after a minute, he followed it up with a photo of the inside of a mouth, declaring "strep throat + three day weekend = suicidal thoughts or actions."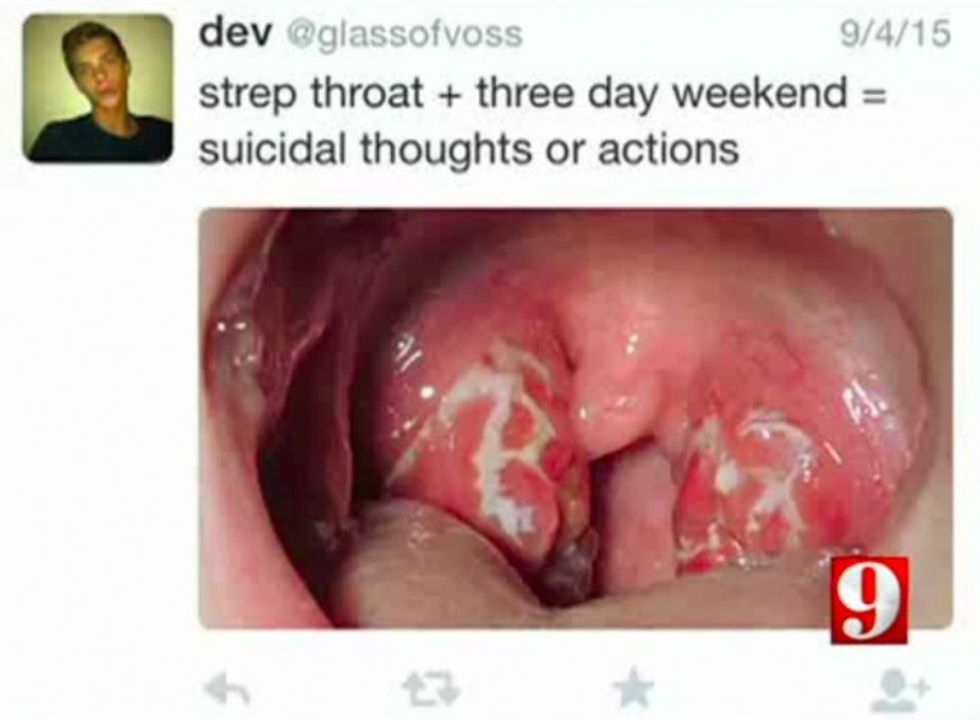 Image source: WFTV-TV
So the authorities paid Foster a little visit in class, WFTV-TV reported.
While he didn't cop to any violent plans, Foster was expelled over the threats' serious nature, the station said.
It got worse for the Edgewater teen, who was arrested Monday after admitting he was plotting a bombing and a mass shooting at the school, according to Andrew Gant, spokesman for the Volusia County Sheriff's Office.
He's charged with four counts of making threats to discharge a destructive device and one count of making written threats to kill or do harm, WFTV reported.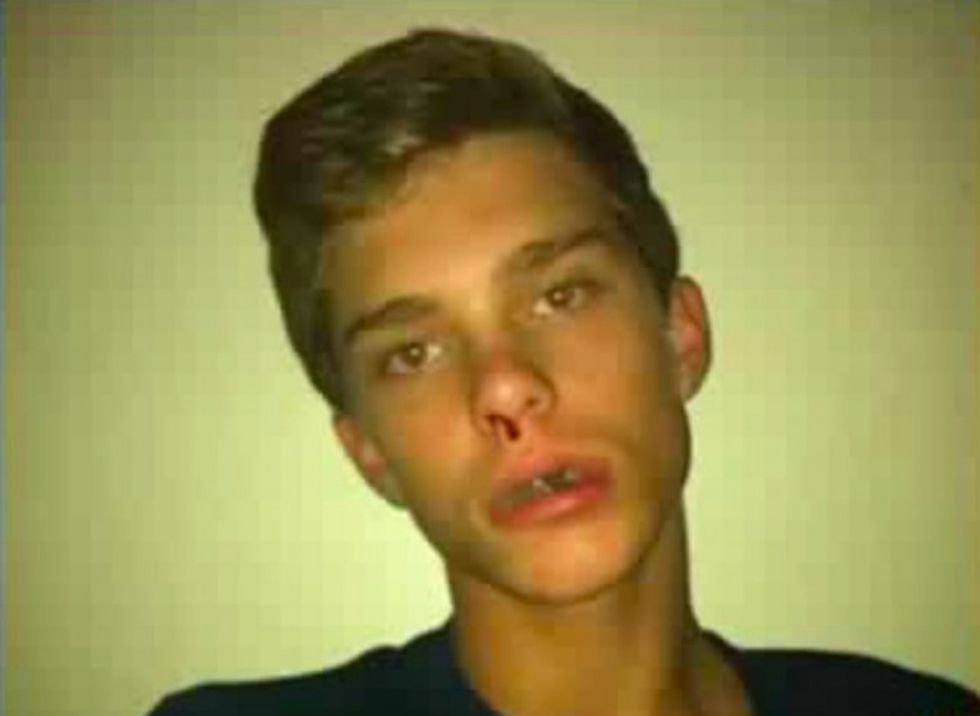 Image source: WFTV-TV
And it turns out investigators found a lot more on Foster's phone than those two tweets.
"Deputies seized Foster's phone for a forensic examination and extracted hundreds of pages of text messages, web postings and photos," Gant said. "Foster wrote multiple entries about how first responders and school administrators 'always forget the explosives' and illustrated making and setting off pipe bombs in a specific location of the high school."
What's more, the student studied video of the Columbine High School mass shooting and posted selfies with a handgun and BB gun, investigators told WFTV.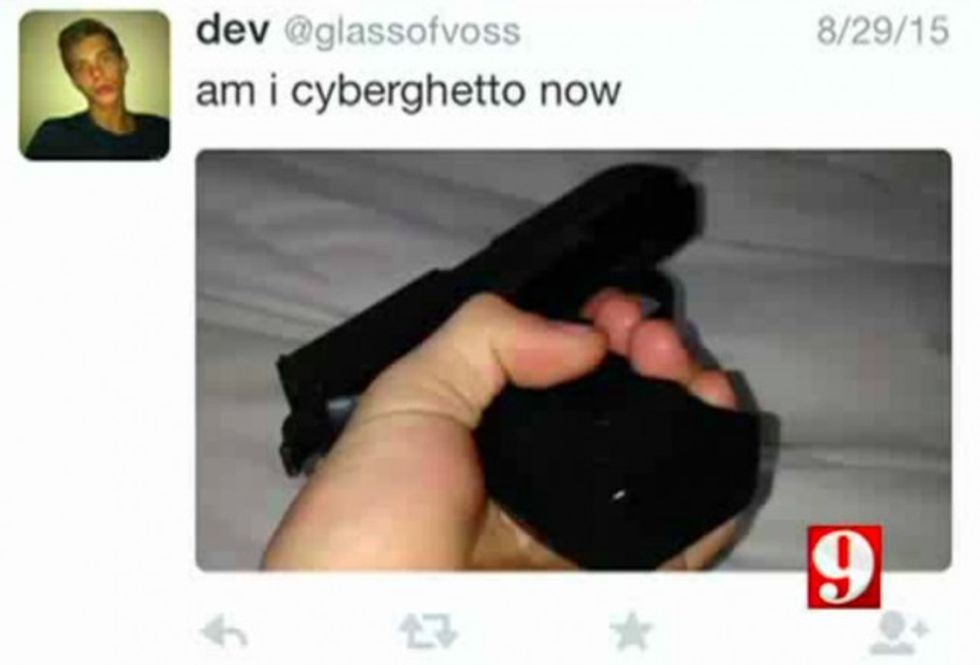 Image source: WFTV-TV
No bomb-making material was found after searching his home, but officials said Foster was capable of getting weapons and material to create explosives, the station added.
"The Sheriff's office, through a multi-jurisdictional Joint Terrorism Task Force, worked closely with the FBI in investigating this case and preventing Foster from carrying out his plan," Gant added.
Before Foster was booked into a Daytona Beach juvenile detention center Tuesday, he was under the care of an outpatient behavioral health program, WFTV reported.
—
Follow Dave Urbanski (@DaveVUrbanski) on Twitter