Sen. Rand Paul (R-Ky.) took aim on Wednesday at a Yale course taught by prominent Black Lives Matter activist DeRay Mckesson.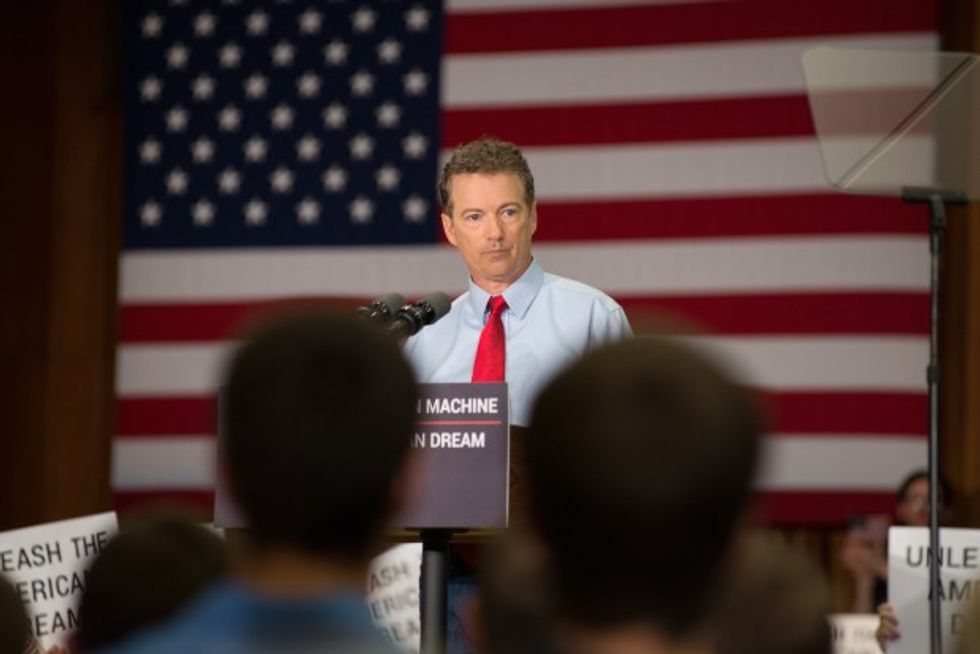 David Greedy/Getty Images
The class, "Transformational Leadership in the Black Lives Matter Movement," is worth one credit at the Ivy League university, according to college news website Campus Reform. This past week's topic was "In Defense of Looting."
I'm back in @deray's class @ @yale today. The topic now is "In Defense of Looting" http://t.co/635g2S0Ztb http://t.co/fJM8B69boE

— Johnetta Elzie (@Johnetta Elzie) 1443893860.0
Interesting to hear folks with privilege discuss looting/rioting.

— Johnetta Elzie (@Johnetta Elzie) 1443893890.0
"The way we look at property in black hands vs white hands. You wanna talk about looting, you're looting my brothers"

— Johnetta Elzie (@Johnetta Elzie) 1443894103.0
Paul, who just announced he would be visiting 11 colleges and universities next week as part of his campaign for president, was discussing the state of education in America. When asked about Mckesson's course as it relates to poetical bias on college campuses, Paul offered his thoughts.
"I frankly wouldn't pay for my kids to take a class from somebody lecturing on the benefits of looting or why looting is OK," he told TheBlaze. "There are some crazy courses out there on a lot of campuses."
[sharequote align="center"]"There are some crazy courses out there on a lot of campuses."[/sharequote]
"They are so expensive and your kids are in a class ... on the defense of looting? My goodness," the Kentucky senator added. "I think a lot of parents would be upset by that. And I think are."
Paul concluded, "These crazy courses like this that are bound throughout some of the schools in America and people just have to be buyer beware and maybe decide that going to the school that costs 10 times more than the other school might not always be a benefit if that's the kind of things they are teaching there."
Paul also took a shot at college campuses that mandate students either obtain a permit to exercise their First Amendment rights or do so inside specific "free speech zones." In recent months, students on various college campuses have been confronted by law enforcement for not obeying such rules.
"I think it's crazy to limit speech," Paul said. "And college is the time most of us remember fondly is the time when you heard a lot of ideas — right, left, center, up, down — you know, you heard a lot."
"I actually think it's funny and ironic that the left is the one erecting these free speech zones that they are all for the tolerance of ideas, until some of the ideas they might object to," the senator added. "It is amazing sort of the intolerance for freedom of speech. Because really that's sort of the tough time about the First Amendment is acknowledging it will allow speech you object to."
—
Follow the author of this story on Twitter and Facebook: