Former Chairman of the Federal Reserve Ben Bernanke argued Tuesday that the Federal Reserve is a "very transparent institution in Washington" and said it became more transparent under his leadership.
"I think the Fed is a very transparent central bank," said Bernanke, in response to to a question from former Treasury Secretary Tim Geithner at a book signing in New York City. "I think its a very transparent institution in Washington."
Bernanke's response may have as a come as surprise to at least some of the protesters gathered in the back of the room who were there to call for more transparency or the complete dismantling of the Federal Reserve.
One protester, in fact, brandished a sign that read "audit the Fed."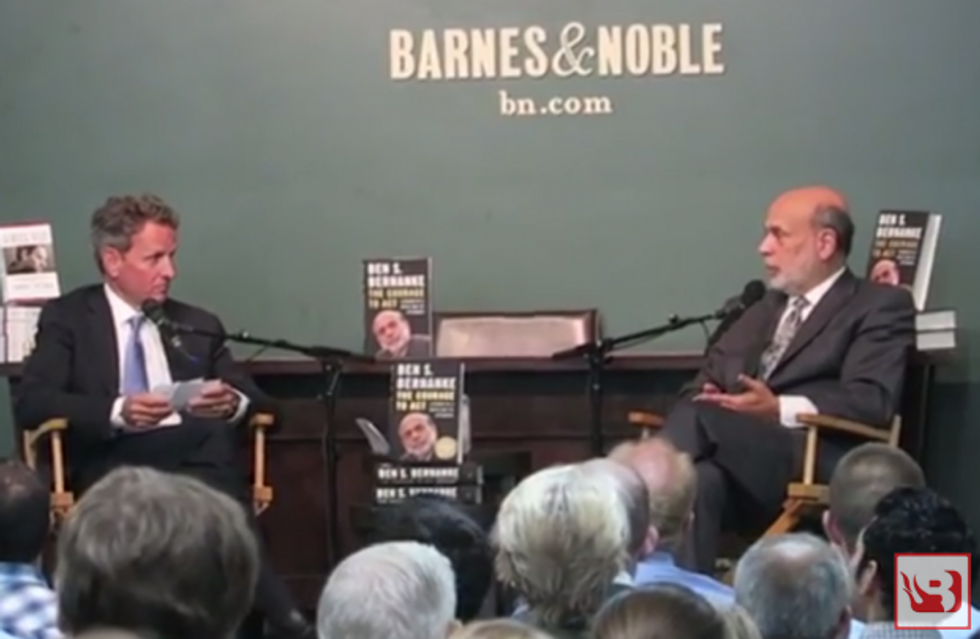 Image source: TheBlaze
But Bernanke doubled down when questioned by Geithner on the mistrust many Americans hold for the Federal Reserve.
"When I was chairman, the Fed did lots of things to become more transparent and has always been willing to provide explanations to what it is doing and provide all the information Congress asked for," he said.
"Again I think that the Fed is very accountable not withstanding claims to the contrary," he added when Geithner asked him if he felt the politics had left the Federal Reserve weakened.
Bernanke's initial response was to Geithner's question on whether not the markets have too much confidence in what the central bank can do for the economy.
"Do you feel like there is too much faith, too much confidence in markets in the average person in terms of what central banks can do for the economy to face the many challenges we still have to face," he asked. "Are we going to have to wean people of that confidence. How should we feel about that?"
Bernanke and Geithner appeared together at the book signing at the flagship Barnes & Noble in New York City's Union Square Tuesday night to promote Bernanke's new memoir, "The Courage to Act: A Memoir of a Crisis and Its Aftermath."
—
Follow Josiah Ryan on YouTube, Twitter and Instagram:
Twitter (@JosiahRyan) and Instagram (@ahhdannyboy.)