In a stunning move, Rep. Kevin McCarthy announced Thursday that he is dropping out of the race for House speaker.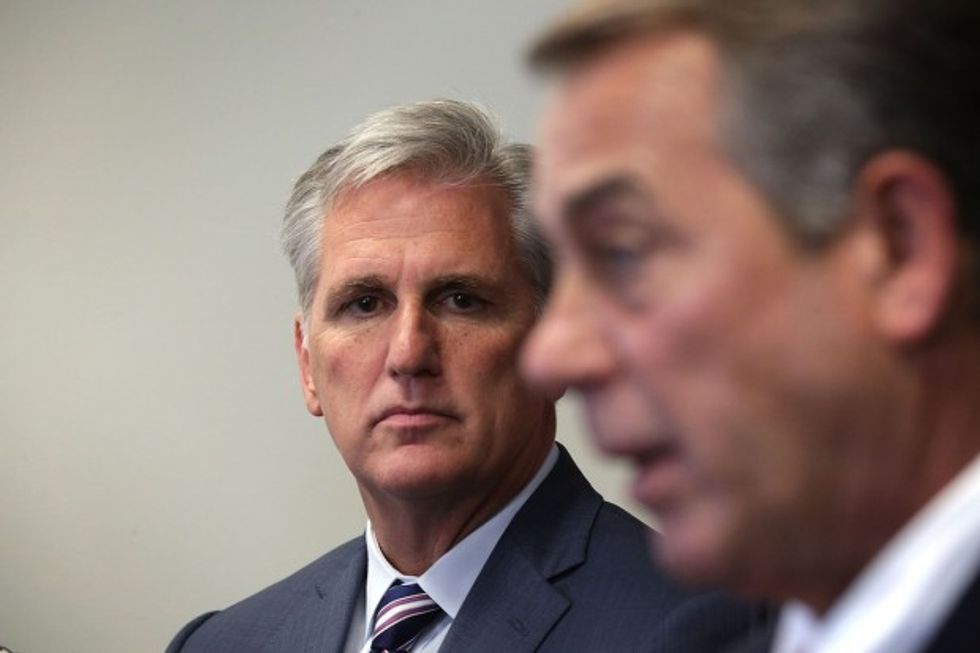 Alex Wong/Getty Images

Considered by many to be the favorite to replace outgoing John Boehner in November, McCarthy told the Republican conference as they gathered to vote for their speaker candidate that he's "not the right guy." He later told reporters that a "fresh face" is needed in the House leadership position.
The House speaker election has been postponed until further notice.
McCarthy's announcement came one day after the conservative House Freedom Caucus announced it would oppose him and was backing Rep. Daniel Webster of Florida instead.
Rep. Charlie Dent (R-Penn.) told CNN that Republicans may need to put together a bipartisan coalition just to elect a new speaker, a sign of the disarray currently facing the Republicans.
Per one GOP rep, McCarthy tells conference he's "not the right guy" and they "need a new face."

— Eliana Johnson (@elianayjohnson) October 8, 2015
McCarthy, who has served as Boehner's No. 2, said he will remain majority leader.
Reps. Jason Chaffetz (R-Utah) and Webster are the only two remaining candidates who have announced intentions to run for the position. Chaffetz said he was "absolutely stunned" by McCarthy's decision.
"We need to have a lot more family discussion, because we need to find somebody that our whole body can unite behind and do what we were elected to do," Chaffetz said.
Boehner reaffirmed on Thursday that he "will serve as Speaker until the House votes to elect a new Speaker."
McCarthy drew sharp criticism last week after he implied a political motivation behind the House panel investigating the Benghazi attacks, saying it had caused Hillary Clinton's poll numbers to drop. He told reporters Thursday his comment "wasn't helpful. I could have said it much better," and adding that the committee was created only to find the truth about the deadly 2012 attacks.
In a statement, Rep. Paul Ryan (R-Wis.) said he is "so disappointed" by McCarthy's decision and reiterated that he will not be running for speaker.
"Kevin McCarthy is the best person to lead the House, and I'm so disappointed in this decision. Now it is important that we, as a Conference, take time to deliberate and seek new candidates for the speakership," Ryan said. "While I am grateful for the encouragement, I will not be a candidate. I continue to believe I can best serve the country and this conference as Chairman of the Ways and Means Committee."
---