Rep. Darrell Issa (R-Calif.) confirmed he could possibly be a candidate for speaker of the U.S. House on "Morning Joe" Friday, but he also took a surprising shot at Rep. Jason Chaffetz (R-Utah). Chaffetz, who is currently running for speaker, recently took over Issa's job as chairman of the House Oversight Committee.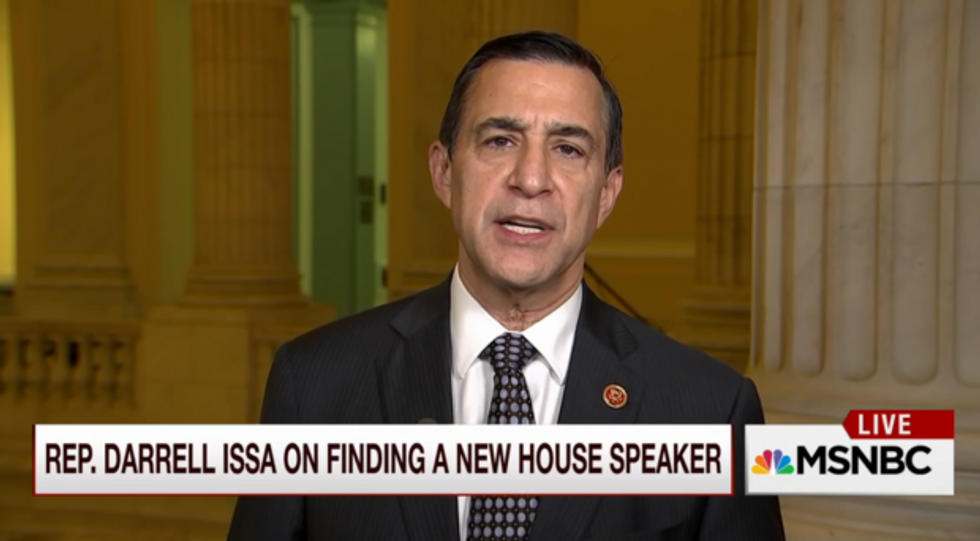 MSNBC
When asked how Chaffetz is doing in the new role, Issa made some eyebrow-raising comments.
"Jason's a good man, an honorable man, but he got his job by going to Boehner and saying he would shut down that rancor that was going on, he would go along, get along — and he has done that," Issa said. "There hasn't been a single committee report or staff report published since he's been chairman."
He added, "The fact is, he's a good guy, but whatever he was as a freshman, when he was a fighter on our committee, when he was trying to hold government accountable, he took a break from that. And I think that's going to hurt him."
Messages left with Chaffetz's office seeking a response were not immediately returned.
Watch the segment via MSNBC below:
---