President Barack Obama got "feisty" during an interview about Russian President Vladimir Putin, as one CBS News anchor put it.
In the interview, set to air Sunday on "60 Minutes," Obama immediately pushed back from reporter Steve Kroft's line of questioning about America's leadership around the world, particularly in the Middle East.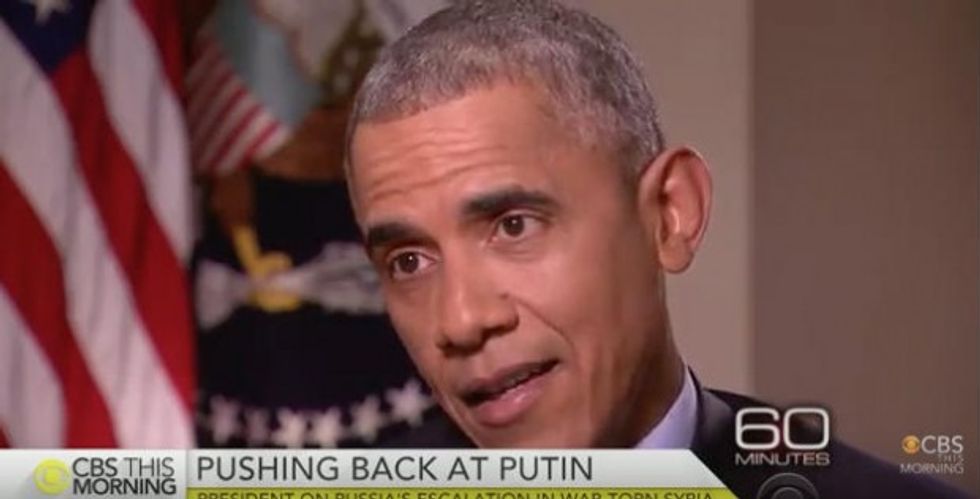 Image source: CBS/YouTube
"A year ago, when we did this interview, there was some saber-rattling between the United States and Russia on the Ukrainian border," Kroft said. "Now it's also going on in Syria. You said a year ago that the United States, America leads, that we are the indispensable nation. Mr. Putin seems to be challenging that leadership."
"In what way? Let's think about this," Obama challenged.
Kroft noted Russia's expanded military action in Syria and its other military operations in the Middle East, something Russia hasn't done since World War II.
"So that's leading, Steve?" Obama replied. "When I came into office, Ukraine was governed by a corrupt ruler who was a stooge of Mr. Putin. Syria was Russia's only ally in the region." Obama added that Putin is devoting his troops to the region "to barely hold together...his sole ally."
"He's challenging your leadership, Mr. President. He's challenging your leadership," Kroft said.
Again, Obama challenged that claim.
"I've got to tell you, if you think that running your economy into the ground and having to send troops in in order to prop up your only ally is leadership, then we've got a different definition of leadership," the president replied.
The exchange stunned the anchors of CBS' "This Morning," Charlie Rose, Gayle King and Norah O'Donnell.
"Wow, Mr. Kroft," Rose hailed.
"You've interviewed him many times," O'Donnell added. "He seemed especially feisty this time."
(H/T: Mediaite)
–
Follow Jon Street (@JonStreet) on Twitter