Touting the need for compromise with Democrats, Republican presidential candidate Donald Trump said he and Democratic presidential candidate Bernie Sanders share a common concern about trade deals.
"Well, you know, Bernie Sanders feels strongly about trade because he knows — one thing I will say about him is he knows we are being ripped off on trade," Trump told reporters in Manchester, New Hampshire, Monday where he spoke at the No Labels-Problem Solver Convention.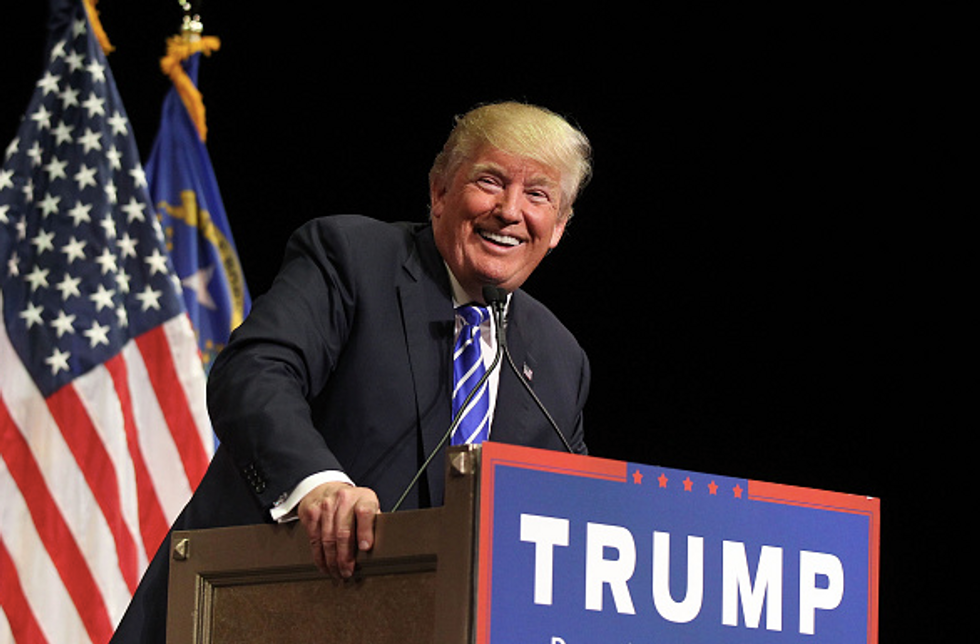 Isaac Brekken/Getty Images
Trump, the billionaire real estate mogul, is leading most Republican polls. Sanders, a Vermont senator who has identified himself as a socialist, is leading in New Hampshire polls of Democrats.
"He's the one politician who talks about that," Trump continued. "Outside of Bernie Sanders, I don't hear many people talking about it. So if you are talking about the one issue that I would say that we get along with, I am very, very strong that we have great trading deals. We have horrible trading deals. We are losing a tremendous amount of jobs, money and everything else. I don't think to the extent that I believe in it, but at least Bernie Sanders believes in that to some extent."
With the event sponsored by the "No Labels" organization, Trump stressed to reporters his bipartisan approach.
"I got along with Hillary, I got along with Bill, I got along with everybody, because as a business man, that is what you are supposed to do. As a politician that's what you have to do to," Trump said. "When you are in office, you have to lead. President Obama has not led; that's why we are here today."
"We are here for compromise," Trump added. "Today we are talking about getting along and really getting together and getting things done because Washington is in a total state of gridlock. I've never seen it this way. You know, the old days, you had Tip O'Neill and Ronald Reagan and they were on different sides, but they would get along and make deals. And today you don't do that at all. It's total gridlock."