Republican presidential candidate Ben Carson made quite a few headlines after his speech Friday at the National Press Club when he calmly told journalists that their tactics placed them "down there with used car salesmen."
But amid the flurry of reactions to Carson saying things about the media like, "I gotta tell you guys, that's why people don't trust you anymore," the retired brain surgeon addressed a bigger subject.
"So what is it going to take to save our country?" he asked. "Courage."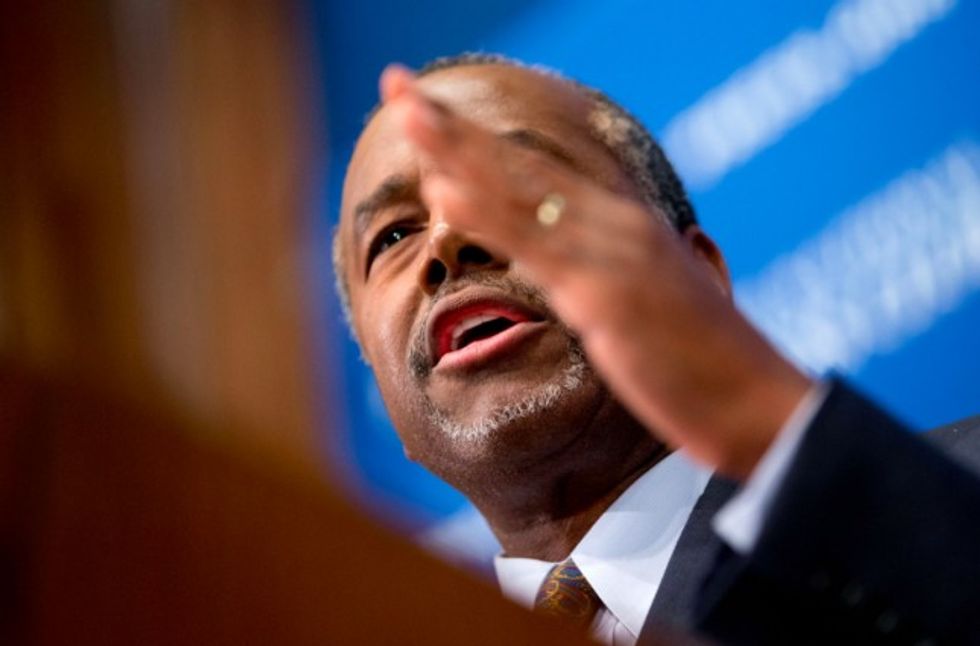 Republican presidential candidate Ben Carson speaks at a luncheon at the National Press Club in Washington, Friday, Oct. 9, 2015. (AP Photo/Andrew Harnik)
Then he talked about D-Day — and he talked about today's Americans being willing to take on the responsibility to look out for those who "come behind us."
"What would've happened to us if those who preceded us were little chicken livers?" Carson asked. "What if they weren't willing to take the risk? What if, on D-Day, our soldiers invading the beaches of Normandy had seen their colleagues being cut down, a hundred bodies laying in the sand, a thousand bodies laying in the sand — what if they had been frightened and turned back?"
"Well, I guarantee you they were frightened," Carson continued, "but they didn't turn back."
Instead the soldiers "stepped over the bodies" — likely knowing they may never see their loved ones or homeland again — and "they took that beach and they died."
"Why did they do that?" he asked. "They didn't do it for themselves. They did it for you, and they did it for me."
"And now it's our turn," Carson said. "And what are we willing to do for our children? And our grandchildren? Are we willing to stand up? Are we afraid that somebody's gonna call us a nasty name? Or that we're gonna get an IRS audit? Or that somebody's gonna mess with our job?"
"You know we have a lot less to lose than they did," Carson observed.
Here's the clip. The relevant portion begins just before the 4-minute mark:
This story has been updated.
(H/T: Louder With Crowder)
—
Follow Dave Urbanski (@DaveVUrbanski) on Twitter