HAIFA, Israel -- Though exiled Iranian filmmaker Mohsen Makhmalbaf has been jailed, faced torture and survived assassination attempts, he refuses to be intimidated into censoring his work or abandoning his truth.
"All my life I was in danger," Makhmalbaf told TheBlaze in an interview on the sidelines of last week's Haifa Film Festival, where he served as the head of the jury judging festival entries. "In Iran, I was in danger because of my films, because of my work, because of my honest and free dialogue."
That an Iranian director would travel to Israel and even shoot a film in the Jewish state — which he has also done — is unheard of and could land him a five-year jail sentence should he ever return to his motherland.
The life story of the 58-year-old artist and opposition activist has been as dramatic as the wildest film plot.
"When I was 17, I was arrested and went to political prison. I was tortured a lot. My left leg is destroyed completely," Makhmalbaf said.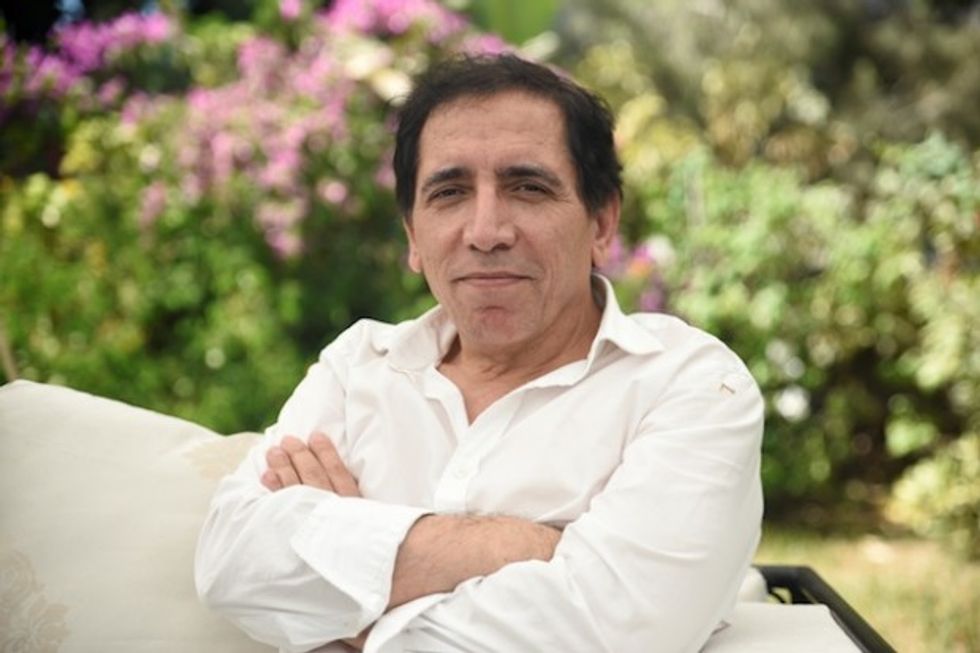 Filmmaker Mohsen Makhmalbaf has survived terrorism, torture and Iranian jail. On a visit to Israel, illegal under Iranian law, he said he wishes there were more displays of courage in the world. (Photo courtesy: Haifa Film Festival/Galit Rosen)
After leaving Iran, the filmmaker traveled to Afghanistan where "Iran sent terrorists to kill me … [detonating an] explosion bomb in our [film] shoot. One person died," he said.
In fact, the director survived two assassination attempts while shooting his anti-Taliban film "Kandahar" in 2001.
In 2009, he began serving as an overseas spokesman for Iran's Green Movement that sought to create a true democracy, establish real freedoms in Iran and remove then-President Mahmoud Ahmadinejad from power. The movement asserted that the 2009 vote count declaring that Ahmadinejad had won a second term was fraudulent.
Those challenges have cemented Makhmalbaf's strong beliefs about heroism, faith, freedom and the universality of the human experience.
Makhmalbaf lamented that, while access to knowledge and information has expanded thanks to the Internet, the display of bravery and conviction among individuals is rare.
"We need bravery; we need people to follow their beliefs," he said. "We're not rubbish. The meaning for our life is more important than the life itself."
While he said he admires the spirituality and morality that organized religion can offer, Makhmalbaf worries about religion-fueled violence, especially that plaguing the Middle East.
"I'm not a religious person, but I respect all religions, because religion has power and the majority of the world today are religious," he said. "Religion by its power can rebuild the world, [but also] could destroy the world."
It's remarkable that Makhmalbaf even went into filmmaking, given his strict Shiite Muslim upbringing.
"I was born into a very religious family, and I grew up in the guide of my grandmother who believed if someone goes to cinema, God puts him or her in hell," he said.
"All my childhood I didn't go to cinema and I didn't hear music. I even used to put my fingers in my ears to not listen to music because I believed my grandmother," he added.
His most recent film, "The President," is a scathing takedown of tyrannical rule, following a fictional dictator who is deposed in a popular uprising. While wandering the countryside with his grandson, both disguised as peasants, he discovers the heart-wrenching suffering he has caused his subjects.
"I try to use my film 'The President' as a mirror in front of society" to encourage social change, the director said. "Cinema is not my goal. It's a tool to change the world."
Among the countries in which he has made films, Makhmalbaf chose to travel to Israel to shoot a film about the Baha'i faith, a persecuted minority in Iran. The Baha'i world headquarters are in Haifa, where he filmed "The Gardener."
"I've made films in 10 different countries in 10 different languages, but little by little, I understood that humans are like each other," Makhmalbaf said.
"We fall in love like each other; we get depressed like each other; we are afraid like each other," he said. "If you go a little deep, you reduce culture and language, and you will see the same human being,"