Some people in Florida might see a delay in the delivery of their mail and a waterspout, for some, could be to blame.
"Papers were everywhere," Lee Dove, who recorded video of the scene Sunday, told WTVT-TV.
The waterspout that formed near the  Bob Graham Sunshine Skyway Bridge across Tampa Bay Sunday morning, hit a tractor-trailer truck driven by United States Postal Service contractor Randall Leaver, the Tampa Bay Times reported.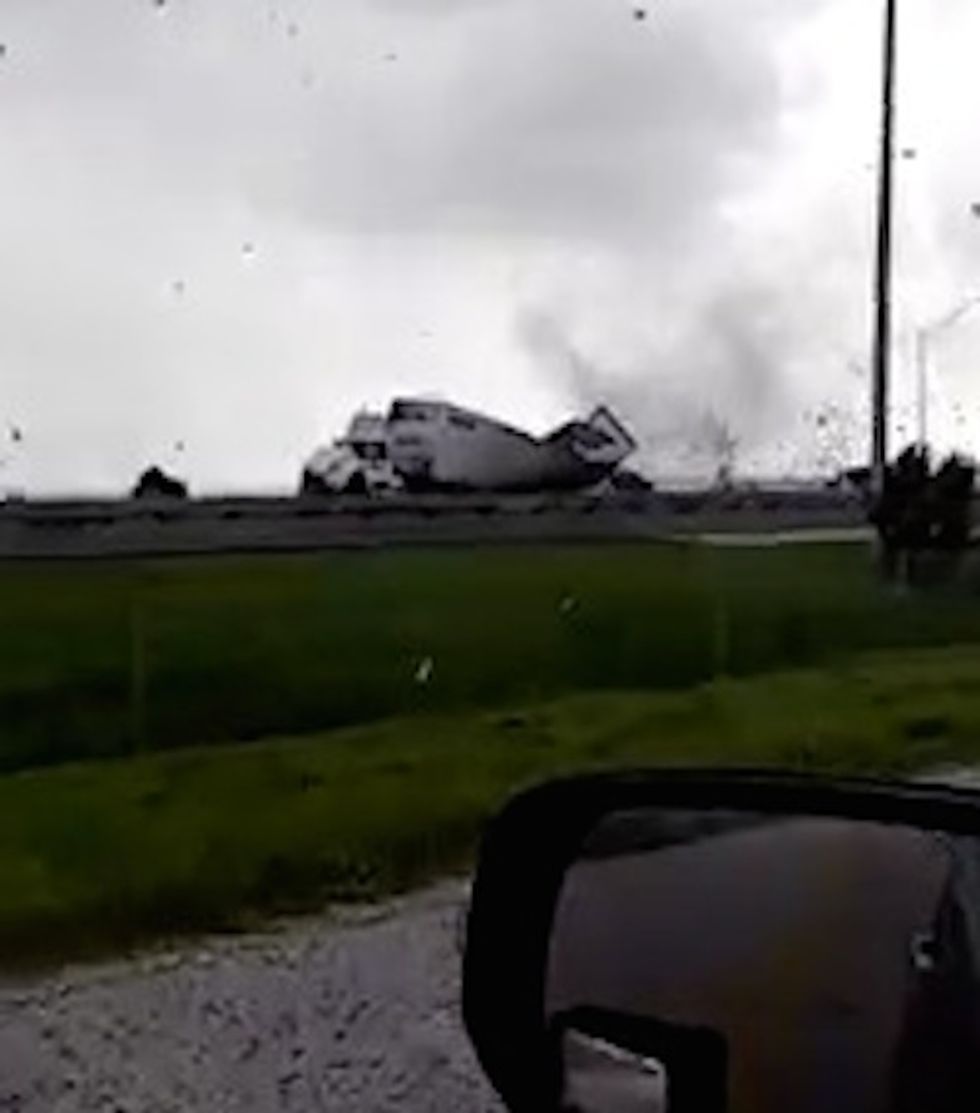 The semitruck was twisted by the waterspout that made landfall, sending papers flying. (Image source: YouTube)
The semitruck was turned on its side for a moment in the powerful event, only to then be lifted again and dropped in an upright position. Leaver was not injured in the incident, the Times reported.
"The truck fell over on the side and then it flipped over on its wheels. I could see the driver the whole time holding onto the wheel," Dove told WTVT.
The news station reported that state troopers and other people collected the mail that spilled out.
Watch Dove's footage, but note the real action in the slightly more than six-minute video starts around four minutes and the moment it hits the truck comes just after six minutes  (Content warning: some strong language):
Because the waterspout made landfall, it technically became a tornado. Meteorologist Josh Linker told the Bradenton Herald that this waterspout "just happened to cross the road."
"If it didn't cross the road, nobody would even know about it except the people taking pictures. It was a really interesting and potentially scary situation," he told the newspaper.
This is what the truck looked like afterward:
Intense Skyway waterspout causes damage to mail truck VIDEO: http://t.co/NBgESd1NoU pic.twitter.com/ivxxqE5iob

— 10 News (@WTSP10News) October 11, 2015
Here's another report on the incident:
In addition to hitting the truck, it also caused damage to a construction site, a boat and several signs, but there were no injuries reported, according to WTSP-TV.