The Albuquerque Police Department has released new video that appears to show an officer hitting a suspect with his vehicle, followed by more gruesome footage of officers apparently beating him.
But there's more to the story, according to police.
Danan Gabaldon, who was wanted for trying to run over officers multiple times, is seen in the video from June running from an unmarked police truck. The camera doesn't show what exactly happened next, but an engine can then be heard revving up and tires can be heard screeching. Gabaldon is then seen lying on the ground next to a blue truck.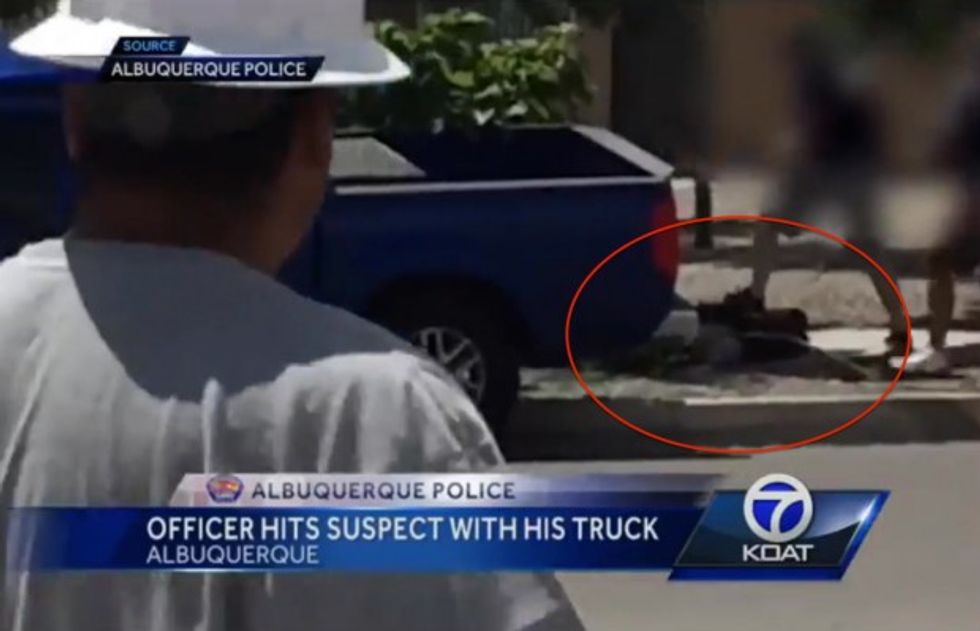 Image source: KOAT-TV
Video footage from the angle of the officer's body cam shows the man's head slam into the truck.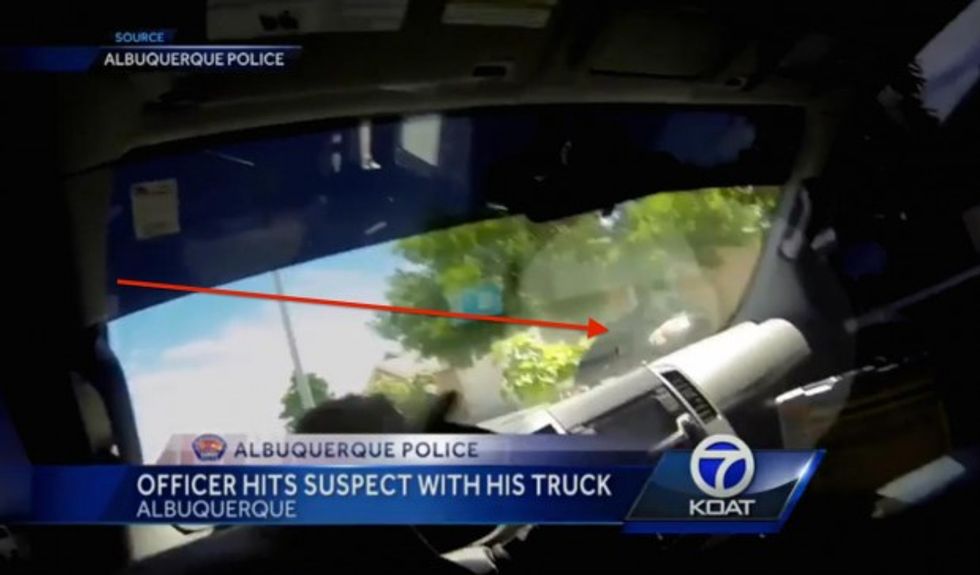 Image source: KOAT-TV
Officers then arrested Gabaldon after using a Taser on him. The video appears to show one of the officers hitting Gabaldon on the ground as he screams, "I'm sorry."
Although the incident is still being investigated, APD spokeswoman Celina Espinoza told KOAT-TV that it appears the officer did not intentionally hit the suspect with the vehicle. Espinoza said the officer was instead trying to cut off Gabaldon's escape route when he accidentally him.
A witness is heard on the video, saying. "He was f***ing running and then they ran him down with a car. That is not OK."
Gabaldon is still in jail for the alleged assault on a cop. None of the officers involved were disciplined.
The incident happened the same month the Department of Justice recommended a number of changes for the APD to implement based on the conclusions of a lengthy investigation that Albuquerque officers had patterns and practices of excessive force, KOAT-TV also reported.
(H/T: KOAT-TV)
–
Follow Jon Street (@JonStreet) on Twitter