CNN debate moderator Anderson Cooper was seemingly left surprised Tuesday night by an answer former Rhode Island Gov. and Sen. Lincoln Chafee gave when asked about a former vote he cast in Congress.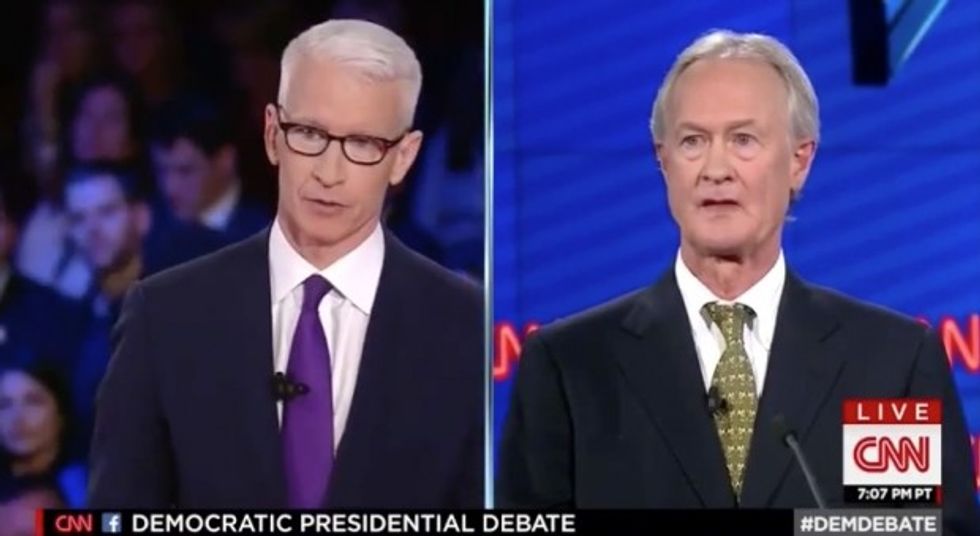 Image source: CNN
Chafee said that he regretted his decision to vote to repeal the Glass-Steagall act and blamed the poor move on the recent death of his father and fact he was new to the U.S. Senate.
"Are you saying you didn't know what you were voting for?" Cooper asked.
"I just arrived in the Senate. I think we get some takeovers. And that was one of my very first votes. And it was 90 to 5," he said.
Cooper pressed him.
"With all due respect, what does it say about you casting a vote for something you weren't really sure about?" Cooper asked.
"I think you're being a little rough. I just arrived in the United States Senate. I had been mayor of my city. My dad had died. I had been appointed by the governor. It was the first vote. And it was 90 to 5," Chafee replied.
—
Follow the author of this story on Twitter and Facebook: