Things quickly got heated on Fox News Wednesday night when a Black Lives Matter supporter blasted a former NYPD detective for saying that some cops aren't doing their jobs out of fear they'll become the "next Darren Wilson."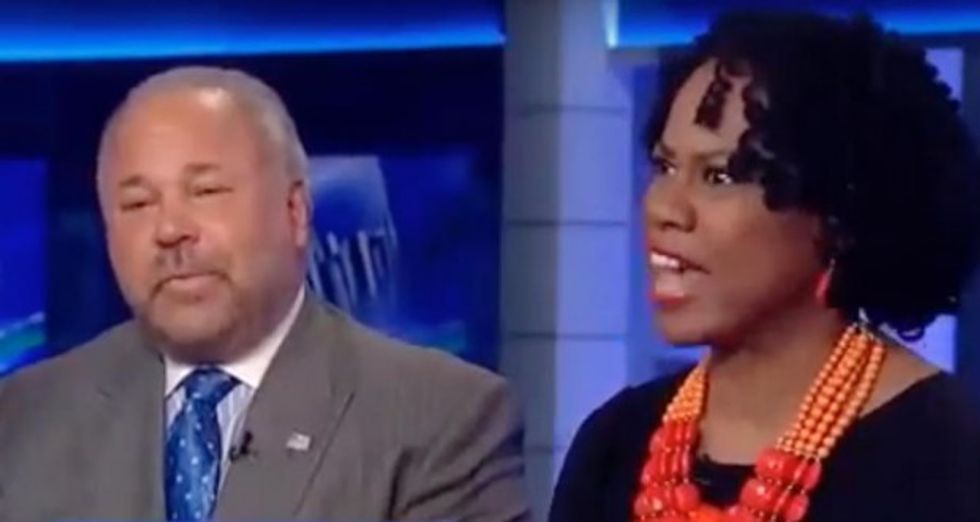 Former NYPD Detective Bo Dietl, left, debates Black Lives Matter supporter and political commentator Lisa Durden on Fox News (Image source: Fox News via YouTube)
Bo Dietl, a former NYPD detective, was responding to host Megyn Kelly's question as to whether police officers around the country are now "going fetal" and refusing to do their jobs in the wake of what's happened in Baltimore and Ferguson, Missouri.
Dietl agreed with Kelly that that's true of some cops but added that there are some officers who still want to do their jobs, despite the rising tensions. However, Dietl said that when officers do try to do their jobs they're recorded by cellphones.
"If you go to toss somebody to try to get a gun off the street, the next thing is they're going to be videotaping and say you illegally searched them and the cop is going to get sued," Dietl said. "They say, 'You know what? We're not going to get involved.'"
But that excuse didn't sit well with political commentator Lisa Durden, who blasted the former NYPD detective, saying that it's wrong to blame Black Lives Matter protesters for cops not doing their jobs.
"To blame the Black Lives Matter movement for why you're not doing your freaking job, you robocops, is disgusting," Durden said. "That's the same thing as saying a woman whose husband beats her — it's her fault because she stood up for herself. These guys are not the victims."
"A police [officer's] job is to be in danger every day.You might get shot in the head and not come home tonight. You can't take a little ribbing? You can't take a cellphone videotaping you doing your job?" Durden added.
Kelly then suggested that cops are worried that by intervening in certain situations they could become "the next Darren Wilson," the name of the officer who was accused but then exonerated in the Michael Brown case in Ferguson.
"Boo hoo hoo," Durden responded. "They're going to put a camera on you to make sure you do your job."
The political commentator likened people recording interactions with police to employees getting regular evaluations on how they're performing they're jobs.
"You're evaluator is the customer. Who's the customer? The public," Darden said.
Watch the fiery exchange below:
(H/T: Mediaite)
–
Follow Jon Street (@JonStreet) on Twitter