Ann Coulter surely knew she was entering hostile territory when she agreed to appear on "The View" as a guest, but she's never been afraid to take her critics head-on.
Predictably, she was confronted by a hostile panel of co-hosts on Friday when the topic turned to the divisive issue of illegal immigration. But one exchange in particular is likely set for viral status.
Co-host Raven-Symone, who came under fire last week when she admitted to being "very discriminatory" against people with exotic names, asked Coulter why she can't keep her mouth shut if she "doesn't have anything nice to say."
Coulter quickly replied, "Well, I'm at least talking about policy. You have a position on what people's names should be — Watermelandrea. You'll insult people for their names."
"I'm talking about a government policy that affects all Americans and immigrants and the people living here. And it's harming our country," Coulter continued, accusing the co-host of not following her own advice.
Seemingly tongue-tied and frustrated, Raven-Symone started to respond, but then dismayingly said "OK" and turned away from the discussion.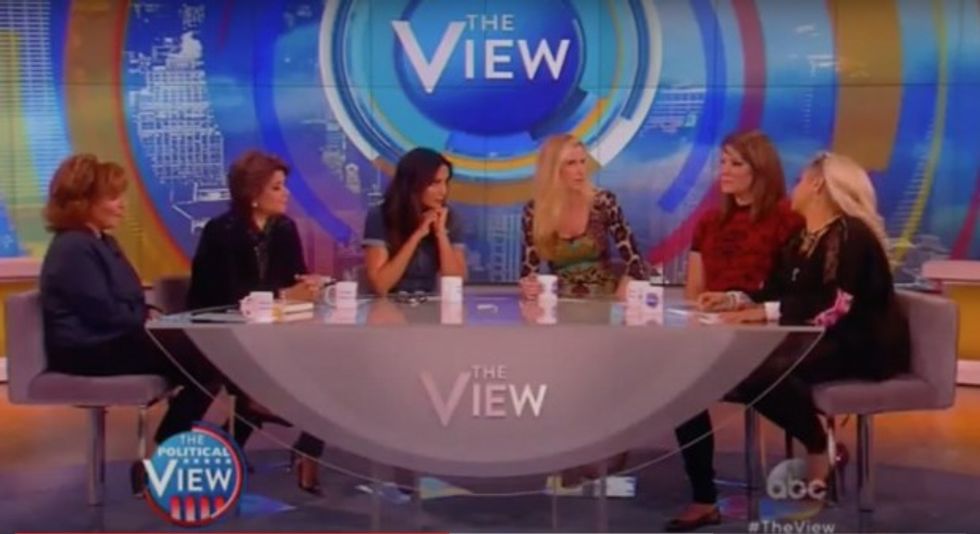 "The View"
Coulter also received strong responses when she argued the majority of illegal immigrants are poor welfare recipients and the U.S. can't even take care of its own poor.
"We don't need to be importing other countries' poor people," she said.
Watch part of the interview below via ABC:
(H/T: Gawker)
---