A Washington Post fact checker has slapped Hillary Clinton with "three Pinocchios" for claiming that "40 percent of guns are sold at gun shows" and "online."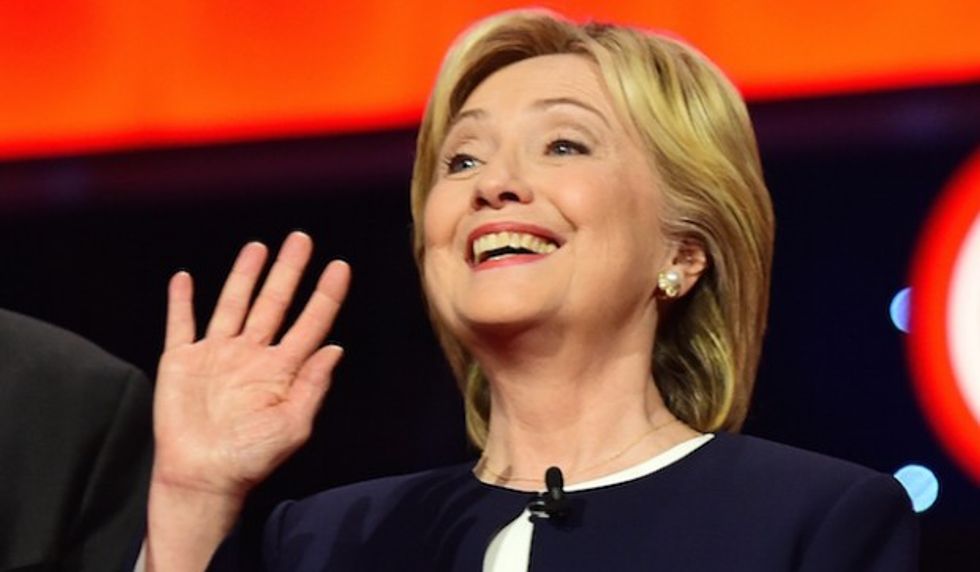 Presidential hopeful Hillary Clinton waves on stage during the first Democratic presidential debate in Las Vegas, Nevada on October 13, 2015. Democratic presidential frontrunner Hillary Clinton will finally square off with top rival Bernie Sanders in the party's first debate of the 2016 campaign as she seeks to prove she is the candidate to beat. AFP PHOTO/ FREDERIC J. BROWN
In her comments, Clinton decried a "loophole" that she claimed allows people to buy guns without a background check.
As The Washington Post notes, the 40 percent figure references by Clinton is "very stale" and "based on data about two decades old." More from the Post:
First, the "loophole" mentioned by Clinton refers to "person-to-person" sales, primarily by people who do not earn a livelihood from firearm sales.  People engaged in the business of selling guns by contrast need a Federal Firearms License (FFL), but unlicensed sellers can sell to a neighbor, a friend, at a gun show or over the Internet.

But many sellers at guns shows actually have an FFL and conduct background checks, while 17 states (including California, New York and Illinois) have passed laws which require at least background checks on all handgun sales at gun shows.

So where does the 40 percent figure come from? It is derived from studies that were based on data collected from a survey in 1994, the same year that the Brady Act requirements for background checks came into effect. In fact, the questions concerned purchases dating as far back as 1991, and the Brady Act went into effect in early 1994 — meaning that some, if not many, of the guns were bought in a pre-Brady environment.
The 1994 survey included just 251 people in its sample and randomly contacted respondents by phone.
Bottom line from The Washington Post: "By any reasonable measure, Clinton's claim that 40 percent of guns are sold at gun shows or over the Internet — and thus evade background checks through a loophole — does not stand up to scrutiny."
The fact checker gave Clinton "Three Pinocchios."
---