President Barack Obama said the United States would be "right there at the table" if North Korea made a good faith and serious effort to do away with its nuclear ambitions.
Obama made the comment Friday during a joint press conference with South Korean President Park Geun-hye when the topic of the Iran nuclear deal came up and whether such a deal could be made with North Korea.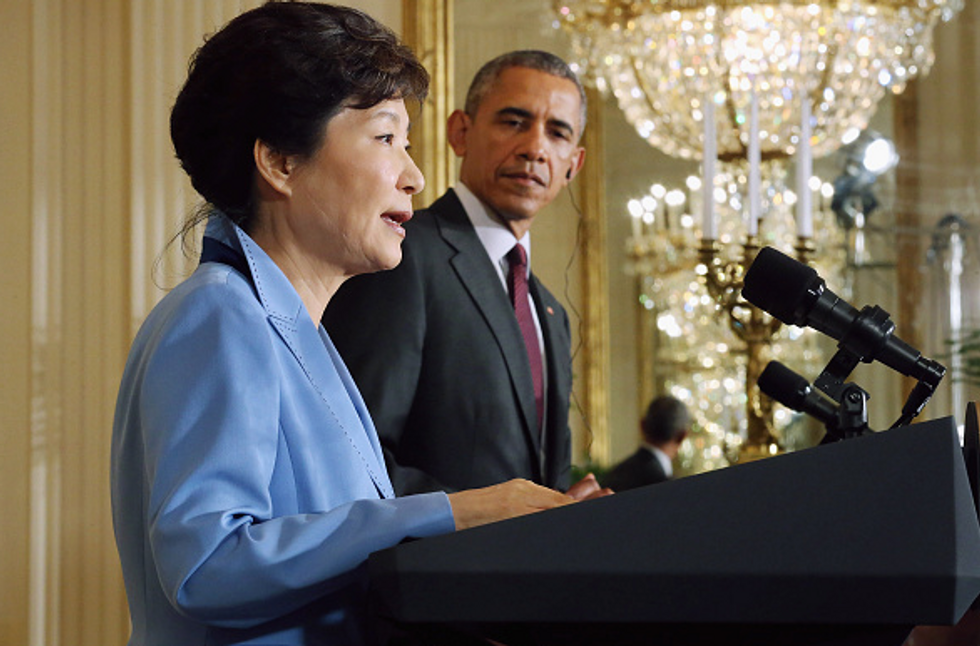 South Korean President Park Geun-hye, left, and President Barack Obama hold a joint press conference at the White House Oct. 16, 2015. North Korea was high on the agenda, and Park is seeking more cooperation with the United States and Beijing in pressuring Pyongyang to rein in its nuclear ambitions. (Chip Somodevilla/Getty Images)
"Iran and North Korea, these are both countries that have a history of antagonism toward the United States," Obama said. "We were prepared to have a serious conversation with Iranians once they showed they were serious about the possibility of giving up the pursuit of nuclear weapons."
"At the point where Pyongyang says we are interested in seeing relief from sanctions and improved relations and we are prepared to have serious conversations about de-nuclearization, it's fair to say we'd be right there at the table."
But Obama said that North Korea has not made the same serious effort Iran has, so "we haven't gotten to that point, yet."
The South Korean president agreed — on the same condition that North Korea was serious about giving up nuclear ambitions.
"You need to have this genuine willingness from North Korea they will give up nuclear capabilities," she said.