Controversial Black Lives Matter activist Shaun King, hired this month as a senior justice writer at the New York Daily News, wrote Thursday about a Rhode Island high schooler who was "needlessly body-slammed by a police officer" in an incident caught on cellphone video.
King identified the body-slammed student as "15-year-old Tyler Deburgo" (two local stations reported that he's 14) — "an innocent bystander watching on as his friend, Ivander, was being arrested by police inside of the school." The same two local stations reported that Ivander, 17, is Tyler's brother.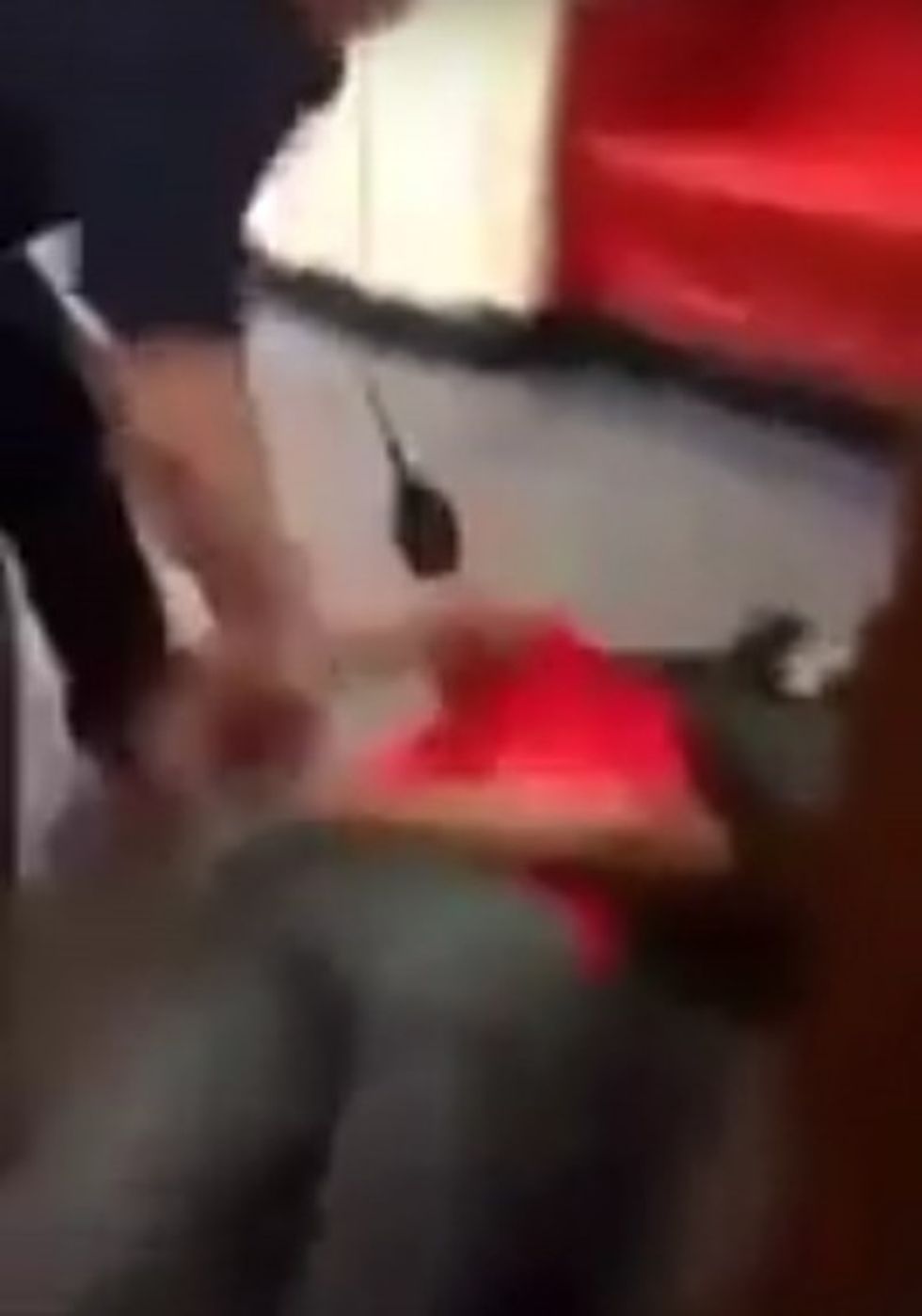 Image source: YouTube
The video clip appears to show Ivander facedown and handcuffed when an officer placed his arm around Tyler's neck from behind and, in King's words, "brutally slammed him to the ground."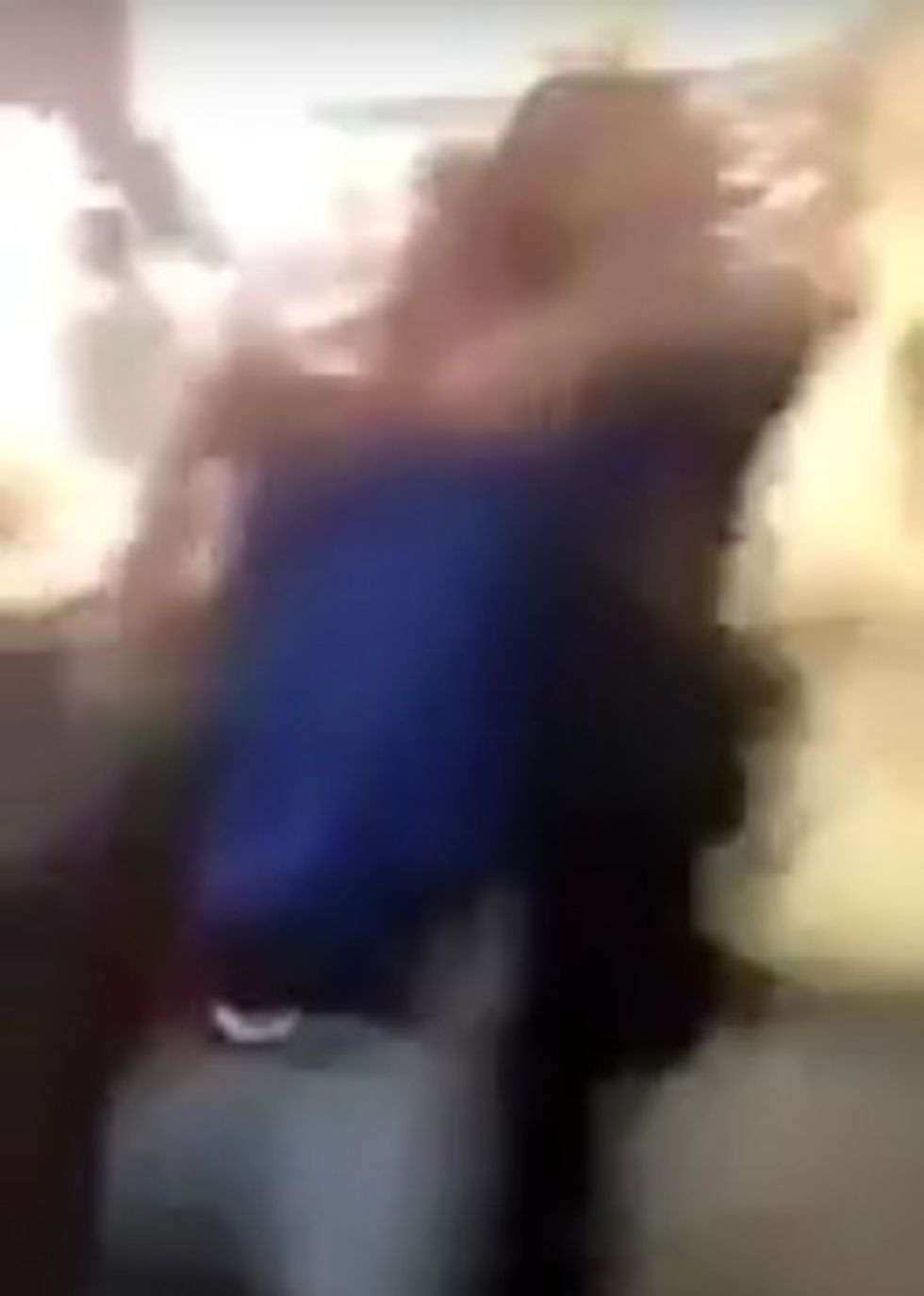 Image source: YouTube
"You can hear the outrage from fellow students growing and teachers attempting to calm down the students," King wrote, later calling it "horrendous that this level of brutality is happening inside of our schools."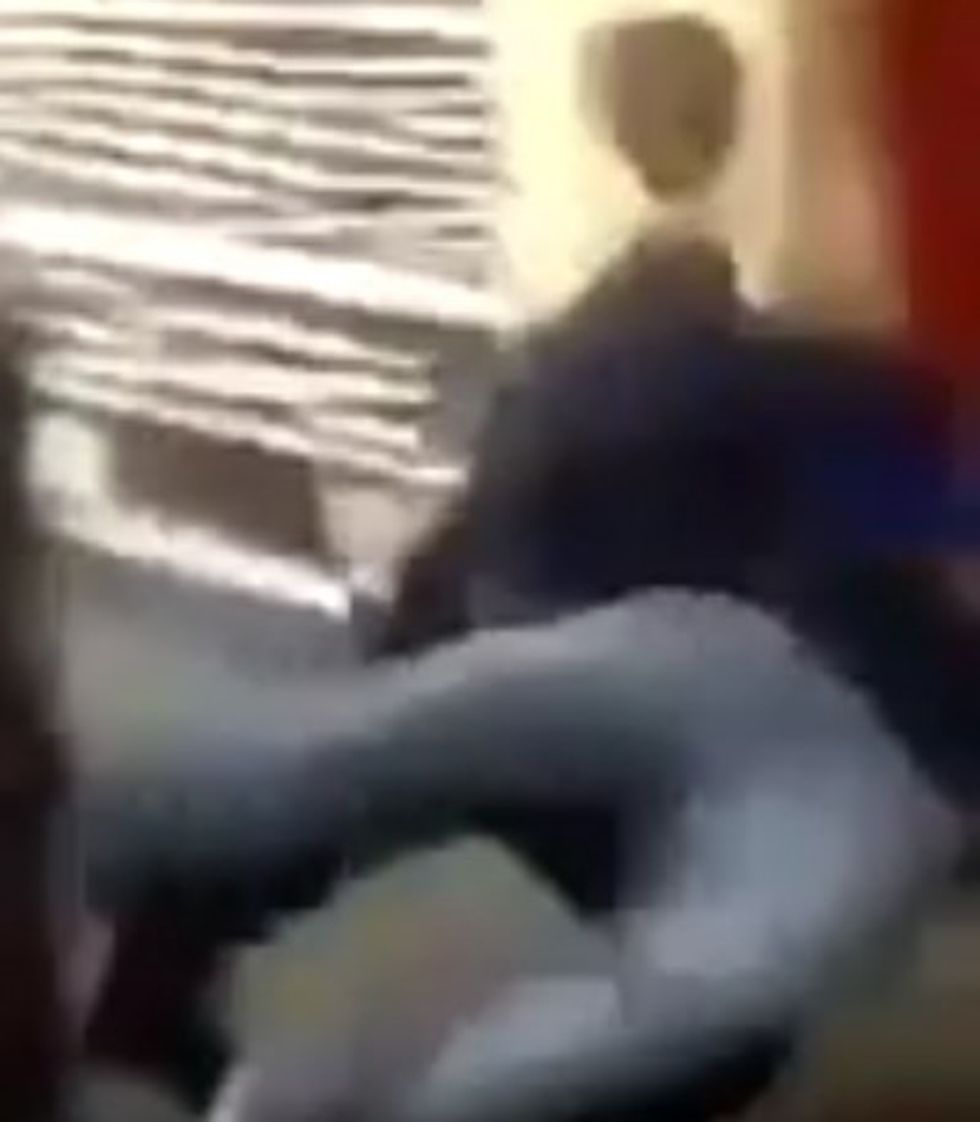 Image source: YouTube
King included the following statement from Pawtucket police about Wednesday's incident at Tolman High School: "The officer managed to get the 17-year-old subject on the ground and was attempting to handcuff him, when the second juvenile started to approach the officer from behind. The officer saw the individual approaching him, grabbed the juvenile and used a takedown on the juvenile."
King's response? "In other words, the police are saying 'don't believe what you see, believe what we tell you to believe.'"
Although the Daily News placed King's article in the news section rather than in opinion, the piece didn't note the police account about how the whole thing started.
Police told WPRI-TV that the officer had confronted Tyler, who was shouting and throwing punches at a wall. Tyler told the station he was angry because his backpack had been taken: "I hit my fist on the bench — that's it," he told WPRI.
While police were trying to arrest Tyler, they said his brother Ivander came on the scene and hit the officer several times, WPRI reported. But Ivander told the station he had been friendly with the officer and held down the cop's hand so Tyler could free his arm.
"I got his hand down," Ivander told the station. "From there he took out the pepper spray and sprayed all over my eyes."
Once Invander was down, police said Tyler approached the officer from behind — but Tyler disputes that. "I already got pepper-sprayed, I didn't know what to do. My eyes were blurry," he told WPRI. "All of a sudden he comes from behind, grabs me by my neck and slams me. And puts me in handcuffs."
King also noted the protest held outside the Pawtucket high school Thursday. "Clearly outraged, Tolman High School students walked out of school today as an act of defiant protest, but were actually pepper-sprayed by local police, who have only enflamed tensions," he wrote. "Ten people, primarily students, were actually arrested for disorderly conduct."
WJAR-TV reported that six students and two adults were arrested.
"Most of the ones that got arrested were really close friends to me," Ivander told WJAR. "I can't really say thank you enough to them."
King didn't mention Mayor Don Grebien's stance, which was "as bad as it looks or as concerning as it looks, there's always more to the story and that's what I have to investigate," he said Thursday, WPRI reported.
Grebien added that the officer in question hasn't been disciplined but has "agreed to step out of the classroom as we go through this," WJAR said.
Both brothers face charges for resisting arrest, WPRI reported, while Ivander was also charged with simple assault. The pair spent one night in juvenile detention. They told WJAR they've been suspended from school but were not informed as to how long it would last.
Here's the clip:
—
Follow Dave Urbanski (@DaveVUrbanski) on Twitter