A Saturday afternoon ride on a Texas highway ended in shocking fashion when a car swerved into a passing motorcyclist, sending the rider and his girlfriend passenger crashing to the road.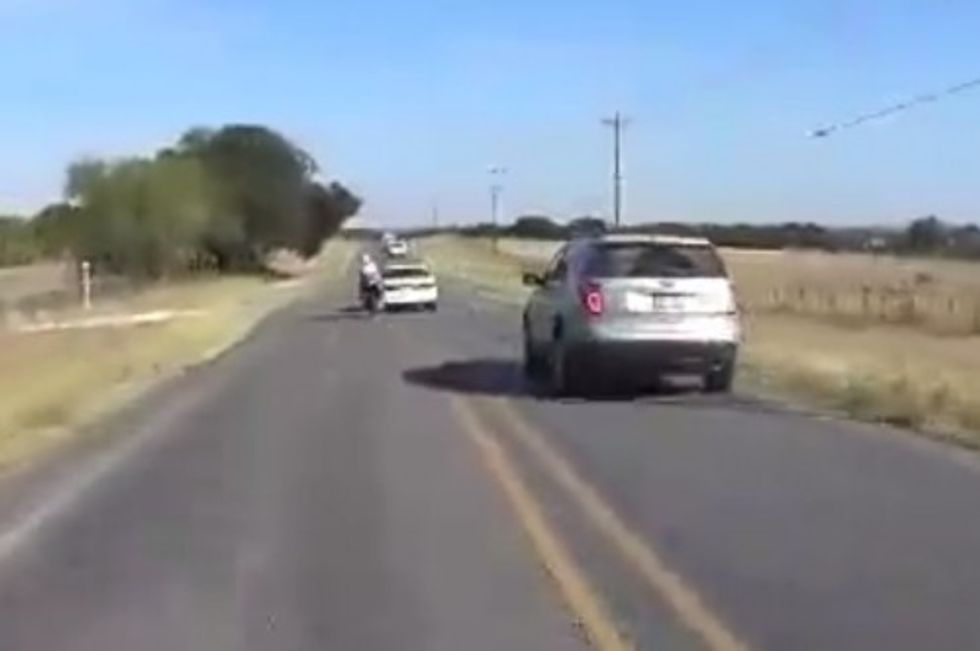 Image source: Facebook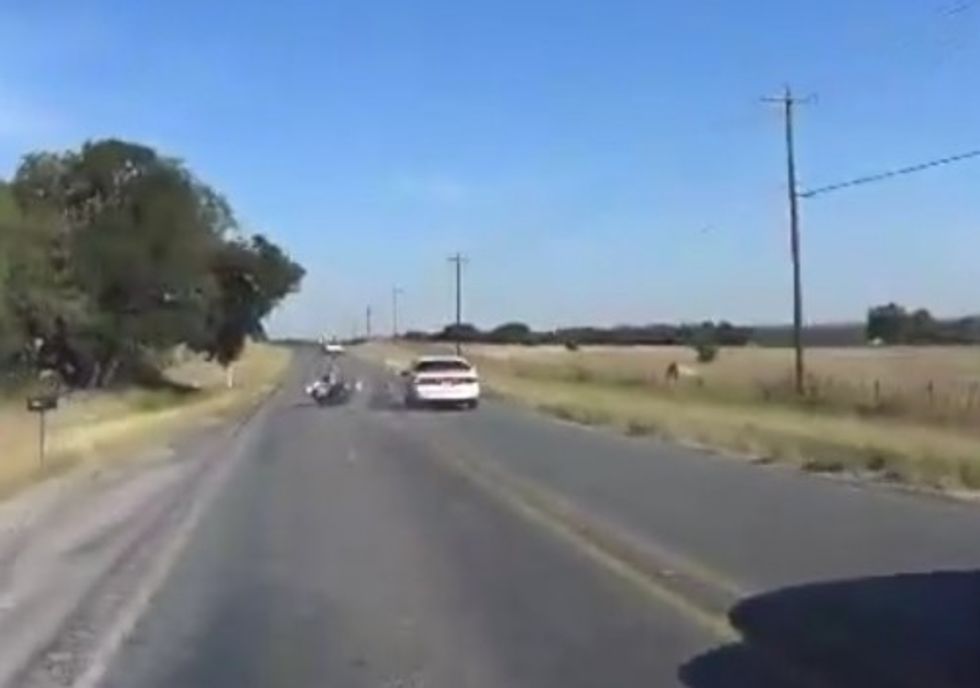 Image source: Facebook
When a trailing motorcyclist confronted the car driver after the collision, telling him what happened to his friend, the driver's response — several times — was, "I don't care."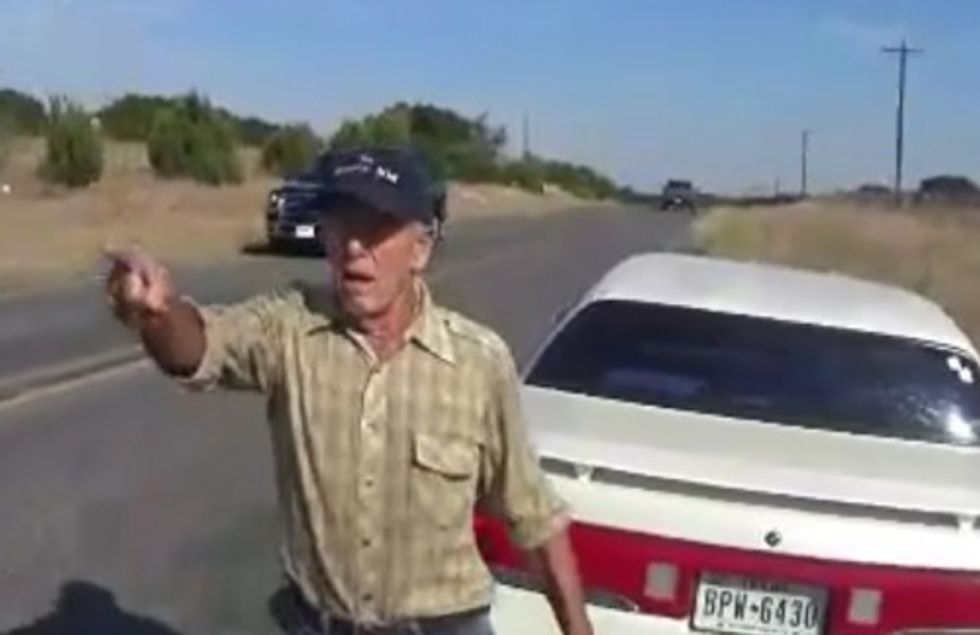 Image source: Facebook
And it was all caught on the trailing motorcyclist's helmetcam, a video that's been viewed on Facebook nearly 1.5 million times.
The relevant portion of the video starts after the 1:30 mark. (Content warning: Strong language):
Here's the video! So fucked up!

Posted by Eric Sanders on Saturday, October 17, 2015
WFAA-TV caught up with Eric Sanders, the injured motorcyclist, who showed a reporter his road rash, gashes and cuts from the incident on Tin Top Highway near Granbury.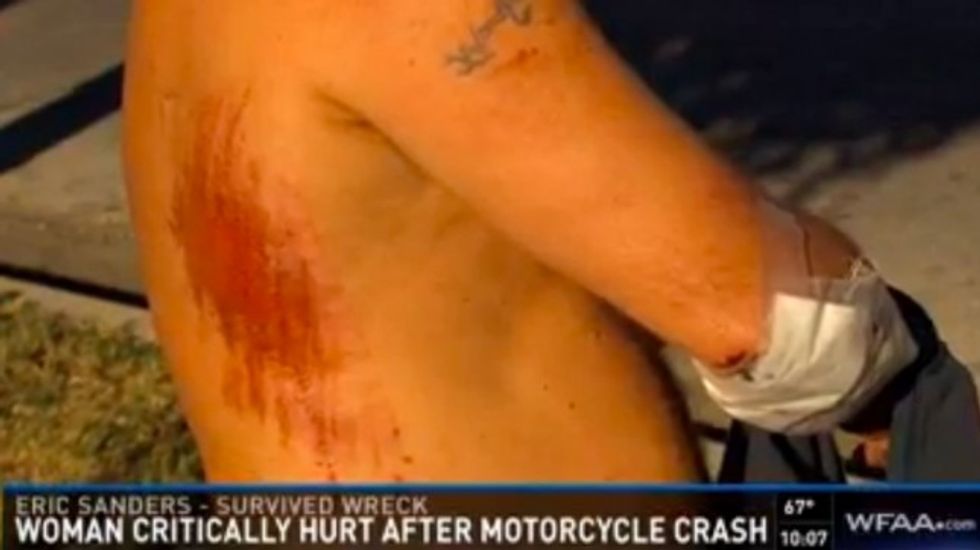 Image source: WFAA-TV
"I've got a gouge in my elbow that is bone-deep," Sanders told the station.
But Sanders is more concerned about his girlfriend, Debra Simpson, who's in the ICU at Harris Methodist Hospital in Fort Worth.
"They're worried about infection," a tearful Sanders told WFAA. "If her arm gets infected they're going to have to amputate it."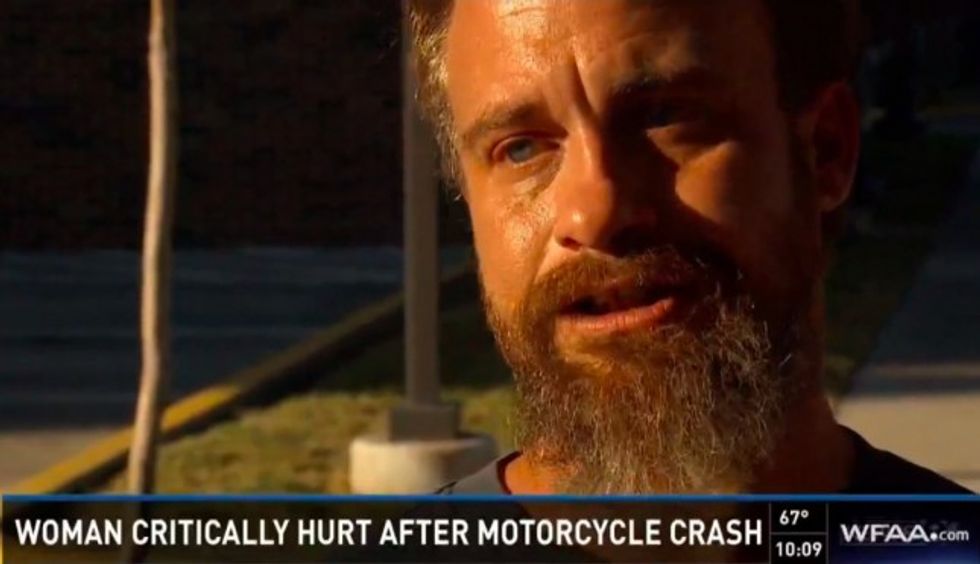 Image source: WFAA-TV
Sanders offered an update Sunday on Simpson's condition, noting she got through surgery. "Her wrist is broken but road rash took it down to bone and tendon from her elbow to her wrist. Its super bad. The surgery was just to clean the wounds. She has another surgery scheduled for Tuesday to try to repair her arm! ... Please keep her, Debra Simpson, in your prayers!"
Sanders told WFAA he believes the driver hit him intentionally, despite the driver's insistence at one point that he was stung by a wasp.
"I've seen people pull in front of me all the time, people cut me off all the time," he told the station. "Never in my life has anyone tried to hit me."
Police are investigating whether the unidentified driver acted intentionally, which would be a felony, WFAA said.
Sanders acknowledged on Facebook he passed a double-yellow line when the car hit him but said he wasn't speeding during the pass attempt.
(H/T: Jalopnik)
—
Follow Dave Urbanski (@DaveVUrbanski) on Twitter