WASHINGTON (TheBlaze/AP) -- Federal regulators announced Monday that the government will require registration of most drones to help track operators who flout safety rules, according to an industry official.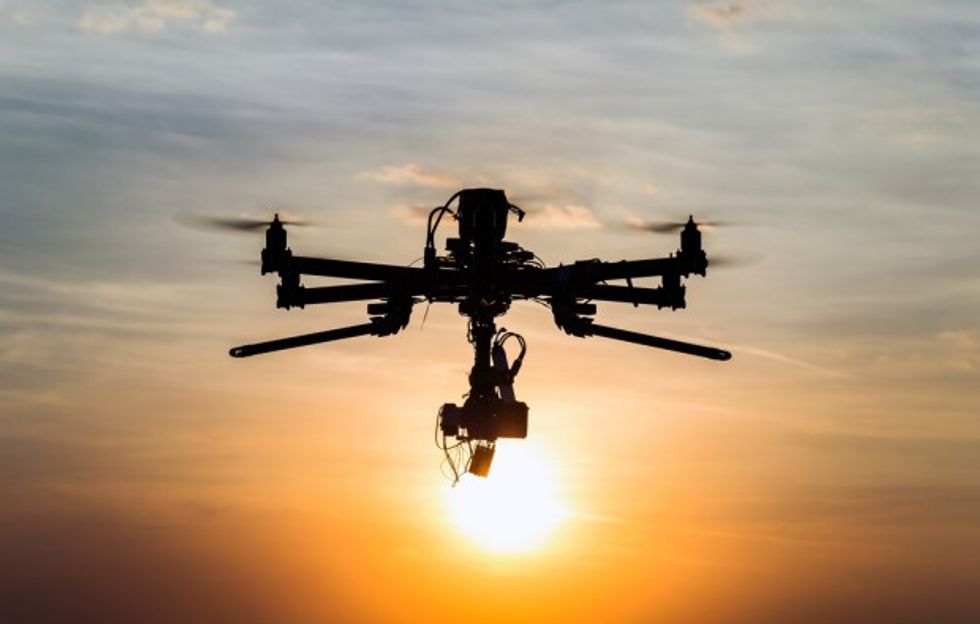 Photo credit: Shutterstock
The industry official, not authorized to speak publicly but talking on the condition of anonymity, said the Federal Aviation Administration is setting up working groups of government and industry officials and model aircraft hobbyists to work out details of the registration system.
The working groups will decide which drones will require registration. Toys and small drones that don't present a safety threat are likely to be exempt. Drones that weigh only a pound or two or that can't fly higher than a few hundred feet are considered less risky. Heavier ones and those that can fly thousands of feet pose more of a problem.
"A Department of Transportation working group is working to ensure that the use of drones doesn't interfere with the use of commercial aviation but also to put in place the kind of regulatory structure that will allow the private sector to maximize the economic benefits associated with this kind of technology while making sure we are protecting the skies of our cities all across the country," White House press secretary Josh Earnest said Monday.
The news of registration requirements come after recent drone incidents, which have included the devices crashing at sporting events and hampering the efforts of emergency responders.
Earlier this month, Tim Canoll, president of the Air Line Pilots Association spoke to the U.S. House of Representatives Aviation Subcommittee, asking it to drive the FAA to further "regulate unmanned aircraft systems."
"The FAA is making some progress in ensuring the safe integration of UAS into our nation's airspace system, but more is required. Just look at this summer's release of the hundreds of FAA reports from pilots on UAS encounters," Canoll said in a statement. "In these reports, pilots across the country described seeing a UAS while in flight, often during takeoff and landing, the most critical phases of flight."
Registering drones was among Canoll's suggestions.
"Gathering contact information about the UAS purchaser will not only allow authorities to immediately identify the owner, but it will also drive home the serious nature of operating these UAS," his statement read.
The Wall Street Journal has more on lawmaker's comments from this hearing:
Rep. Rick Larsen of Washington, the ranking Democrat on the subcommittee, also called for fast-track action while comparing drones flying near the nation's airways to "letting people drive remote-controlled model cars on the interstate." He disclosed that some representatives of the unmanned aerial vehicle industry had privately advised him they favored registering drones at the point of purchase, and subsequently sharing the data with the FAA.

Rep. Peter DeFazio of Oregon, the ranking Democrat on the full House Transportation and Infrastructure Committee, told attendees at the Oct. 7 subcommittee hearing that the FAA "might also have to look at registration" because "there should be a way to track these things back to irresponsible operators."
Later on Monday, the FAA chief Michel Huerta said in a statement that pilot reports of drone sightings doubling within the last year is a "troubling trend." Registration will increase pressure on drone operators to fly responsibly, he said, adding, "when they don't fly safely, they'll know there will be consequences."
Dr. Jim Schmidt, a drone specialist leading the Drone Safety Advisory Board of PCS Edventures, told TheBlaze in a statement that while he thinks registration is a good idea, he does see the potential for some issues.
"Blanket requirements for registration on all consumer drones seems to be a reactionary approach to a very complex situation," he said in an email. "Similar to tracking and registering firearms, the logistics and dynamics of registering and tracking all drones makes it unlikely to be successful if the decision is to register all drones. The task force assigned to evaluating this situation will most likely come to this conclusion as they will be wanting to achieve a balance of common sense and safety."
Schmidt said a "practical response" include limiting registration "to a certain level of performance in the consumer space. Commercial drones are already licensed and controlled, and expanding this to high performance and large (over a certain size and weight) consumer oriented drones could be a reasonable approach."
The FAA is scrambling to get registration rules in place before Christmas. The Consumer Electronics Association has forecast that 700,000 drones will be sold this holiday season.
TheBlaze's Fred Lucas contributed to this report. 
—
Front page image via Shutterstock. This story has been updated.