The Islamic State posted a video purporting to show a very young boy navigating an obstacle course, seemingly while dodging live fire.
In the clip that was translated by the Middle East Media Research Institute, the boy, imitating a commando, crawls under what appears to be low barbed wire while men encourage him repeatedly to shout, "Allah akbar," or "Allah is the greatest."
All this while gunshots are heard and projectiles hit the dirt in front of him.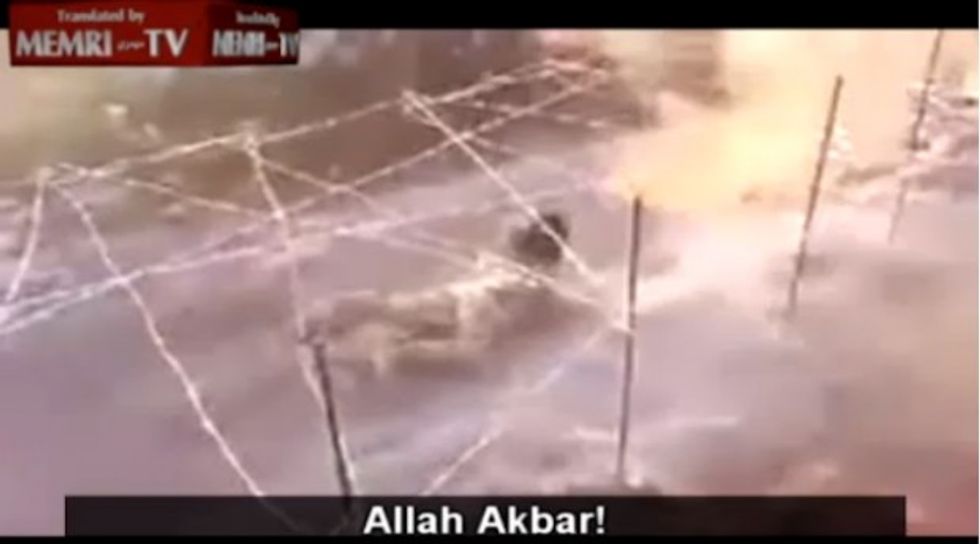 The child was instructed to shout "Allahu akbar" as he navigated an obstacle course, apparently while someone was shooting live fire. (Image source: Islamic State group video via MEMRI)
The boy was wearing military-style fatigues, emulating his militant instructors.
TheBlaze is unable to independently authenticate the video or the use of live fire.
MEMRI reported that the tweet in which the video was originally distributed to Islamic State supporters on Thursday described the child as an Islamic State "caliphate cub."
The jihadist group frequently includes boys it has recruited in propaganda videos as a way to show the future continuity of its mission. Among the videos, it has also shown boys executing accused spies and other captives.