RALEIGH, N.C. (AP) -- The graffiti message, "kill a cop, save a child," has been spray-painted again in a Raleigh suburb several days after it was found on a mural at a new police headquarters.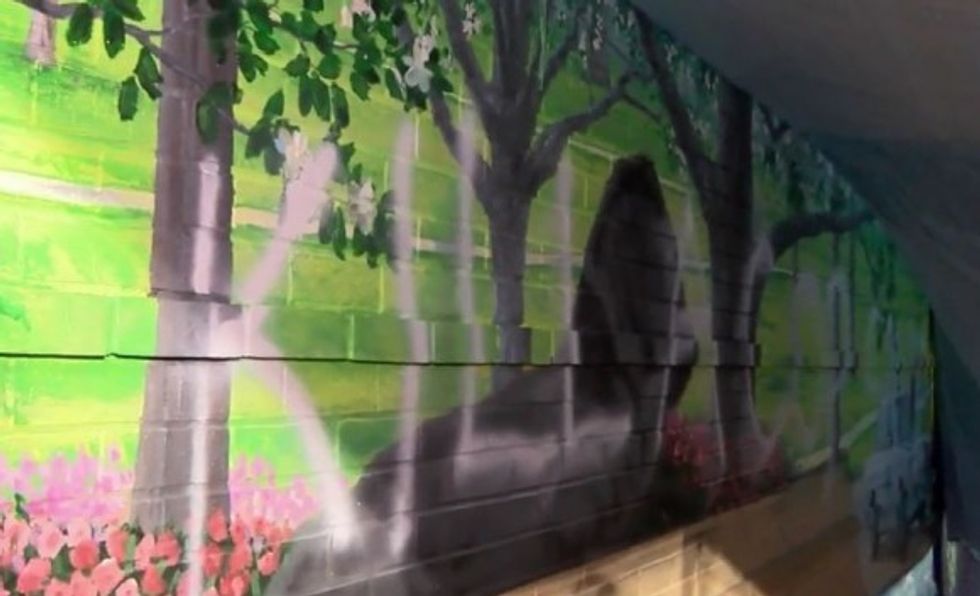 Image source: WNCN-TV
In the most recent instance, the phrase was discovered Monday on the back of several businesses at a shopping center in Garner, less than a mile from the police building. Similar graffiti was found Friday on a mural being painted at the renovated building that police will start using within a few weeks.
"This message is not a message to this police department from its community. This is the message of one or two individuals - cowards - acting under anonymity," Garner Police Chief Brandon Zuidema said in a phone interview.
Zuidema said the department of 63 officers has a good relationship with the community and was already holding a series of meetings to maintain its rapport.
The city of 27,000 lies just south of Raleigh city limits and has a lower crime rate and higher median household income than the capital city or the state as a whole.
While anti-police graffiti has appeared elsewhere in recent months, Zuidema said there had been none in Garner until last week.
Garner police are offering a $5,000 reward for information leading to an arrest, but Zuidema declined to discuss any leads.
He compared the graffiti to a hate crime, though he said it wouldn't be charged that way under North Carolina law.
"This is someone who is targeting a group of people, not based on an action that they've taken, but based on who they are, i.e. police officers," he said. "So it's a hate crime."
p style="text-align:center;">
Separately, a social media campaign to repay the cost of repainting the mural has raised nearly $3,000 from dozens of donors in about a day. The donation page said local artist Vincent Wood has spent 200 hours over six weeks on the mural and estimates that it would cost $2,000 to fix it.
A light tower and security fence have been added at the mural that depicts police officers and community scenes.
"The community response to this is overwhelmingly positive," Zuidema said. "This is an isolated incident."