JERUSALEM (TheBlaze/AP) — A Jewish Israeli man was shot and killed in a scuffle with Israeli soldiers who suspected he was a Palestinian attacker, police said Thursday, in a reflection of the jittery mood that has gripped Israelis amid a spate of near-daily stabbings.
The shooting came as Prime Minister Benjamin Netanyahu was in Germany for talks with U.S. Secretary of State John Kerry on how to restore calm. Kerry is set to meet with the Palestinians this weekend.
Police spokesman Micky Rosenfeld said the shooting of the Israeli man in Jerusalem late Wednesday occurred after soldiers patrolling the area asked him to show his ID as he got off a bus.
The man refused, scuffled with the soldiers and then attempted to seize one of their weapons. A private security guard nearby shot the man, and one soldier also opened fire, police said. The man later died of his wounds.
Police said the soldiers had grown suspicious when the man, speaking in Hebrew, asked to see their IDs and proclaimed, "I am ISIS," referring to the Islamic State militant group.
"The soldiers had high suspicions that he was a terrorist," Rosenfeld said. Police later identified the man as a 28-year-old Jewish resident of Jerusalem, without providing further details.
The Palestinian attacks have Israelis on edge. Several politicians have urged licensed gun owners to carry their weapons with them, and there have been several bloody accidents. In one case, an Israeli man stabbed a fellow Jew, thinking his victim was an Arab because of his dark skin. And earlier this week, a private security guard shot an Eritrean migrant he thought was an attacker during a bus station shooting.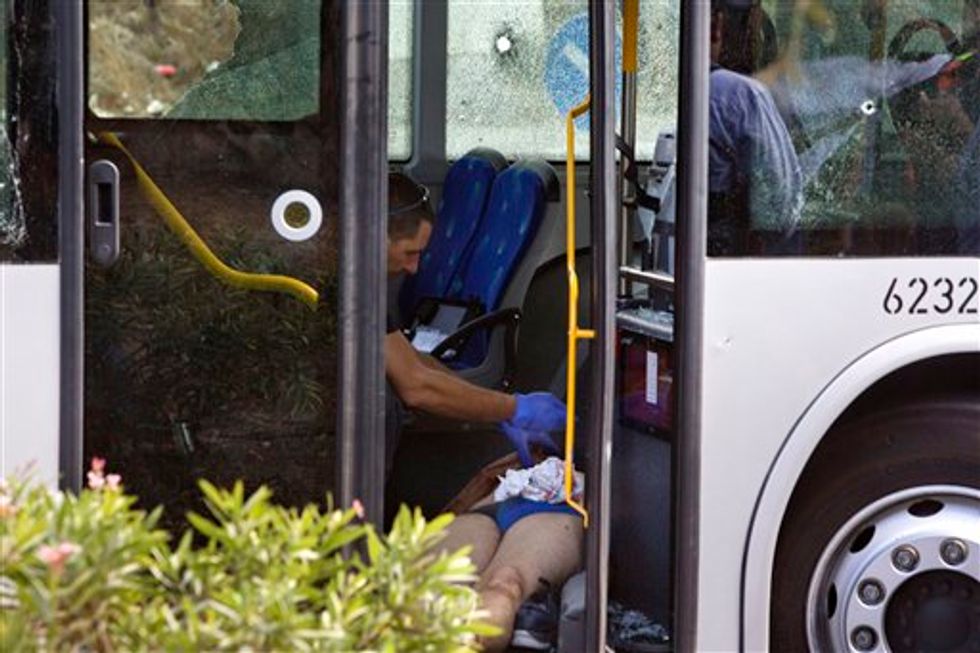 An Israeli police officer inspects the body of a Palestinian at the scene of a shooting attack in Jerusalem, Tuesday, Oct. 13, 2015. A pair of Palestinian men boarded a bus in Jerusalem and began shooting and stabbing passengers, while another assailant rammed a car into a bus station before stabbing bystanders, in near-simultaneous attacks that escalated a month long wave of violence. Two Israelis and one attacker were killed. (AP Photo/Sebastian Scheiner)
As the Eritrean lay on the ground, a mob of people cursed him, kicked him and hit him with objects. He later died of his wounds. Police said the autopsy showed the man died from gunshot wounds and that four suspects arrested for their role in the beating were released on bail following a court appearance.
Opposition legislator Tzipi Livni accused hard-line politicians of fomenting a climate of fear and danger with their calls for people to arm themselves.
"This is not the Wild West," she told Israeli Army Radio. "The suspicion there is now, the fear and the hate lead to brutal and very difficult results."
Israelis have scrambled to purchase pepper spray for self-defense, and stores and restaurants are empty. Israel has beefed up security, deploying hundreds of soldiers to back up thousands of police officers. Police have erected concrete barriers and checkpoints at the entrances to Arab areas of east Jerusalem, where many of the attackers are from.
Many Palestinian residents of Jerusalem have been afraid to leave their homes for fear of getting mixed up with vigilante mobs or being mistaken for an attacker.
In new violence Thursday, police said two Palestinians stabbed an Israeli at a bus stop after they tried to board a bus ferrying children to school. Police shot the two men, one of whom later died while the other was seriously wounded. Police said the Israeli man was moderately wounded.
Israel's Shin Bet internal security agency said the men, both about 20 years old, have records of militant activity. One is a member of the Islamic militant Hamas group while the other was jailed for two years after he was caught carrying a knife at a sensitive West Bank holy site.
Also Thursday, Israeli troops placed a concrete barrier in the West Bank city of Bethlehem, near a Jewish holy site where thousands of faithful are expected for a pilgrimage this weekend. The gathering threatens to heighten tensions in the city, where Palestinian demonstrators have been clashing with Israeli troops in recent weeks.
Police said they would deploy hundreds of troops in a bid to maintain calm. The holy site known as Rachel's Tomb lies beyond Israel's West Bank separation barrier on the outskirts of Bethlehem.
Ten Israelis have been killed over the last month, mainly in stabbing attacks. On the Palestinian side, 48 people have been killed, 27 of them labeled by Israel as attackers, the others killed in clashes with Israeli forces.
The violence erupted a month ago, fueled by rumors that Israel was plotting to take over a sensitive Jerusalem holy site revered by both Jews and Muslims.
Palestinians point to the growing number of Jewish visitors to the site, as well as calls from activist groups and senior politicians for expanded prayer rights.
Israel says it is committed to a longstanding status quo and adamantly denies the rumors, saying they incite violence.
The violence was initially confined to Arab areas of east Jerusalem but soon spread deep into Israel, the West Bank and the Gaza Strip.
The Palestinians say the violence is rooted in frustration at decades of living under Israeli occupation, while Israel accuses Palestinian leaders of inciting the unrest.
On Thursday, Israel's sports minister, Miri Regev, called on the world soccer body to condemn recent remarks by her Palestinian counterpart, Jibril Rajoub.
In a TV interview this week, Rajoub hailed Palestinian attackers as courageous heroes. In a letter released Thursday, Regev said Rajoub has been "spearheading" a campaign of "libel and incitement." She urged FIFA to issue a "clear and unequivocal condemnation" and summon him to clarify the remarks.
Rajoub, who has repeatedly asked FIFA to sanction Israel, could not immediately be reached for comment.
Diplomatic efforts have kicked off in a bid to quell the violence. U.N. Secretary-General Ban Ki-moon met with Israeli and Palestinian leaders during a visit to the region this week and then offered the Security Council a grim assessment of prospects for defusing the violence.
Netanyahu, after meeting with German Chancellor Angela Merkel on Wednesday, was meeting Kerry on Thursday in Germany.
Kerry also condemned what he referred to as "incitement," but did not specifically point to Palestinians as being behind the wave of recent attacks. Kerry said he hopes the meeting would help "settle on the steps that will be taken that take us beyond the condemnation and beyond the rhetoric."
"We have to stop incitement, we have to stop the violence," Kerry said. Netanyahu, however, was very clear about who he believes is responsible, drawing a stark contrast between Kerry and himself.
"There is no question this wave of attacks is driven directly by incitement, incitement from Hamas, incitement from the Islamist movement in Israel and incitement, I am sorry to say, from President Abbas and the Palestinian Authority," Netanyahu said.
"To stop the terrorism, we have to stop the incitement," Netanyahu added. "I think it's time that the international community told President Abbas to stop the incitement and hold him accountable for his words and his deeds."
The Israeli prime minister further denied that Israel is executing Palestinians.
Kerry is scheduled to meet Palestinian President Mahmoud Abbas in Jordan this weekend. The Quartet of Mideast mediators, a grouping that includes the U.S., U.N., EU and Russia, is set to meet Friday to call for calm.