SAN DIEGO (AP) -- Authorities seized 12 tons of marijuana and arrested 22 people after discovering one of the longest cross-border tunnels between the U.S. and Mexico, officials said Thursday.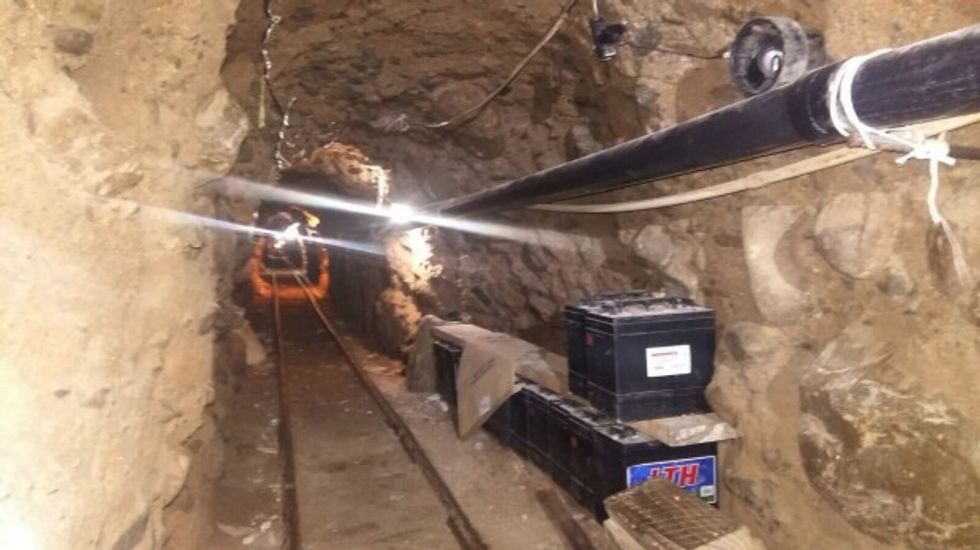 This Wednesday, Oct. 21, 2015 photo released by Mexico's Federal Police shows an underground tunnel that police say was built to smuggle drugs from Tijuana, Mexico to San Diego in the United States. Mexican federal police said the tunnel extends about 2,600 feet (800 meters) and is lit, ventilated, equipped with a rail car system, and lined with metal beams to prevent collapse. (Mexico Federal Police via AP)
The passage connecting warehouses in San Diego and Tijuana, Mexico, was about 2,400 feet long and 30 feet deep. It was lit, ventilated and equipped with a rail system - hallmarks of the most sophisticated tunnels found along the border.
Near-simultaneous police stings on Wednesday resulted in six arrests in San Diego and 16 in Mexico. Authorities recovered two tons of marijuana in the U.S. and 10 tons in Mexico.
U.S. authorities said smugglers tried to move the first load of drugs through the tunnel on Wednesday but that nothing got through undetected.
The sting came after an undercover agent for U.S. Homeland Security Investigations agreed to provide the drug smugglers with drivers and use of a warehouse in exchange for a $10,000 payment for each truckload of drugs moved, according to a probable cause statement.
The discovery demonstrates the enduring appeal of tunnels to smugglers, despite the significant time and money required to build one. Dozens of tunnels have been found along the U.S.-Mexico border in recent years, some equipped with hydraulic lifts and electric rail cars.
The San Diego-Tijuana region is popular because its clay-like soil is relatively easy to dig with shovels and pneumatic tools, and both sides of the border have warehouses that provide cover for trucks and heavy equipment.
It was unclear which drug trafficking organization orchestrated the latest passage but the region is largely controlled by Mexico's Sinaloa cartel, whose leader Joaquin "El Chapo" Guzman escaped from a maximum-security prison in Mexico in July through an elaborate tunnel.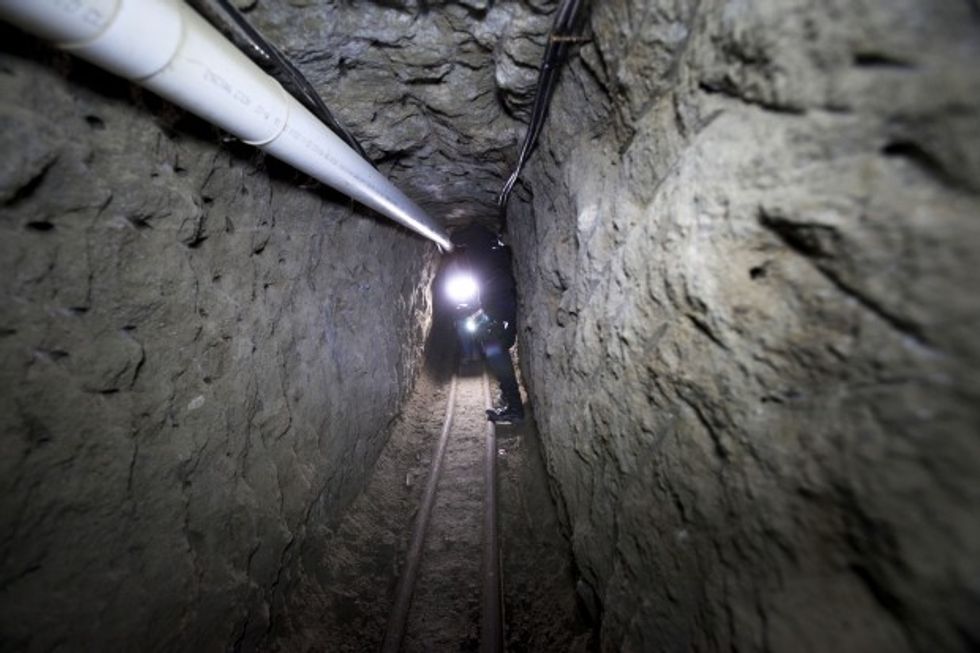 Federal Police officer stands in the tunnel where according to authorities drug lord Joaquin "El Chapo" Guzman made his escape from the Altiplano maximum security prison in Almoloya, west of Mexico City, Thursday, July 16, 2015. Two Mexican lawmakers say at least 18 minutes had elapsed from when Mexico's most prized prisoner slipped into a mile-long tunnel Saturday night and when authorities became aware. An official with the National Security Commission said he would try to confirm the figure, but did not think it was that much time. (AP Photo/Marco Ugarte)
Mexican federal police said in a news release that those arrested on suspicion of drug trafficking told authorities that they had ties to a criminal group that operates in the state of Jalisco - an apparent reference to the Jalisco New Generation cartel, which controls that part of western Mexico.
The Mexican suspects were caught off-guard when authorities arrived at the Tijuana warehouse with a search warrant, police said. No shots were fired.
The drugs found were wrapped in 873 packages covered with plastic and tape.
On the U.S. side, the tunnel entry point in a warehouse near the Otay Mesa border crossing had no stairs or ladder. U.S. Attorney Laura Duffy said smugglers were believed to be using pulleys.
David Shaw, head of Homeland Security Investigations in San Diego, said traffic to and from the San Diego warehouse was unusually heavy before the sting. The agency began investigating in May, he said.
"It almost looked like they filled it with junk to look like they were busy," Shaw said.
Isaias Enriquez, 53, and Isidro Silva, 27, both of Tijuana, were charged with conspiracy in U.S. federal court. Four others were to be charged in state court.
Enriquez agreed in recorded conversations to pay the undercover agent $10,000 a truckload to provide a second warehouse and drivers, according to the probable cause statement. Drugs were to go there from the warehouse on the border in San Diego.
Two agents unloaded boxes containing 249 packages of marijuana at the second warehouse on Wednesday, and one met later with Enriquez and Silva at a San Diego restaurant to arrange another shipment, the document said.