A Palestinian couple in Gaza decided to name their newborn son Knife of Jerusalem in support of a wave of violent attacks against Israelis that Palestinians have taken to calling the "intifada of knives."
The Middle East Media Research Institute posted a translated interview of the parents who explained the rationale behind the unusual name that their friend described as "sweet."
"Allah has given me a new baby, and I've named him 'Knife of Jerusalem' after the intifada of the knives because we are now witnessing a new kind of revolution," Mohammed Abu Shebika, the child's father, said, adding that he and his wife had selected the name "in support of the blood of the martyrs."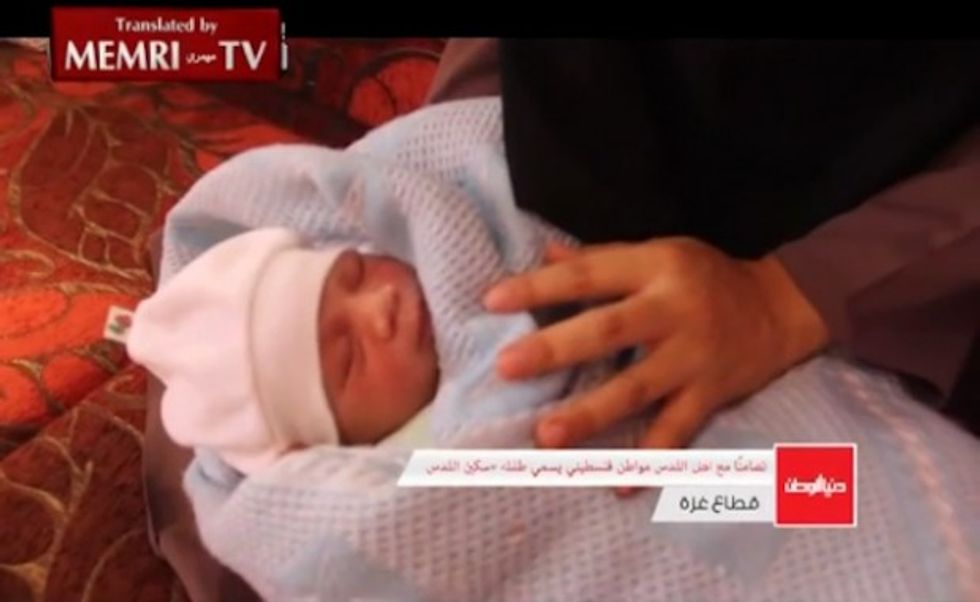 The Gaza baby known as Knife of Jerusalem. (Image source: MEMRI)
"Giving him this name was the least I could do, even if many people don't like it," the father said.
The baby's mother said that they chose the name "in solidarity with our people in the West Bank."
The father's friend who was also interviewed said the name was his idea.
"I felt that this would gain lots of attention on social media," the friend said.
According to the friend, Abu Shebika stated that he did not know what name to give the baby. Then, while they were watching the music video "Lovers of Stabbing" on television, the friend suggested, "How about Knife of Jerusalem?"
The friend recalled the father reacting, "How can I call him Knife?" to which the friend replied it was in order to honor the "martyrs" of the "intifada of the knives."
"This is a really sweet name," the friend said. "It is the least we can do for Jerusalem."
In the video, the parents and baby were seen with two other small children.
Photos of the child's birth certificate with the name written on it have been circulating on Palestinian social media.
Israeli Prime Minister Benjamin Netanyahu has assailed Palestinians for promoting and glorifying violence via social media.