FBI Director James Comey says the recent spike in violent crime in a number of cities is a result of the "Ferguson effect" — or officers showing more restraint in the wake of backlash against law enforcement.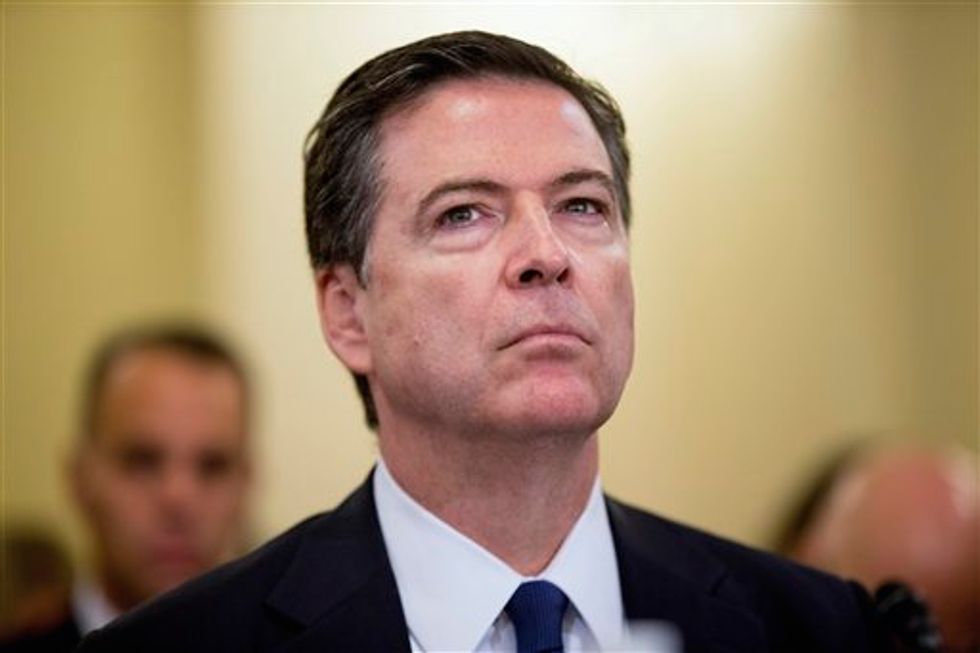 FBI Director James Comey listens while testifying on Capitol Hill in Washington Oct. 21. Violent crime has often been a local government concern and a problem that had been on the decline. But rising homicide totals in most of America's large cities have raised alarms within the Obama administration. Comey says the "very disturbing" homicide spike has law enforcement scrambling to figure out why it's happening now, and why in so many cities that seemingly have little in common. (AP Photo/Andrew Harnik, File)
"In today's YouTube world, are officers reluctant to get out of their cars and do the work that controls violent crime? Are officers answering 911 calls but avoiding the informal contact that keeps bad guys from standing around, especially with guns?" Comey said Monday, CNN reported.
"I don't know whether this explains it entirely, but I do have a strong sense that some part of the explanation is a chill wind blowing through American law enforcement over the last year. And that wind is surely changing behavior," Comey added.
The FBI chief was referring to the growing number of crimes being committed in cities like Cleveland and Milwaukee, which have both already surpassed the number of murders committed there in 2014, and in Dallas and Tampa, where murder totals are on track to surpass their 2014 numbers.
Comey addressed those numbers more directly in a speech he gave at the University of Chicago on Friday.
"Far more people are being killed in America's cities this year than in many years — and let's be clear: Far more people of color are being killed in America's cities this year, and it's not the cops doing the killing," Comey said.
The FBI chief also invoked the phrase "all lives matter" in response to the controversial Black Lives Matter movement that has sparked protests against the police, some of them violent, in cities and towns across the country, including Ferguson, Missouri.
President Barack Obama threw his full support behind the Black Lives Matter movement in a recent interview, saying that everyone acknowledges that all lives matter, but that the phrase "Black Lives Matter" takes on a different meaning given the history of blacks in the United States.
"We, as a society, particularly given our history, have to take this seriously," Obama said.
Obama contended that cities even are experiencing more crime, suggesting instead that it's something the media has been "hyping." White House press secretary Josh Earnest further rebutted more of Comey's comments at press briefing on Monday.
"The evidence we've seen so far doesn't support the contention that law enforcement officials are somehow shirking their responsibility, and in fact, you've seen law enforcement leaders across the country indicating that's not what's taking place," Earnest said.
(H/T: CNN)
–
Follow Jon Street (@JonStreet) on Twitter