"Harry Potter" author J.K. Rowling on Tuesday defended her stance against a cultural boycott of Israel, drawing from her mega-successful book series for lessons on the importance of remaining engaged with the other side despite holding deep-seated differences.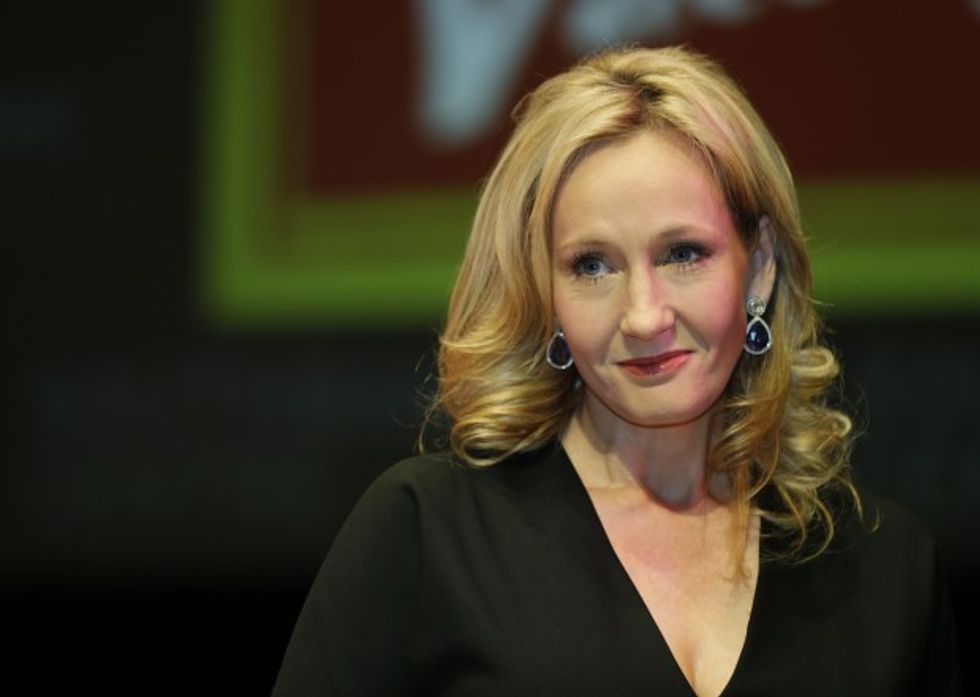 AP Photo/Lefteris Pitarakis
Rowling was among some 150 U.K. signatories to a letter published in the Guardian last week opposing a cultural boycott of Israel. The letter was in response to a declaration by 700 U.K. artists who announced their intention to boycott the country earlier this year.
"Cultural boycotts singling out Israel are divisive and discriminatory, and will not further peace," the letter signed by Rowling and others said. "Open dialogue and interaction promote greater understanding and mutual acceptance, and it is through such understanding and acceptance that movement can be made towards a resolution of the conflict."
Rowling's signature spawned a number of online messages attacking her as a "Zionist" and even accusing her of ruining their childhoods as a result of her stance.
good morning jk rowling is a zionist and my childhood is ruined

— ari (@_aryang) October 22, 2015
@Mondoweiss JK Rowling sides with the Voldemort of the Middle East.

— Mami Mermelada (@mami_mermelada) October 24, 2015
. @jk_rowling if you're so certain that writing a letter is the way to ensure peace, why didn't you get harry & voldemort to talk it out?

— hjp (@maruaders) October 24, 2015
JK Rowling should stick to writing kids books for adults who don't want to grow up -her zionist apologist look isn't a good one.

— jim macred (@smokejack) October 27, 2015
Elaborating on her position Monday, Rowling said she has "deplored most of [Israeli Prime Minister Benjamin] Netanyahu's actions in office."
"However, I do not believe that a cultural boycott will force Mr Netanyahu from power, nor have I ever heard of a cultural boycott ending a bloody and prolonged conflict," she continued. "If any effects are felt from the proposed boycott, it will be by ordinary Israelis, many of whom did not vote for Mr Netanyahu. … At a time when the stigmatisation of religions and ethnicities seems to be on the rise, I believe strongly that cultural dialogue and collaboration is more important than ever before and that cultural boycotts are divisive, discriminatory and counter-productive."
In another follow-up essay on Tuesday, Rowling responded to other charges that "Harry would be disappointed" or "Harry wouldn't understand" her position.
"Those people are right, but only up to a clearly defined point," she wrote. "The Harry of six and a half books might not understand. Harry is reckless and angry for a considerable portion of those six and a half books … [t]here comes a moment in the final book, though, when Harry, whose natural inclination is to fight, to rush to action, to lead from the front, is forced to stop and consider the cryptic message the dead Dumbledore has left him."
Rowling then used the crucial action of Hogwarts headmaster Albus Dumbledore meeting with Severus Snape — who has just sent Voldemort after baby Harry, resulting in the deaths of Harry's parents — to illustrate the importance of communication.
"Dumbledore is an academic and he believes that certain channels of communication should always remain open. It was true in the Potter books and it is true in life that talking will not change wilfully closed minds. However, the course of my fictional war was forever changed when Snape chose to abandon the course on which he was set, and Dumbledore helped him do it. Theirs was a partnership without which Harry's willingness to fight would have been pointless," she wrote.
She said while boycotting Israel "has its allure" after the "untold injustice and brutality" suffered by the Palestinians, doing so would place "immovable barriers" in the path to peace.
"What sits uncomfortably with me is that severing contact with Israel's cultural and academic community means refusing to engage with some of the Israelis who are most pro-Palestinian, and most critical of Israel's government," Rowling wrote. "Those are voices I'd like to hear amplified, not silenced. A cultural boycott places immovable barriers between artists and academics who want to talk to each other, understand each other and work side-by-side for peace."
(H/T: Mashable)