Sen. Lindsey Graham (R-S.C.) blasted Defense Secretary Ash Carter and Joint Chiefs Chairman Joseph Dunford for the administration's "half-assed" strategy in the Middle East.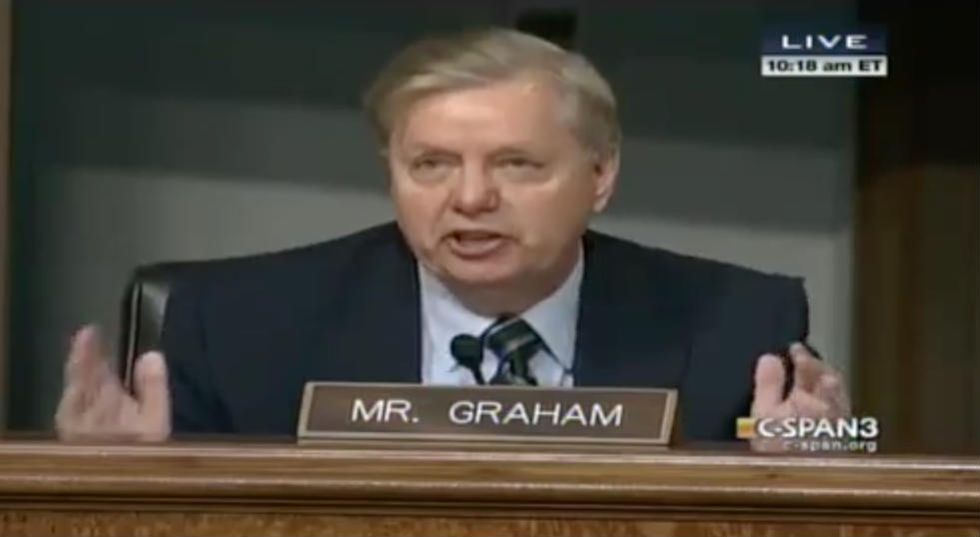 Sen. Lindsey Graham (Image source: YouTube)
The two men testified before the Senate Armed Services Committee Tuesday, where they defended President Barack Obama's foreign policy as it relates to Syrian dictator Bashar Assad.
Graham, who is seeking the Republican presidential nomination, is a frequent critic of the Obama administration's foreign policy. The senator questioned Carter and Dunford before he laid into the entire game plan, asserting that the U.S. strategy in Syria is acting not in the interest of America but rather in the interests of Russia, Iran and Hezbollah.
"If I'm Assad, this is a good day for me, because the American government has just said without saying it that they're not going to fight to replace me," Graham said. "What you've done, gentlemen, along with the president, is you've turned Syria over to Russia and Iran."
"All I can say is this is a bad day for America, and the region will pay hell for this, because the Arabs are not going to accept this. The people in Syria are not going to accept this," Graham said. "This is a half-assed strategy at best."
–
Follow Jon Street (@JonStreet) on Twitter