Piers Morgan has weighed in on the great James Bond debate, and for the most part, he takes the side of tradition.
In a piece titled "Enough of this PC nonsense! James Bond can't be gay or female any more than I can play Wonder Woman or Lassie"  for the Daily Mail Online, where the former CNN host is editor-at-large, Morgan argued that people should "let Bond be Bond and let the PC police be damned."
"I've appeared in eight movies over the past few years, most recently in Entourage: The Movie, and like all budding thespians I yearn for more big screen action," Morgan wrote. "But I know my limitations: I can't play Nelson Mandela or Martin Luther King. Because I'm white, and their racial identity was crucial to their stories. I'm not going to be Wonder Woman or Mary Poppins. Because I'm a bloke."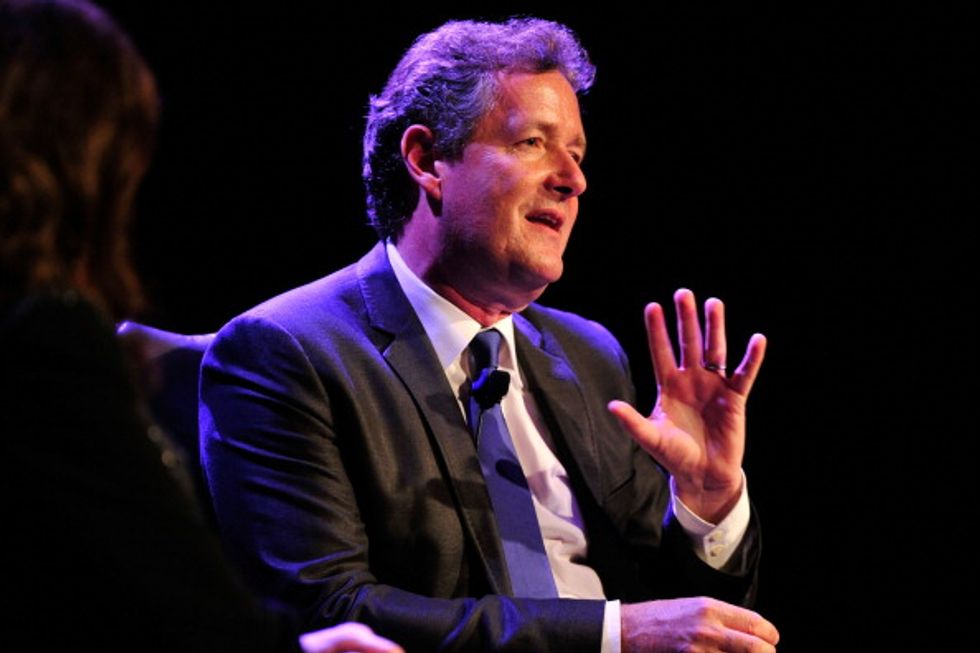 Piers Morgan on stage at BritWeek 2012's 'An Evening With Piers Morgan' (Frazer Harrison/Getty Images)
Morgan went on to argue that Bond's "brand has been built on a clear, definable platform of him being a ruthless, womanising assassin," and if the character were rewritten to be gay, it would transform the entire franchise — and not for the better. He added that it's not a homophobic opinion — as Morgan contented that he surely has proved his anti-homophobia nature while at CNN — but simply an opinion that it wouldn't work to change the Bond franchise.
"As for being a woman, is the world ready for these words: 'My name is Bond, Janet Bond'? Perhaps with Caitlyn Jenner in the lead role? Methinks not," Morgan wrote.
Again, he argued that he was not being sexist in his opinion that Bond should not be a woman; he is just staying true to the Bond character.
"The reason people love James Bond is because he provides a timeless continuity as all about us changes and evolves," Morgan wrote. "He doesn't age, he drives Aston Martins, he chases women, he survives explosions, evades villains, he cracks diabolically un-PC jokes and he kills people."
Where Morgan opted to be more progressive about the character was on Bond's skin color.
"I don't think it matters, so long as the character retains his other singularly suspect list of virtues," Morgan wrote. "Unlike with Mandela, whether Bond is black or white is not essential to his story."
Read more of Morgan's critique of political correctness when it comes to the Bond films here.