Raven-Symoné angered loyal fans of "The View" after she made some comments regarding the black South Carolina high schooler who was seen being thrown to the ground by the school's resource officer in a now viral video.
On the show's "After The View" Monday, Raven-Symoné argued that while she was not defending the officer, who was fired on Wednesday, the teenager shouldn't have been on her phone in the first place.
"The girl was told multiple times to get off the phone. There's no right or reason for [the officer] to be doing this type of harm — that's ridiculous — but at the same time, you've got to follow the rules in school," Raven-Symoné said.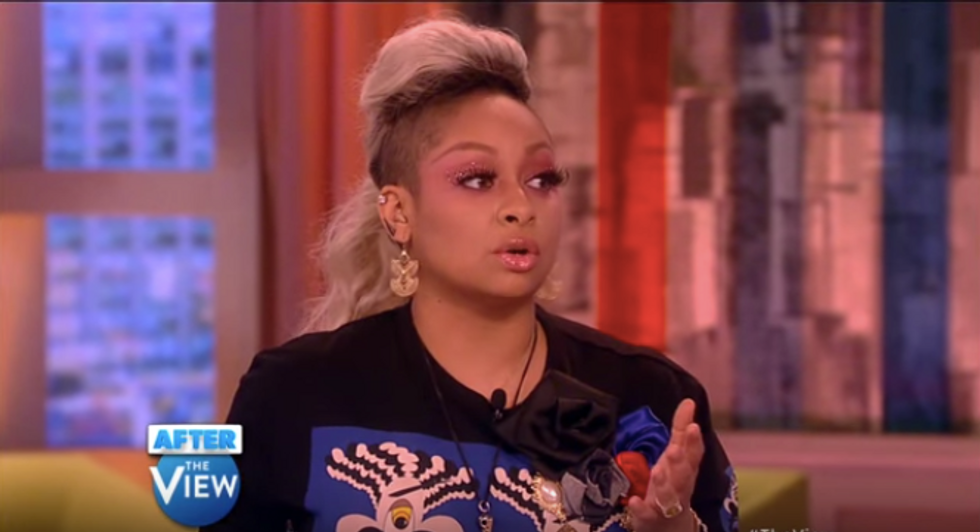 Image source: YouTube
"He has a record and he was still hired but at the same time, get off your phone," she continued. "You're in school, get off your phone."
Co-host Paula Faris said during the segment that younger people seem to have less respect for authority — including administrators and teachers — which can be traced back to how their parents are bringing up their children.
Yet even though Raven-Symoné said multiple times throughout the brief segment that the resource officer's actions were not excused or justified, she set off a fury of angry viewers online.
so your girl @ravensymone has managed to blame the victim in the #SpringValleyHighAssault https://t.co/6FnlmZXhqK

— Franchesca Ramsey (@chescaleigh) October 28, 2015
I'm actually disgusted at Raven defending that officer who assaulted an high school student.

— blessing (@QueenBTrill) October 28, 2015
*sees Raven Symoné trending* *reads her opinion on Spring Valley High School incident* Me: pic.twitter.com/96zaeUW4o6

— Igolo Obi (@champagneobi) October 28, 2015
Is she kidding? @ravensymone, are you kidding? https://t.co/DDEAyXGbsv

— Mr Dalloway (@ShutUpKecy) October 28, 2015
Raven Symone was probably privately tutored as a high school student sooo..... she cannot relate

— dari melaninkis (@dari_queenn) October 28, 2015
(H/T: The Root)