As Ronda Rousey continues her dominance in the world of mixed martial arts, the UFC Bantamweight champion's aspirations outside the sport are growing.
"My goals are so crazy," Rousey told media in Los Angeles Tuesday, adding, "what I would really like to do — and I don't know if I have the time, I just want to do so many things — I want to be remembered as one of the greatest fighters of all time, in any sport."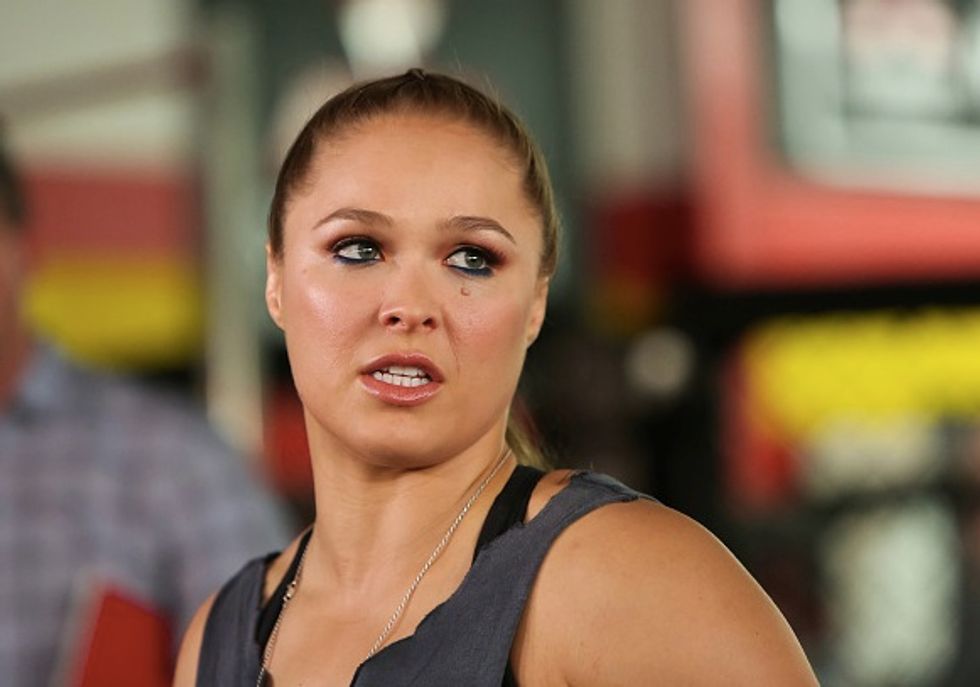 UFC Women's Bantamweight Champion Ronda Rousey address the media ahead of UFC 193 Rousey Vs. Holm on October 27, 2015, in Glendale, California. (Photo by Paul Archuleta/FilmMagic)
As for the specific sports, Rousey quickly defined her goals — which include wrestling.
"What I would love to do: I got an Olympic medal, I would want to retire from MMA as one of the greatest of all time. I would love to have a chance to be the boxing world champion. I would love to have a chance to be a jiu-jitsu world champion, and I would love to have a chance to be the [WWE] Divas world champion and just be the best of everything at one point," Rousey said confidently.
"How that is possible to do, I'm going to have to figure that out, but I am trying to figure that out," she added. "I think if anybody's capable, I think that I am. I think it's just a matter of prioritizing and timing and figuring out when I can do which when."
That could be a challenge. Besides preparing to defend her title against Holly Holm next month at UFC 193, Rousey has a number of non-fighting projects in the pipeline: She'll star in the movie version of Brad Thor's book "The Athena Project," as well as the upcoming "Road House" remake and alongside Mark Wahlberg in the spy thriller "Mile 22." She's also looking to get her autobiography "My Fight/Your Fight" up on the silver screen.
Here's a clip of Rousey speaking about her aspirations. The relevant portion begins around the 1:45 mark:
(H/T: Fox Sports)
—
Follow Dave Urbanski (@DaveVUrbanski) on Twitter