After Glenn Beck revealed Ted Cruz's "audiographic memory,"  he shared on the radio Thursday how he put the Texas senator to the test during the Republican presidential debate.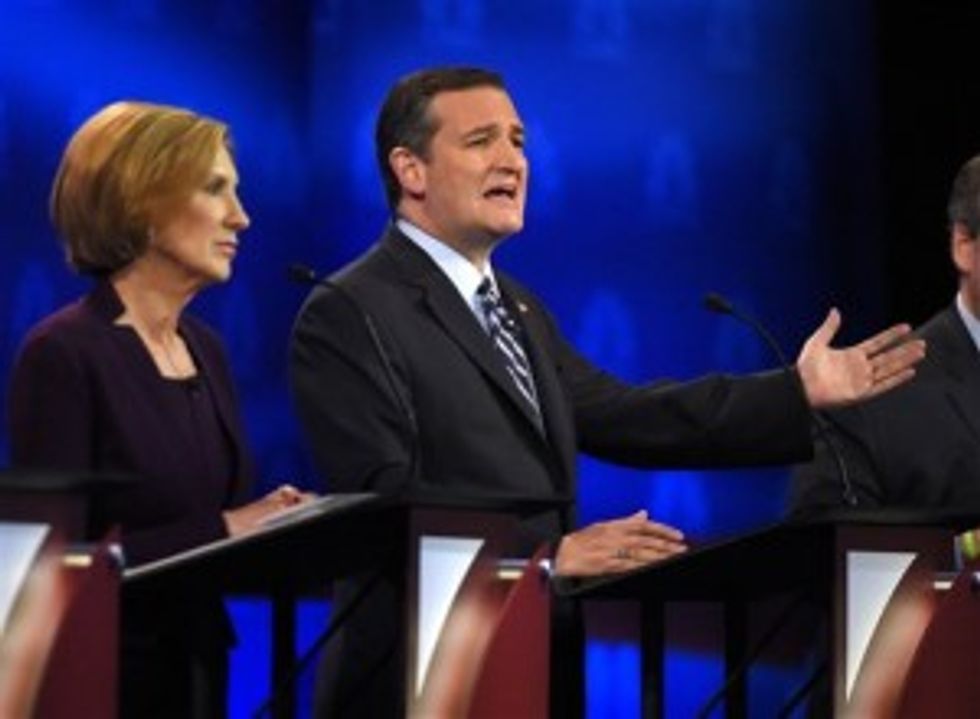 Ted Cruz makes a point as Carly Fiorina looks on during the CNBC Republican presidential debate at the University of Colorado Boulder, Wednesday, Oct. 28, 2015. (AP Photo/Mark J. Terrill)
In a particularly strong moment, Cruz shot back at the CNBC debate moderators, calling them out on their questioning tactics.
"The questions that have been asked so far in this debate illustrate why the American people don't trust the media," Cruz said in response to a question regarding his problem-solving ability from CNBC's Carl Quintanilla. "This is not a cage match."
Cruz went on to list the ways in which the debate questioners engaged the GOP candidates: "'Donald Trump, are you a comic book villain?,' 'Ben Carson, can you do math?,' 'John Kasich, will you insult two people over here?,' 'Marco Rubio, why don't you resign?,' 'Jeb Bush, why have your numbers fallen?'"
According to Fox News' Frank Luntz, Cruz's heated exchange garnered a 98 percent favorable rating among conservative and moderate voters — the highest percentage the analysts says he has recorded in 15 years of focus groups.
Beck said he'd asked his team to do two things to confirm Cruz's "eerily accurate" memory: make sure Cruz was correct in his portrayal, and confirm whether or not he listed everything off in the right order.
"You want to talk about an audiographic memory, not taking notes on what they said and getting it right, but then did you get it in the right order? Yes," Beck confirmed after replaying the debate audio. "That's the kind of guy you want at the negotiating table."
"Can you imagine — having a president of the United States who had an audiographic memory, and sitting across the table from Vladimir Putin and Iran and saying, 'No, that's not what you said?'" Beck asked.
Complimentary Clip From TheBlaze TV
[mlbvideo content_id="526723283"] 
The full episode of The Glenn Beck Program, along with many other live-streaming shows and thousands of hours of on-demand content, is available on just about any digital device. Click here to watch every Glenn Beck episode from the past 30 days and receive a Roku Streaming Stick FREE with your subscription!