In the shallow waters off the coast of Madagascar scientists recorded the first-ever footage of a rare species of whale that scientists said they never expected to find where they did.
The elusive Omura's whale, which until about two decades ago was thought to be the same as a Bryde's whale, have only had a few, unconfirmed, sightings until now, Salvatore Cerchio, formerly with the Wildlife Conservation Society and now a guest researcher at the Woods Hole Oceanographic Institution, explained.
"From the little information on their habitat and range, Omura's whales were not supposed to be in that part of the Indian Ocean," Cerchio said in a statement.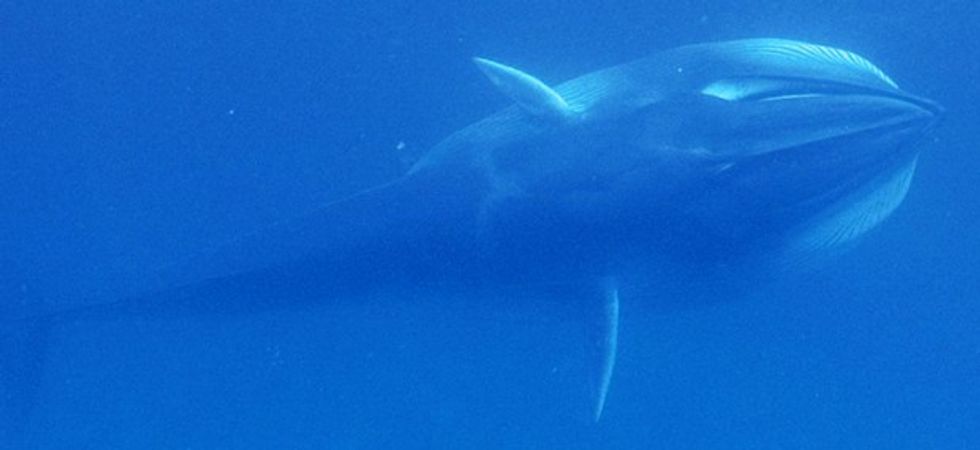 What was known about the Omura's whale, prior to this research, came from carcasses washed up on beaches and from whaling. (Photo credit: Cerchio et al. via Woods Hole Oceanographic Instituion)
What scientists had learned previously about Omura's whale came from carcasses.
"Over the years, there have been a small handful of possible sightings of Omura's whales, but nothing that was confirmed," said Cerchio, lead author of a study on the behaviors of the whale published this month in the Royal Society Open Science journal. "They appear to occur in remote regions and are difficult to find at sea because they are small—they range in length from approximately 33 to 38 feet — and do not put up a prominent blow."
See the footage of the whale released last week by WHOI:
"This is the first definitive evidence and detailed descriptions of Omura's whales in the wild and part of what makes this work particularly exciting," Cerchio said in a statement.
Northern Michigan University professor Alec Lindsay confirmed that the whales the team observed in the Indian Ocean were in fact Omura whales.
"Sal came to me and asked if we could sequence and analyze the DNA from some mysterious whale samples," Lindsay told the Mining Journal out of Marquette, Michigan. "I was excited to be able to contribute."
Lindsay went on to tell the newspaper that the "DNA evidence was conclusive."
"The 23 samples collected by Sal's field team were from Omura's whales," he said. His field team's detailed behavioral and ecological observations constitute the very first descriptions of these whales in the wild."
According to the study, Omura's whales, which officially became their own, distinct species in 2003, seem to engage in "lunge feeding, possibly on zooplankton," in shallow waters. The researchers also reported recording "song-like vocalization," which they believe to be part of mating.
In terms of their social structure, the study authors wrote that it seemed to "[consist] of loose aggregations of predominantly unassociated single individuals spatially and temporally clustered." They did observe a female whale over a two-year period — the second year with a calf — which they wrote "suggests site fidelity or a resident population."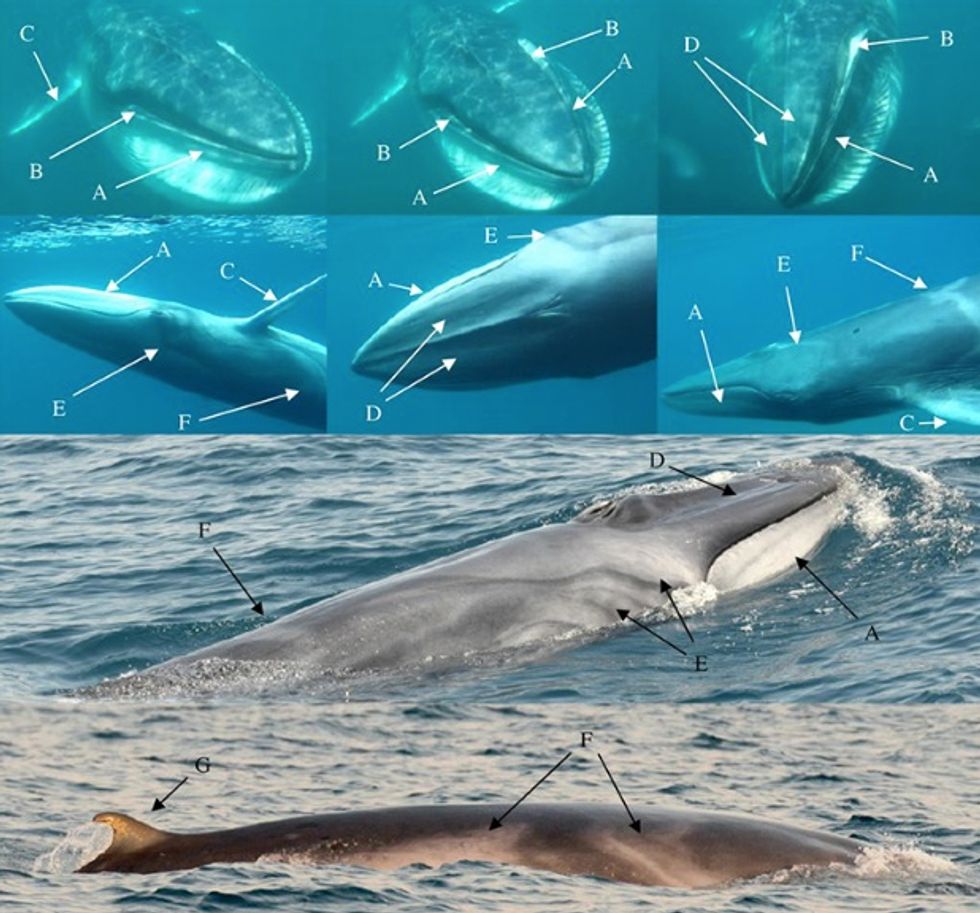 Five different Omura's whales pictured. (Photo credit: Cerchio et al. via Woods Hole Oceanographic Institution)
"Our results demonstrate that the species is a tropical whale without segregation of feeding and breeding habitat, and is probably non-migratory; our data extend the range of this poorly studied whale into the western Indian Ocean," the study authors wrote in the abstract. "Exclusive range restriction to tropical waters is rare among baleen whale species, except for the various forms of Bryde's whales and Omura's whales. Thus, the discovery of a tractable population of Omura's whales in the tropics presents an opportunity for understanding the ecological factors driving potential convergence of life-history patterns with the distantly related Bryde's whales."
In November, Cerchio and his team will conduct further field research in the area to study more of the vocalizations and behavior of the animals.
(H/T: Gizmodo)