In a wide-ranging interview on SiriusXM radio's "Opie and Jimmy" show on Friday, former CBS News anchor Dan Rather talked about his 44-year career at the network — a network which he ultimately likened to the Soviet Union.
Wrapping up the interview, Gregg "Opie" Hughes asked Rather about his banishment from CBS News and his inability to be able to even walk into "Black Rock" — the CBS headquarters building on 6th Avenue in New York City.
"That's unbelievable. We grew up with you every night. You were CBS," an incredulous Hughes said.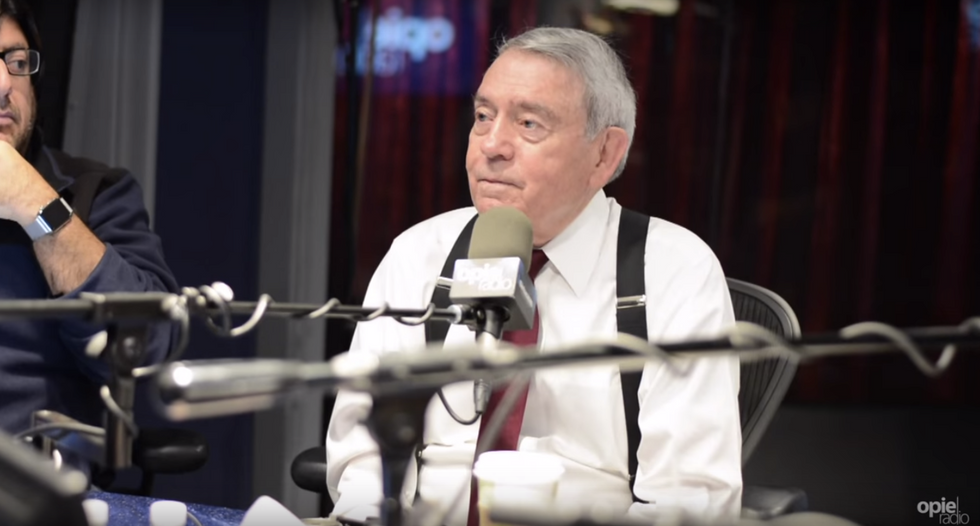 Image source: YouTube
"I appreciate that," Rather said, adding, "I long ago made my peace with what happened at CBS."
After Rather confirmed that he indeed cannot even walk into the lobby of the CBS building without being stopped, Hughes laughed, saying that the idea is "ridiculous."
"On my better days, I can laugh at it too," Rather said.
"That's one thing to say you're not welcome here. It's another thing to say we're going to expunge you from our history. It's a little like what the Soviets used to do," Rather continued. "They airbrush you out of the picture."
"I think for a news operation, that's pretty serious," Rather said. "To say we're not going to be honest with you about our history. I gently suggest that's very serious."
The main focus of the interview was Rather's controversial 2004 story questioning former President George W. Bush's military service — the story that ended the veteran newsman's career at CBS.
During the "Opie and Jimmy" program, Rather discussed the state of journalism today and the new film "Truth" which is based on former CBS News producer Mary Mapes' memoir "Truth and Duty." CBS has refused to show advertisements for the film on its network.
The 84-year-old newsman also shared stories about covering the JFK assassination and being one of the first people to see the famous Zapruder film that captured the historic moment.
Watch a clip of Rather's interview below.
__
Follow the author of this story on Twitter and Facebook: