Virginia Tech students held a funeral Friday afternoon for something beloved to the students — Halloween.
After Virginia Tech's student government embarked on a campaign to inform students of "harmful costumes" for the Halloween holiday — the "My Culture is Not a Costume" campaign — students involved with the Young Americans for Freedom, a conservative student group, decided to poke fun at the "bizarre guide." The mock funeral featured an open casket where students could place their "inappropriate costumes" into for the burial.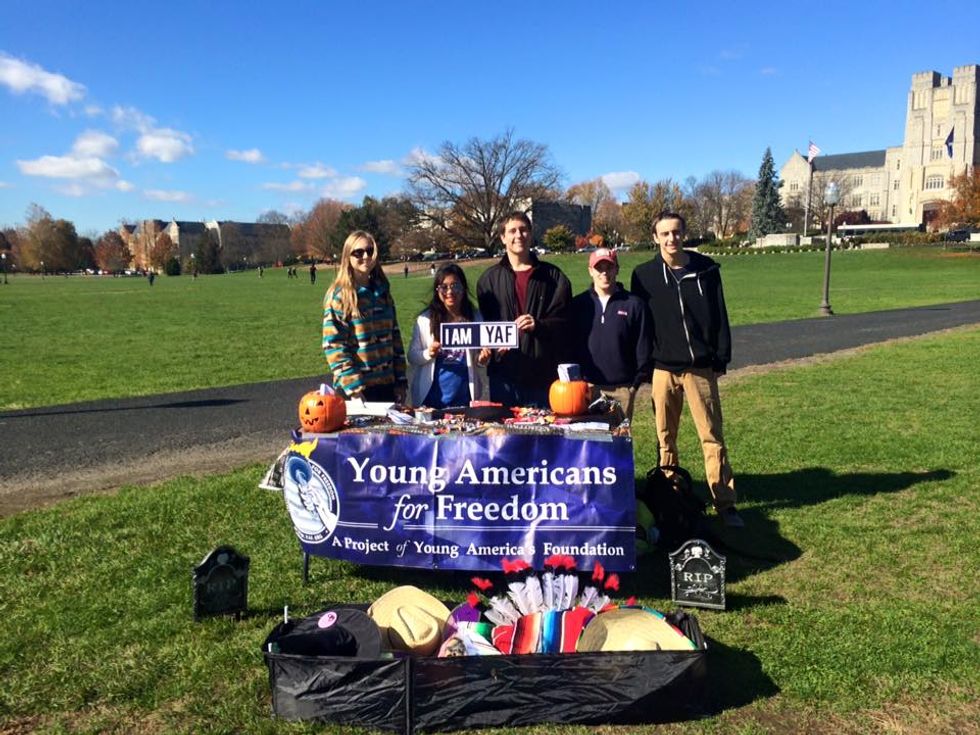 Students held a mock funeral for Halloween after Virginia Tech's student government pushed a campaign that advised against politically incorrect costumes that could be offensive or harmful. (Image via Facebook/Young Americans for Freedom at Virginia Tech)
Students also distributed mock obituaries that mourned the loss of the holiday.
"Halloween, a widely-celebrated, light-hearted holiday died at Virginia Tech during the month of October 2015 due to liberal oversensitivity," the obituary stated. "We mourn the loss of Halloween. Too many costumes have been denied due to the fact that their owner doesn't accurately represent and live out the lifestyle they are dressing up as."
"Halloween is survived by other holidays such as Groundhog Day, Valentine's Day and Labor Day," the obituary continued. "Unfortunately the same cannot be said about Thanksgiving and Christmas, which are rapidly becoming a victim of the left's plague of political correctness."
Lauren McCue, chair of Virginia Tech's YAF chapter, told TheBlaze in an interview that the event was just a "lighthearted spoof" after the school's student government decided to advocate for what its peers should or should not wear on the holiday.
"They were killing Halloween, and we just wanted to make it fun again," McCue, a senior political science major, said.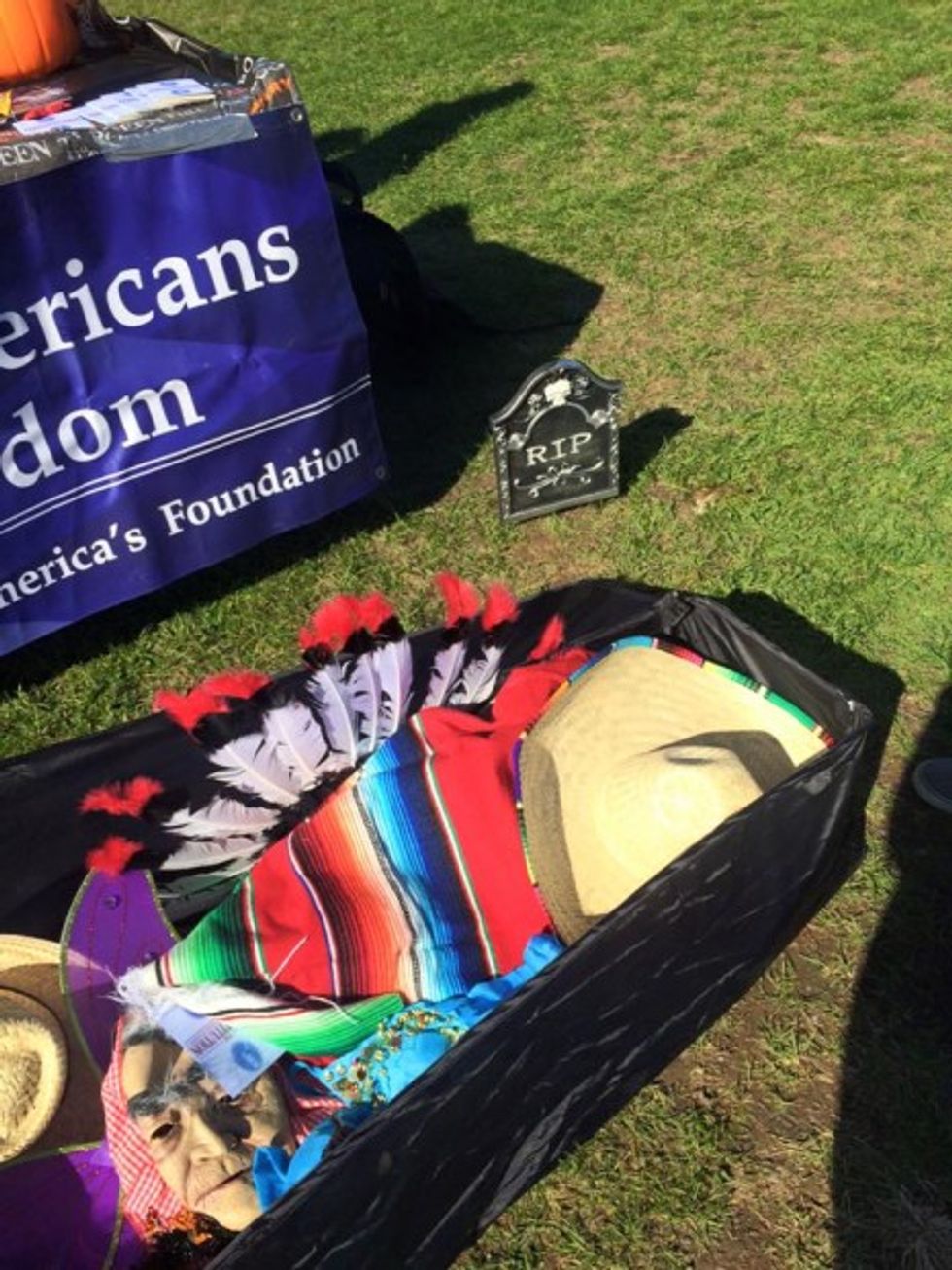 Students were encouraged to play politically incorrect Halloween costumes in a casket during the funeral for Halloween. (Image via Facebook/Young Americans for Freedom at Virginia Tech)
McCue said her group's demonstration occurred on a high-traffic area on campus where around 1,000 students saw the display. She said her group received support even from students who don't generally agree with the conservative mission and viewpoints of YAF but thought the idea of policing Halloween costumes was absurd.
Currently the school's student government can't regulate or reprimand students who wear a "politically incorrect" costume, McCue told TheBlaze. However, Virginia Tech does have a Principles of Community speech code which could be used to regulate costumes in the future.
According to a Facebook page from Virginia Tech's student government that promotes the campaign, students who wear simple or stereotyped costumes of a certain culture then "communicate a message of indifference and insensitivity" which can be cultural appropriation.
"Though we wear these costumes without any malicious intent, we may not realize the many ways in which we are hurting the people they are based on," the page states.
YAF's national organization decried the "My Culture is Not a Costume" campaign in a statement published on their website and praised their Virginia Tech chapter for "taking action" against the campaign.
"We're proud that our Virginia Tech chapter didn't simply complain about these bizarre restrictions, they went out and did something about it," YAF' spokeswoman Emily Jashinsky told TheBlaze Friday. "The left continues to push these strange ideas on students that would be met with utter confusion in most of the country outside of college campuses."
According to the conservative organization, university staff and administrators "interrogated" students who participated in the mock funeral. It was not immediately clear how students were reportedly interrogated.
"I am afraid to voice my dissenting opinion, out of fear of repercussions from the university. I don't want to put my degree in jeopardy," one student, who wished to remain anonymous, told Virginia Tech's YAF chapter.
Virginia Tech did not respond to requests for comment left Friday afternoon.
Virginia Tech's YAF chapter lost its funding last year when the school's Student Budget Board — a student-led group — decided to rescind it after YAF hosted a speech on illegal immigration by Bay Buchanan. McCue said her student organization did eventually get their funding back thanks to "the power of activism and the media."
The student government's Facebook page also announced that it would host a "post Halloween reflection event/discussion regarding cultural appropriation" on Nov. 4.
Virginia Tech isn't the only school to promote such a campaign. Fliers with a similar message hung around Princeton University's New Jersey campus prior to the October holiday.
Reminders all around Princeton Univ.'s campus on Halloween. pic.twitter.com/N01Qr7XuZs

— Kaitlyn Schallhorn (@K_Schallhorn) October 31, 2015
As reported by the conservative college news site Campus Reform, a page on North Carolina State University's website encourages students to "make Halloween an inclusive experience for all." A flowchart on the web page asks if a student plans to paint their face to mimic a specific skin tone. If a student chooses yes, the chart says, "that's called blackface, and it's never okay, no matter how clever your costume is."
However, if a student chooses no, the chart then says, "Are you Hitler? Do you have anything to do with Hitler?"
McCue told TheBlaze that she plans to dress up as Disney Princesses Pocahontas and Jasmine at two different parties this year. And while those costumes specifically are considered offensive according to the student government's campaign, she said she had been planning them long before the campaign was announced.