NEW YORK (AP) — An out-of-control car plowed into a group of trick-or-treaters on Saturday evening, killing three people, including a 10-year-old girl, and injuring four others, police said.
The Halloween horror unfolded just before 5 p.m. as a group of trick-or-treaters walked down a quiet residential block in the Morris Park neighborhood of the Bronx.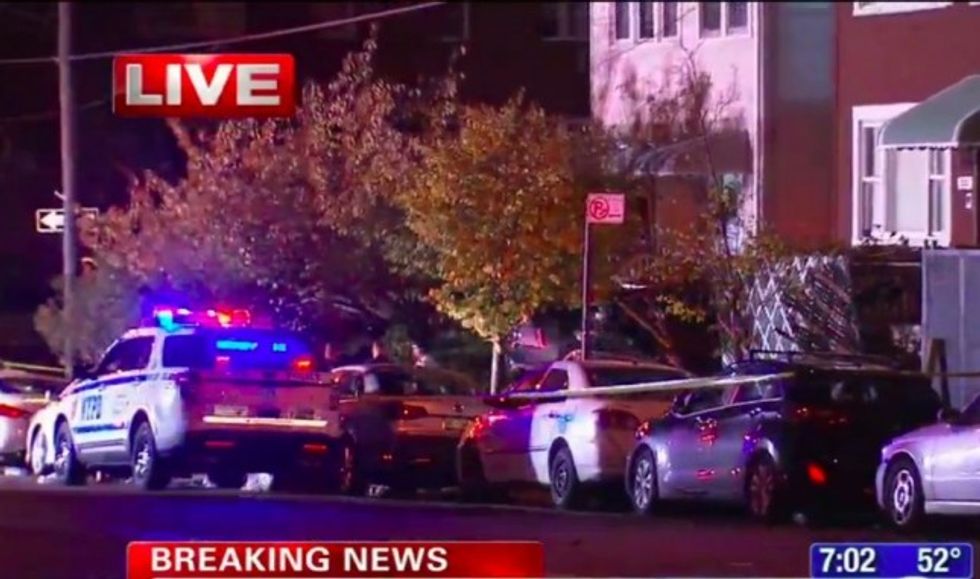 Image source: WABC-TV
A 52-year-old man behind the wheel of the black Dodge Charger went careering into the group of pedestrians on a sidewalk and then smashed through a fence in front of a home, police said. The car was left teetering on a brick wall. Moments before the car jumped the sidewalk, the man had crossed over a double yellow line in the road after bumping into the back of a Toyota Camry, police said.
"There was a family of kids trick-or-treating, walking behind me," Kristina DeJesus told WABC-TV. "All of a sudden ... I heard the boom, and the car like literally jumped over a parked car and flew into the gate, hitting a bunch of people."
A 65-year-old man suffered severe head trauma and died at the scene, police said. A 24-year-old man and a 10-year-old girl were taken to a hospital, where they were pronounced dead. The victims' identities were not released.
Authorities said a 3-year-old girl was critically injured. A 21-year-old woman, a 9-year-old girl and the driver of the car also were taken to the hospital with injuries not believed to be life-threatening.
Investigators were working Saturday night to determine the cause of the crash. No charges have been filed.
This story has been updated.
—
Follow Dave Urbanski (@DaveVUrbanski) on Twitter