A spokesman for Israeli Prime Minister Benjamin Netanyahu on Sunday blasted the Palestinian Authority for offering military honors at this weekend's funerals for Palestinians killed while engaged in stabbing attacks on Israelis.
By holding a STATE FUNERAL for terrorists who stabbed Israelis the PA supports their actions, regards them as heroes pic.twitter.com/t3pR6iED8H

— Ofir Gendelman (@ofirgendelman) November 1, 2015
Ofir Gendelman, who is Netanyahu's spokesman for the Arabic-language media, asserted that the Palestinian Authority's message is clear.
The PA received the coffins of the terrorists who stabbed Israelis w/ military honors. Its message to Palestinians:the terrorists are heroes

— Ofir Gendelman (@ofirgendelman) October 31, 2015
Israelis have faced weeks of stabbing, stone-throwing, car-ramming and shooting attacks by Palestinians.
The Israeli government over the weekend returned the bodies of seven assailants to their families for burial.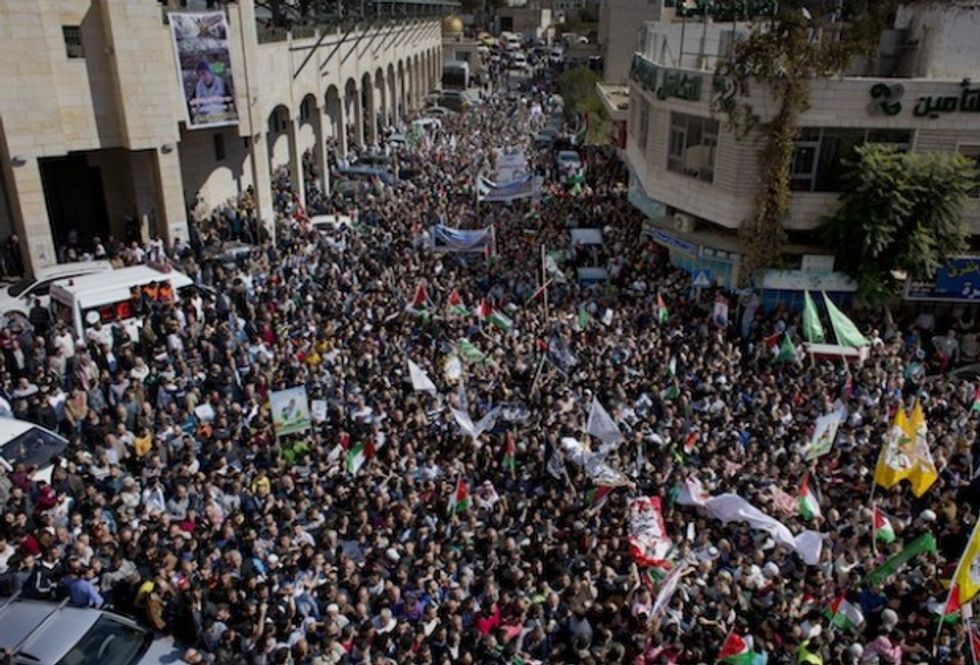 Palestinian mourners carry the bodies of Dania Ersheed, 17, Tareq al-Natshe, 16, Baian Eseleh, 16, Bashar al-ja'bari, 15 and Husam al-Ja'bari, 18, during their mass funeral in the West Bank city of Hebron, Saturday, Oct. 31, 2015. (AP Photo/Nasser Nasser)
Two of them were buried on Sunday in the villages of Sair and Surif near Hebron.
"Both men received a full military procession out of the hospital before they were taken to their hometowns," the independent Palestinian news agency Ma'an reported, confirming the account of Netanyahu's spokesman that they had received military honors.
Thousands attended the Hebron funeral a day earlier for five of the Palestinians where they waved flags and shouted calls for revenge attacks.
Ma'an reported that several Palestinian Authority officials attended the Saturday funeral, including the governor of Hebron, Kamil Hmeid, Palestinian Authority official Walid Assaf and General-Secretary of the Palestine National Initiative Mustafa Barghouthi.
On Sunday, a Palestinian tried to stab an Israeli soldier in Hebron in the West Bank. The Israel Defense Forces said in a statement that a soldier shot and killed the attacker.
The Israeli government blames the Palestinian Authority for feeding the ongoing violence by promoting the unfounded claim that Israel has designs to change prayer arrangements on Jerusalem's Temple Mount. According to the decades' old arrangement known as the status quo, only Muslim visitors are allowed to pray at the site holiest in Judaism and third holiest in Islam after Mecca and Medina.