President Barack Obama will increase the national debt to $20 trillion — and he'll be doing so with an assist from Republican leaders in Congress — when he signs the bipartisan two-year spending agreement.
The national debt is currently at $18.15 trillion. But the new deal lifting the debt ceiling allows the Treasury Department to borrow another $1.5 trillion by the end of Obama's time in office in January 2017. Thus, he will be leaving office with the national debt having nearly doubled.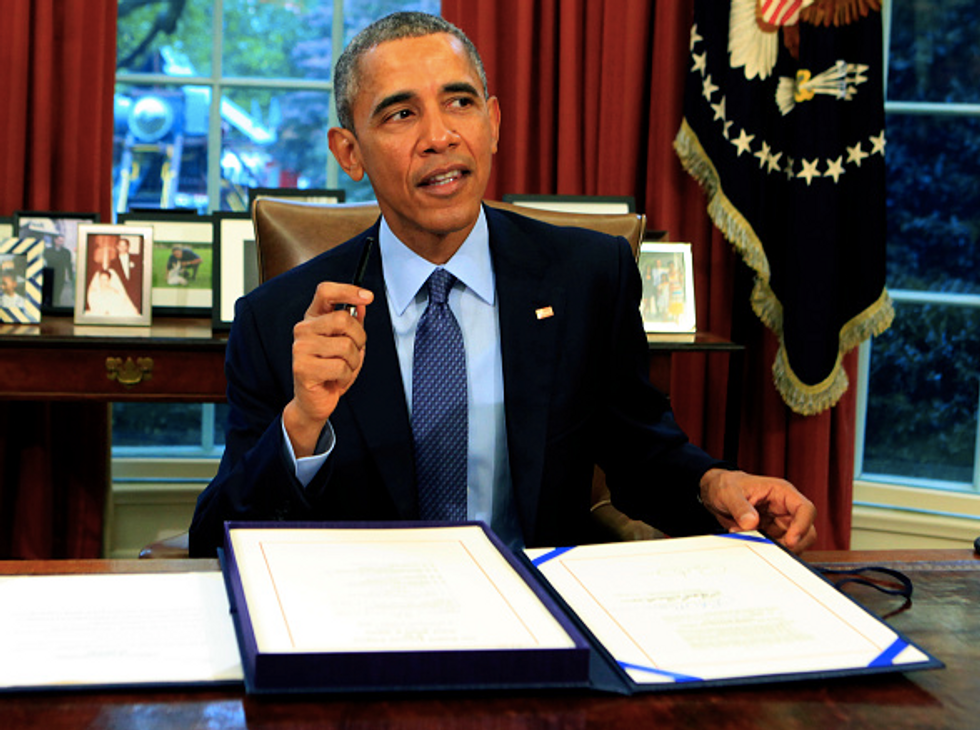 President Barack Obama signs the bipartisan budget bill 2015 into law in the Oval Office of the White House November 2, 2015 in Washington, DC. (Dennis Brack-Pool/Getty Images)
"I very much appreciate the work that the Democratic and Republican leaders did to get this to my desk. I think it is a signal of how Washington should work and my hope is now that they build on this agreement with spending bills that also invest in America's priorities without getting sidetracked by a whole bunch of ideological issues that have nothing to do with our budget," Obama said Monday when he signed the bill in the Oval Office.
Obama came into office with a national debt of $10.6 trillion after eight years of President George W. Bush. Obama administration officials criticized Bush for running up about $4 trillion over his time in office. Obama will have hiked the debt by nearly $10 trillion.
Former House Speaker John Boehner, an Ohio Republican who helped broker the deal with Obama, insisted that the increases were offset by $112 billion in spending cuts. Meanwhile, Obama said the agreement "is paid for in a responsible, balanced way."
But many budget analysts disagree and say reversing the sequester — the series of automatic, across-the-board cuts implemented in 2013 — and hiking spending will be harmful to the country.
"Congress and the president have just agreed to undo one of the only successful fiscal restraint mechanisms in a generation," Pete Sepp, president of the National Taxpayers Union told The Washington Times. "The progress on reducing spending and the deficit has just become much more problematic."
This post was updated to include comment from Obama at the signing.