An intense on-air debate over "black culture" and the viral Spring Valley High School arrest that cost a South Carolina deputy his job went from contentious to explosive without warning on Monday.
Appearing on KRIV-TV in Houston, community activist Quanell X and opinion commentator Angela Box strongly disagreed — to put it lightly — about the circumstances that led to Richland County deputy Ben Fields forceful handling of a disruptive female student. Fields was recently fired over the incident.
"This is no innocent little lamb," Box said. "When you have one student — just one — in a classroom disrupting the class, making life hell for the teachers and the other students, it's impossible for other students to learn."
She said the officer went too far in his reaction, but he shouldn't have been fired. Instead, she argued, the "root causes" of such behavior need to be addressed.
"The disrespect of teachers, this Black Lives Matter movement, this perpetual chip on your shoulder against anybody who is not like yourself. It's got to stop. We've got to address the culture," Box added.
Quanell X disagreed, saying the officer was "justified in being terminated," but he should also be indicted for assault.
After agreeing that no student should be "disrupted in the learning environment," Quanell X angrily scolded Box for wanting to address "the culture," which he interpreted as the black culture.
"Let's deal with the culture of these crazy, phonetic white boys, who go in schools with guns and school and kill everybody!" he said.
"You think I'm going to agree with that?" Box responded.
"Let me finish!" he remarked. "Columbine, killing the kids at the elementary school, the shootings in other cities across America have all been crazy little white boys shooting up innocent people — so let's study that culture!"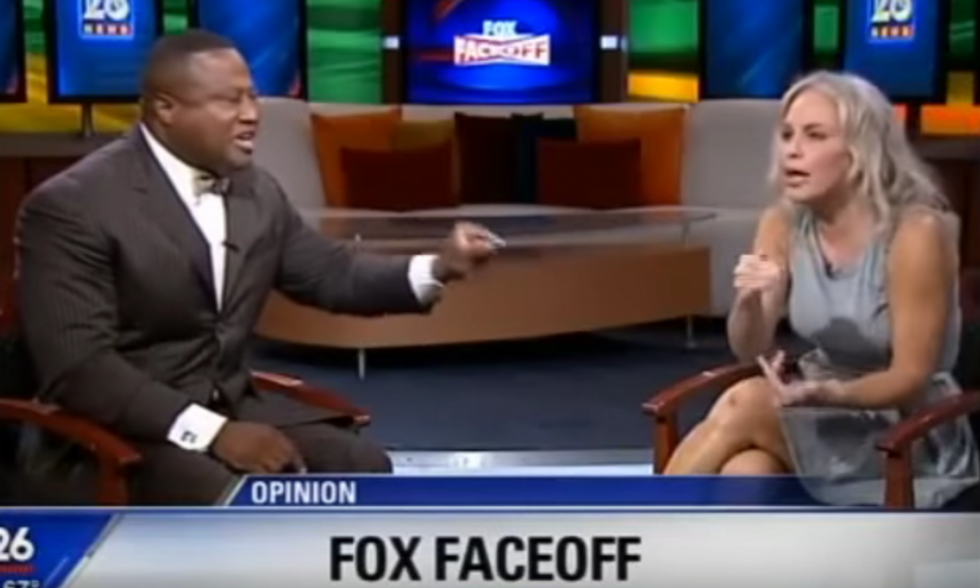 KRIV-TV
Unmoved by Box's claim that Democrats have "destroyed the black family" and "self-worth" in the black community, Quanell X launched on another fiery rant on "white boys."
"Don't tell me a damn thing about the black culture and kids in school when it's white boys that go in school and murder all kinds of innocent people!" he shouted. "We need to study these phonetic white boys!"
When Box pointed out that she has taught in inner city schools, the activist accused her of being a "wolf in sheep's clothing."
"How dare you say that to me," a stunned Box shot back.
"It's the truth when it comes to you!" Quanell X replied.
(H/T: Raw Story)
---