Glenn Beck questioned on his radio show Tuesday if GOP presidential hopeful Ben Carson could be the Republican Party's Jimmy Carter, drawing comparisons between the two men and between the political climate of the mid-1970s and today.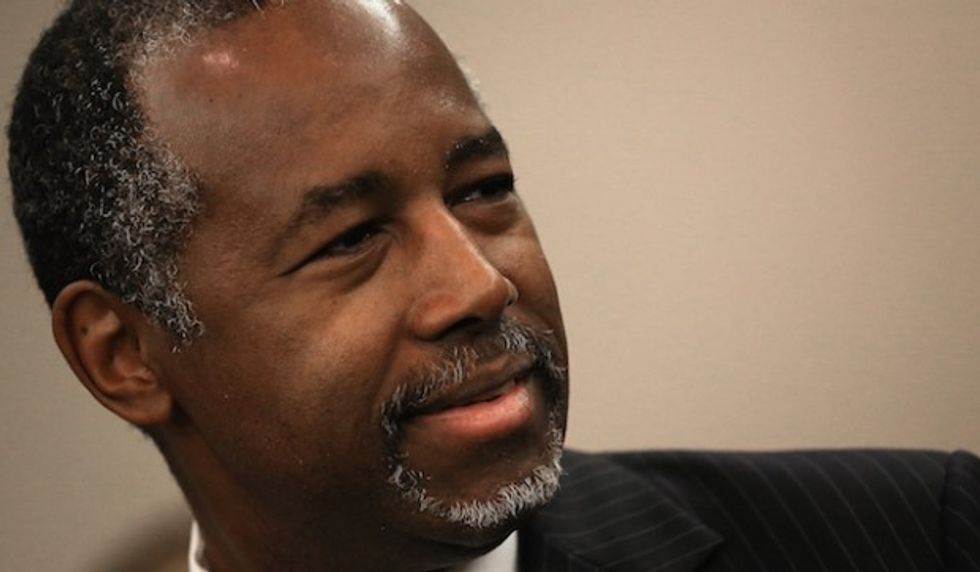 Republican presidential candidate Dr. Ben Carson (Win McNamee/Getty Images)
"I really like Ben Carson," Beck said. "I see why people are attracted to him. But is it possible that we're making the same mistake that the Democrats made with Jimmy Carter?"
Beck recounted Carter's 1976 presidential campaign, citing Americans' frustrations with the way Washington was operating and their anger over former President Richard Nixon's Watergate scandal.
"They were so disgusted with the way things were running that the country went the other way."
Beck co-host Pat Gray said that he remembered his dad, a "hardcore Republican," voting for Carter because he was so frustrated with the status quo.
"They ran to a guy — and the deal with Jimmy Carter was — pretty much nobody even looked at his policies," Beck said. "He was a humble guy. He was a preacher. He carried his own luggage to the plane."
Beck said Carter had all the "earmarks" of a good guy, and people just trusted that he had the country's best interests in mind.
The radio personality compared Carter's character to Carson's, wondering if the GOP is "looking past too many things" because the neurosurgeon is a "really nice guy."
However, Beck was quick to praise Carson, complimenting him on his honesty and adding that he would "love" for Carson to be the nominee "if he was rock solid" on the issues.
"There's a million reasons I would like this guy to be president of the United States," Beck continued. "But I'm concerned that he doesn't have the facts down strongly enough."
Complimentary Clip From TheBlaze TV 
[mlbvideo content_id="527869583"]
The full episode of The Glenn Beck Program, along with many other live-streaming shows and thousands of hours of on-demand content, is available on just about any digital device. Click here to watch every Glenn Beck episode from the past 30 days and receive a Roku Streaming Stick FREE with your subscription!