A high school security officer is being accused of using excessive force when he broke up a rough brawl between high school students after cellphone video of the incident emerged.
According to WUSA-TV, students involved in the fight have accused the security guard at Suitland High School in Maryland for assaulting them after they saw the video, which is extremely shaky and blurry. While the guard was wearing a uniform, he is not a police officer as Prince George's County Public Schools employs their own security officers who do not carry guns.
"He's literally grabbing her by her hair, shaking her like a rag doll on the floor, and then he proceeds to escort her down the school hall by her hair," Mel Robinson told WUSA of how the officer treated her niece.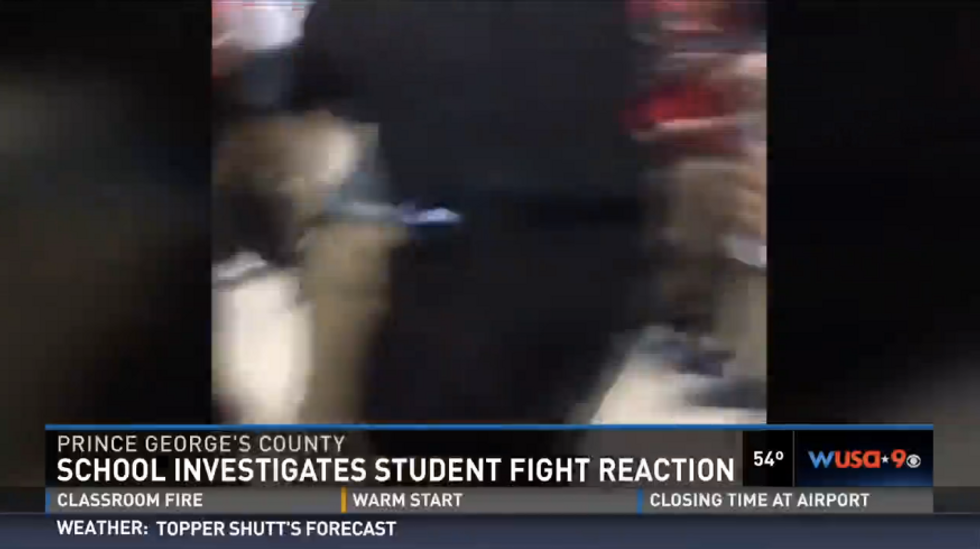 Image source: WUSA-TV
Robinson's niece, who is a sophomore at the school and reportedly started the fight, was suspended for five days for fighting another student. Robinson told WUSA that she and her niece's father are fine with the punishment, but they are not happy with how the security guard broke up the fight.
Robinson contended that her niece did attempt to go around the officer to continue to hit the other student, but she said the officer overreacted in his treatment of her.
"With him being the size that he is, he could have just grabbed her by her arm," Robinson said. "With the footage that I have, he's the only guard that I saw. Someone else should have been with him to help him control that situation."
"What he did was just purely unacceptable," Robinson, who said her eyes filled with tears when she first saw the video, told WUSA. "I'm, like, who would do somebody's child like this?"
Despite Robinson's protestations, WUSA reported that Suitland High School officials maintain that the officer did what he had to do to control those involved in the brawl.
"The school's security officer quickly responded and intervened to prevent students from physical harm," Keesha Bullock, a spokeswoman for Prince George's County Public Schools, told WUSA. "The cellphone video that was taken by a student witness and shared with the media does not include enough information to make a determination if excessive force was used. Therefore, an additional investigation into the incident is currently underway."
Apart from Robinson's reaction to the video, other parents and high schoolers were mixed on whether or not the officer used excessive force. According to WUSA, a group of male high school students thought the officer acted in an appropriate manner.
"They're supposed to break it up, just like that, and when there's females, females tend to pull hair and that's even harder to break up," one high schooler said.