A Syrian rebel group locked members of President Bashar Assad's Alawite Shiite sect into cages, which were then paraded around town as human shields to block Syrian government and Russian airstrikes in the area of eastern Ghouta, according to a Middle East human rights watch organization.
The Syrian Observatory for Human Rights — a monitoring group — told Agence France-Presse that Jaish al-Islam, or "Army of Islam," also caged up Syrian government soldiers as human shields.
In video posted online by Shaam News Network, the cages were driven through town atop flatbed trucks, passing the ruins of buildings bombed to rubble.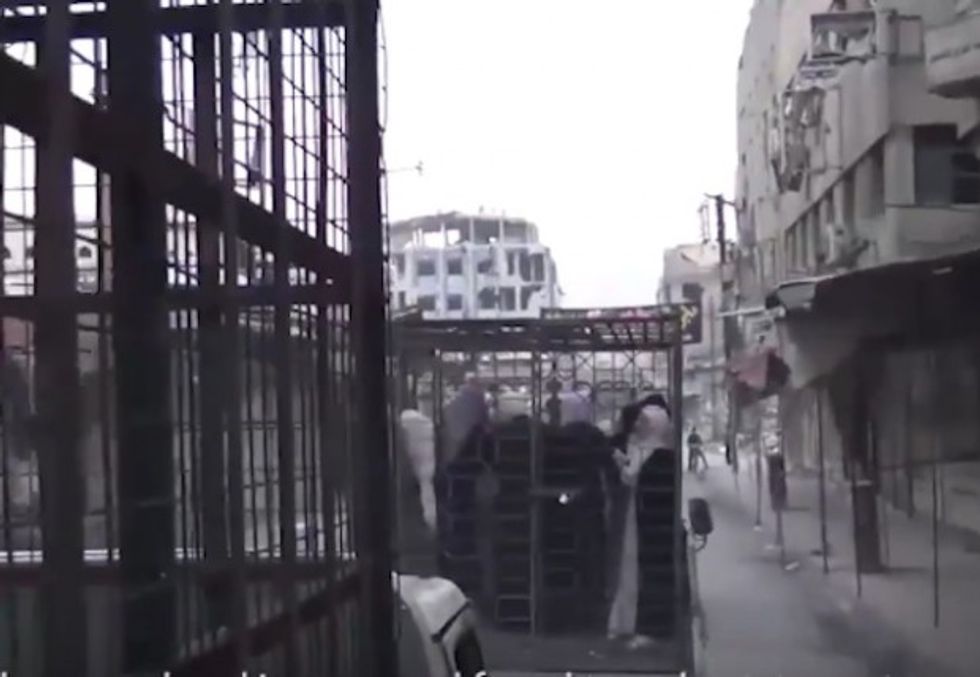 The cages being driven past bombed out buildings. (Image source: YouTube)
"Jaish al-Islam is using these captives and kidnapped people — including whole families — as human shields," Observatory head Rami Abdel Rahman told AFP.
AFP reported that 70 were killed Friday following government bombardment of the area.
The caged men and women were apparently forced to record pleas for an end to the bombing.
The French news agency quoted one teenage boy watching the convoy pass, who said, "Your women are our women. If you want to kill my mother, you will kill them too."