In a turn of events such that the shark involved even seemed to sport surprised face, photographer Slater Moore captured the moment several thresher sharks were attacked and eaten by sea lions.
The pictures posted on Facebook last week by the photographer might seem out of the ordinary — sea lions are more frequently pictured as the prey of sharks, not the predators — but some scientists say it's not too unusual.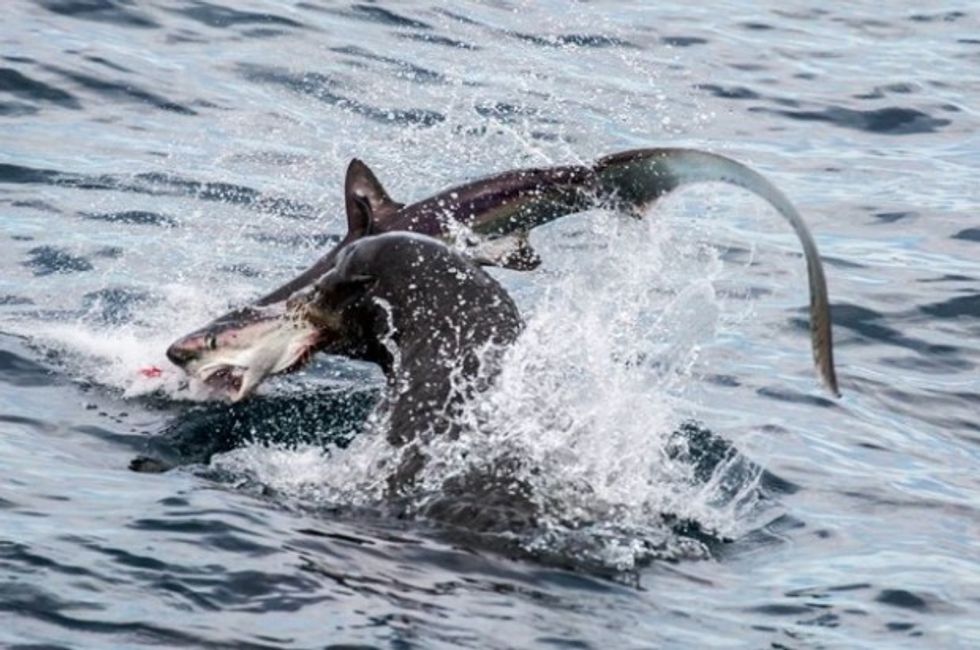 Photo credit: Slater Moore Photography
While the National Oceanic and Atmospheric Administration says California sea lions' diets are largely composed of "anchovies, sardine, whiting, mackerel, rockfish and market squid," the images captured by Moore show a sea lion going after something larger.
"I've never seen anything like it," Moore, who was on the "Western Pride" chartered by Davey's Locker Sportfishing & Whale Watching at the time, told GrindTV. "We pulled up to a huge bird school with a sea lion finishing off the tail end of a thresher, and he drug it under and the we spun the boat around and all the birds were flying over to another sea lion with a brand new thresher, still alive."
Moore told TheBlaze he had seen such an event before but "never to this extreme."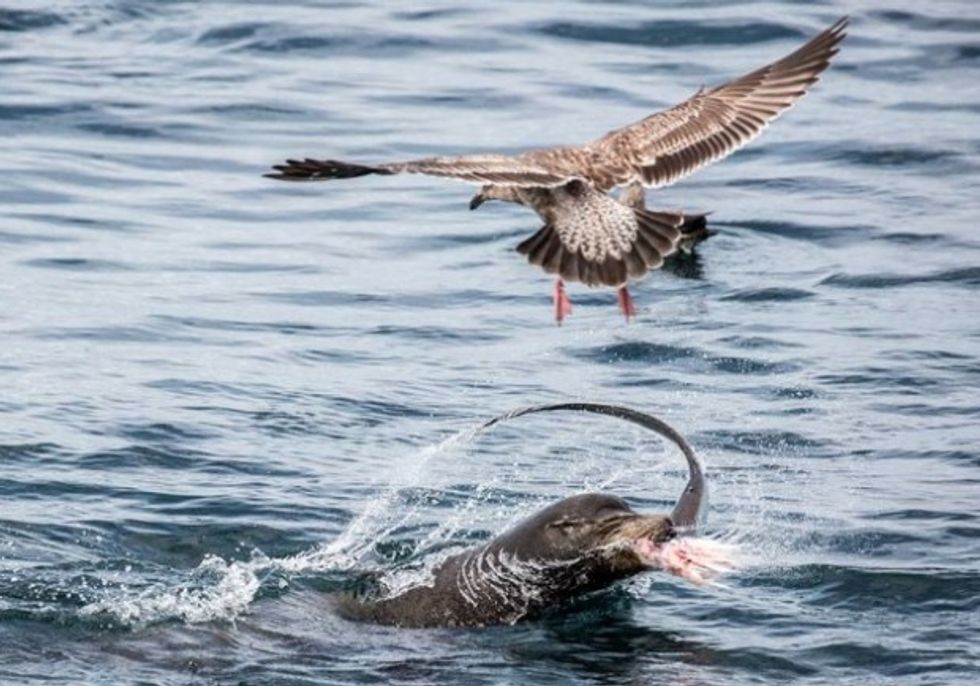 Photo credit: Slater Moore Photography
"We pulled up to a sea lion throwing around what was left of the tail of a thresher shark and then he dropped it and the captain had noticed another sea lion grabbed another thresher shark just 100 yards away and we watched that one take down a fresh thresher shark and as we left that one ANOTHER ONE popped up with a thresher in its mouth!" Moore, who photographs marine life for the company and customer's on board, wrote in a message to TheBlaze. "And when we left the scene completely a friend on another boat said when he got to the area, he got to see another brand new thresher shark killed. We watched three seperate kills in all about 5 minutes!"
"People were enthralled. They have never seen anything like it," he added.
Chris Lowe, the director of the Shark Lab at California State University, Long Beach, told the Huffington Post that "marine mammals eating sharks [... is] actually kind of common."
These thresher sharks specifically, Lowe added "don't really know how to avoid predators yet."
SEA-Lion vs Thresher Shark! Rare Footage! Fresh Kills!Super Rare Footage of Three Sea-lions Taking Down Three Different Thresher Sharks!!!! 1 mile from Newport harbor !!!!www.newportwhales.com *Davey's Locker Sportfishing & Whale WatchingVideo: Slater Moore Photography

Posted by Slater Moore Photography on Wednesday, October 28, 2015
Male California sea lions can reach up to 8 feet long and weigh up to 1,000 pounds, while females are smaller at about 5 feet long and 220 pounds.
(H/T: Daily Mail)
—
Front page image via Shutterstock. This story has been updated to include more information.