Sen. Ted Cruz (R-Texas) sternly scolded Sen. Harry Reid (D-Nev.) on the Senate floor Wednesday after the Democrat objected to his motion for unanimous consent on "Kate's Law," which would implement mandatory minimum sentences for illegal immigrant felons.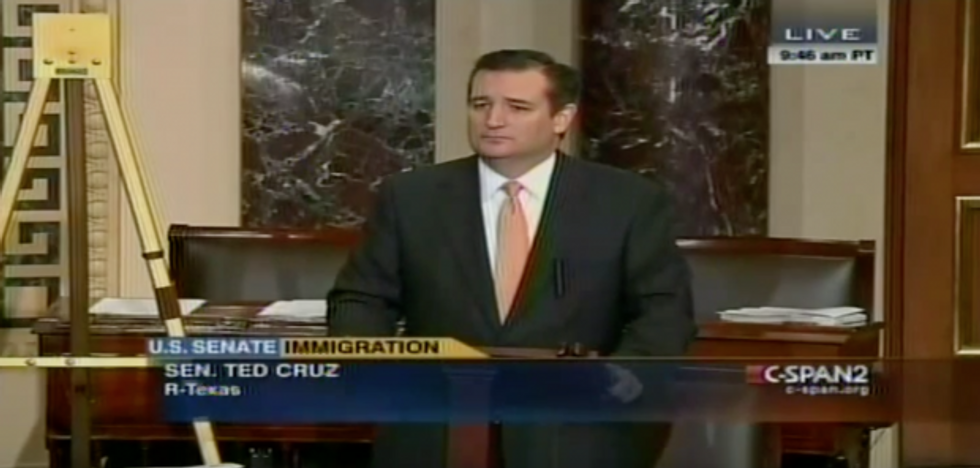 CSPAN
Reid argued that the mandatory minimum sentencing of criminal illegal aliens would have dire monetary consequences due to the increase in people incarcerated in America's jails.
In response, Cruz delivered an excoriating attack on Democrats.
"I'm sorry that the Democratic party doesn't want to spend the money to lock up murderers, and instead, apparently, it's cheaper to lose our sons and daughters. I think we have the resources to lock up murderers."
Cruz also accused Reid of suggesting illegal immigrant criminals and all other immigrants shoudl be "lumped into the same bucket."
"When the Democratic leader suggests that incarcerating aggravated felons, murderers and rapists who illegally re-enter this country is somehow a slight to immigrants — well…I am the son of an immigrant who came legally from Cuba," Cruz said. "There is no one in this chamber who will stand and fight harder for legal immigrants than I will."
Cruz called for unanimous consent on Kate's Law after reintroducing the bill in the Senate following the Democrats recent blockage of the legislation. The law is named after Kate Steinle, who was gunned down by an illegal immigrant felon who avoided federal law enforcement due to San Francisco's "sanctuary city" status.
The law only targets "aggravated" illegal immigrant felons, not all immigrants as some Democrats have suggested, Cruz said.
"Every Democrat that stands up and block's Kate's Law needs to be prepared to explain why standing with violent criminal illegal aliens is more important than protecting American citizens," the GOP presidential candidate said on the Senate floor Wednesday.
---