Republican presidential contender Ben Carson turned to Facebook Wednesday night to address concerns from those who complain he doesn't have enough political experience to be commander-in-chief.
In a lengthy note, the retired neurosurgeon explained that he's had several people ask him "what they should tell their friends when people say, 'I like Carson but he has no political experience.'"
"You are absolutely right — I have no political experience," he bluntly acknowledged. "The current Members of Congress have a combined 8,700 years of political experience. Are we sure political experience is what we need?"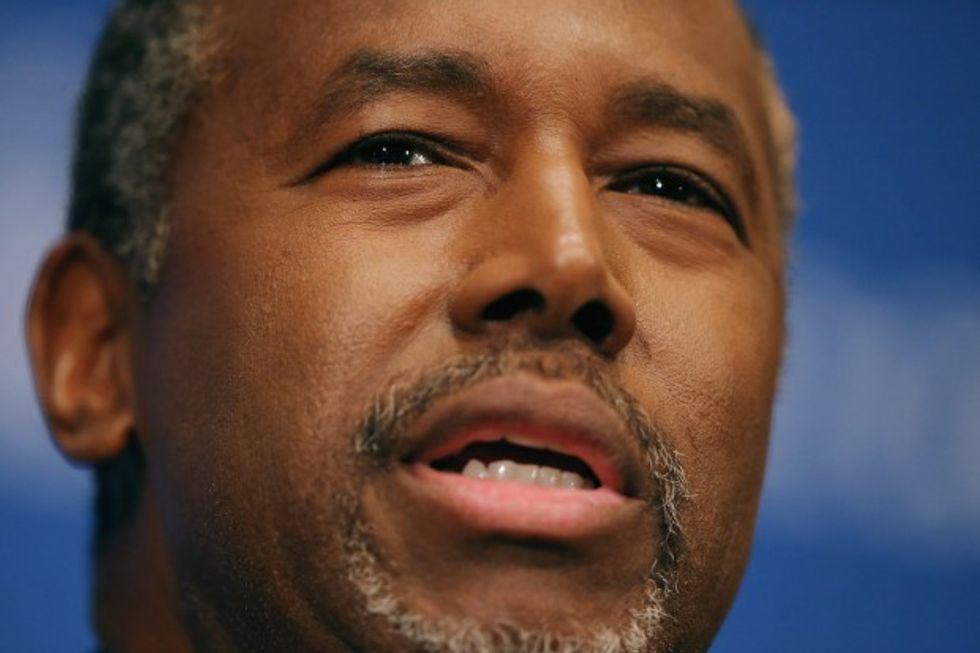 Chip Somodevilla/Getty Images
Carson wrote that "every signer of the Declaration of Independence had no elected office experience" and argued that "today the political class stands in our way."
"They demand pensions and perks," Carson wrote. "This is not what our Founders envisioned for America. I spent my life treating very ill children. Over 15,000 times I gave my all to prolong their lives. I was blessed to do it. But when it came time for me to retire, I simply could not sit back any longer. These children became my family. What our government is doing to them is outrageous."
The Republican, in a dead heat with Donald Trump for the GOP nomination, explained that his life experience makes him a unique candidate.
[sharequote align="center"]"I grew up poor. I know what it is like to be homeless and hungry. I know the pain of poverty."[/sharequote]
"My experience is very different than what we have come to expect. I grew up poor. I know what it is like to be homeless and hungry. I know the pain of poverty. I also know that education and a mother's love can be the path out of dire poverty," he wrote. "I know what it is like to see water fountains you are not allowed to drink out of because of your skin color."
"I also know that once you peal back the skin, the brain is the same no matter what your skin color or continent you live on," Carson continued. "I know that victimhood is a trap. I know that it is our Christian responsibility to offer those less fortunate a hand up. I know my faith is strong and my ego is small."
Carson ended his note, drawing a clear distinction from those in Washington.
"I didn't go to embassy cocktail parties or beg lobbyists for money. I spent night after night in a quiet, sterile room trying to save the life of a small child. That was my life's service. This is my life's experience," he wrote. "What I have is a lifetime of caring, integrity and honesty. I have experienced the American Dream. No where in the world, other than America, could a man whose ancestors were slaves, rise to become a leading brain surgeon and one day seek the Office of President."
"The very fact that I am running is testament to the greatness of America. If all you want is political experience then I cannot be your candidate."
—
Follow the author of this story on Twitter and Facebook: