When a 41-year-old Colombian man was seen by doctors in 2013 with fatigue, fever and weight loss, among other symptoms, they knew he had already been diagnosed with HIV in years prior and was not taking medication for it.
When doctors examined stool samples they found evidence of a parasitic infection, including tapeworm eggs. A CT scan of his lungs to check for a source of labored breathing revealed tumors.
Little did doctors know at the time that these parasites and the tumors would be related.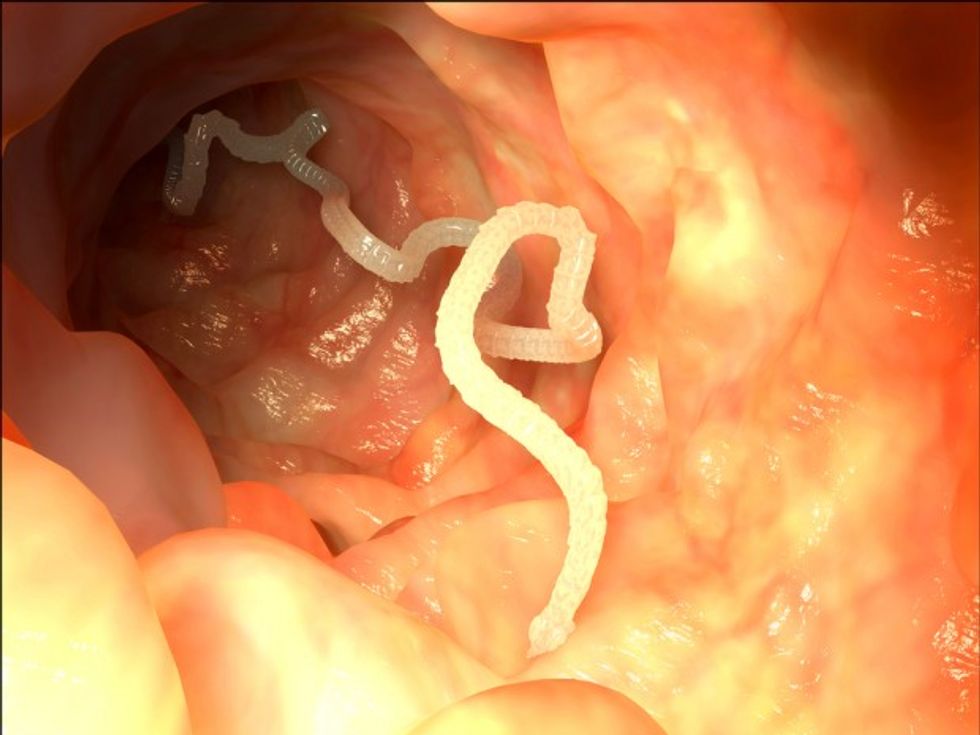 A tapeworm is pictured in a human intestine. (Photo credit: Shutterstock)
According to a case study published this week in the New England Journal of Medicine, the cells in the tumors were not human cancer cells, but tapeworm cancer cells, researchers from the U.S. Centers for Disease Control and Prevention and the Natural History Museum in London determined.
"We were amazed when we found this new type of disease – tapeworms growing inside a person essentially getting cancer that spreads to the person, causing tumors," Dr. Atis Muehlenbachs, staff pathologist in CDC's Infectious Diseases Pathology Branch and lead author of the study, said in a statement. "We think this type of event is rare. However, this tapeworm is found worldwide and millions of people globally suffer from conditions like HIV that weaken their immune system. So there may be more cases that are unrecognized."
Live Science reported that this is the first published report of someone "becoming sick from cancer cells that developed in a parasite."
"We knew invertebrates can grow tumors, but the fact that one can invade and disseminate in a human and make them sick just really, really defied belief," Muehlenbachs said, according to NPR.
According to the CDC, treatment of a patient in a similar case (the patient in this case study, unfortunately, died within 72 hours) moves into unknown territory:
[D]rugs to treat tapeworm infections may not be effective against tapeworm cancer cells in people. It is not clear whether human cancer treatments would help, although researchers think they might be beneficial.
Dr. Peter Olson with the Natural History Museum said the case "raises fundamental questions about the conditions under which cells may become cancerous, whether they're human cells or even those of a parasitic worm."
In a related story emerging this week, a California college student has been recovering from emergency surgery after what started out as horrible headaches ended up being a tapeworm in his brain.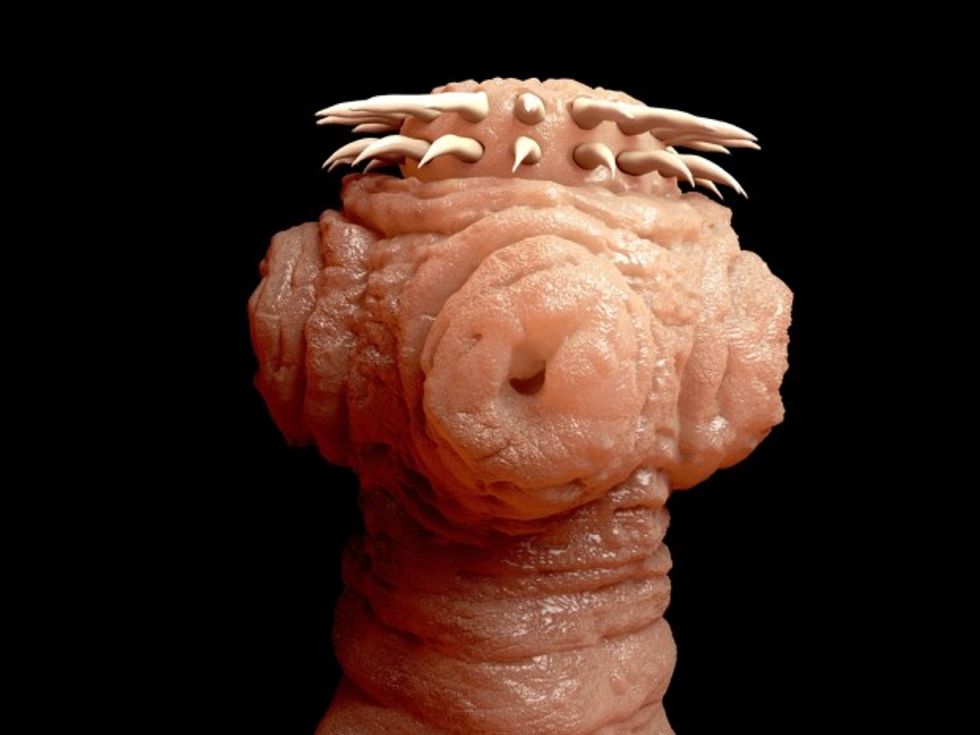 The head of a tapeworm. (Photo credit: Shutterstock)
Luis Ortiz, 26, of Napa said doctors told him he needed immediate surgery to remove it.
"I was shocked," Ortiz said. "I just couldn't believe something like that would happen to me. I didn't know there was a parasite in my head trying to ruin my life."
The surgery and the aftermath have greatly impacted his life, Ortiz said. He had to drop out of school, move back home and find a temporary place for his dog. He can't drive or work.
"My memory is like a work in progress," he said. "It gets better from therapy," but he has to remind himself to do his memory exercises and other daily tasks.
Ortiz's neurosurgeon, Dr. Soren Singel, said Ortiz was lucky he arrived at the hospital when he did.
The worm was forming in a cyst that was blocking the flow of water to chambers in his brain, "like a cork in a bottle," Singel told the Napa Valley Register.
Another 30 minutes of that blockage, and "he would have been dead," Singel said. "It was a close call."
Ortiz said his headaches began in late August and he didn't think much of it at first.
"I just ignored it," said Ortiz, who was attending California State University, Sacramento.
During the first days of September, Ortiz had been skateboarding on a warm day when the pain increased. When he arrived at his mother's house, he appeared disoriented and began to vomit. She rushed him to the hospital.
Singel said such parasitic worms in a body aren't too uncommon. The problem occasionally occurs if people eat pork infected with worms, he said.
But that could cause an intestinal parasite, not the brain cyst that Ortiz had.
Tapeworm eggs likely made it into Ortiz's intestine from something else he ate and eventually the single larva made it into his brain, Singel said.
The U.S. Centers for Disease Control and Prevention said infection from pork tapeworms is a problem worldwide and is spread most easily in developing communities where pigs have access to human waste and where hygiene and sanitation are poor.
Tapeworm larvae can cause cysts in the body and are common enough that the World Health Organization calls the problem the most frequent preventable cause of epilepsy worldwide.
People can help prevent contamination by proper washing of hands, washing and peeling raw fruits and vegetables before eating, and being careful about drinking only safe water while traveling.
—
The Associated Press contributed to this report.