President Barack Obama criticized schools in the United States that have offensive mascots, saying there is no excuse not to change the mascot, and took a swipe at the Washington Redskins.
Obama also praised the sportswear company Adidas for its new policy to help schools change their mascots.
"I don't know if Adidas made the same offer to a certain NFL team hear in Washington, but they might want to think about that as well," Obama said Thursday.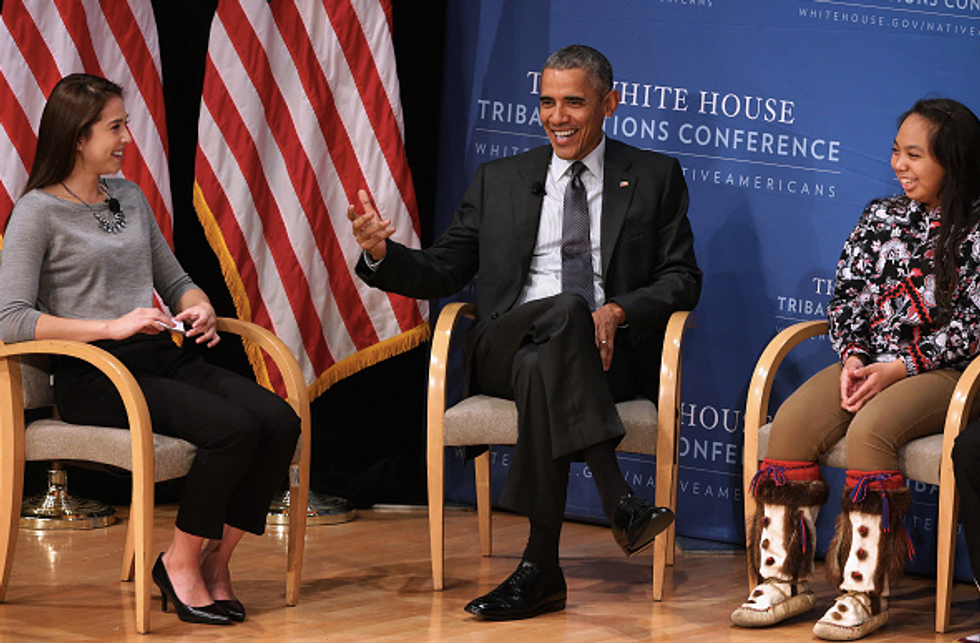 President Barack Obama (C) participates in a group conversation with Jude Schimmel (L) of the Confederated Tribes of the Umatilla Indian Reservation in Oregon, Tatiana Ticknor (R) of the Yup'ik/Tlingit/Dena'ina of Alaska and other young Native people during the 7th White House Tribal Nations Conference at the Ronald Reagan Building November 5, 2015 in Washington, DC. Obama took questions about higher education opportunities for native youth, the need to change offensive school and sports team mascots and other topics. (Chip Somodevilla/Getty Images)
The president made the remarks while he participated in a Native American youth discussion at the annual White House Tribal Nations Conference.
"My expectation would be anybody in authority in a school is being very clear as to what's acceptable and what's not in terms of how they're interacting with each other, how they are respecting each other, how they are respecting different cultures," Obama said. "If a school is not doing that, it's failing."
"One specific element that we've talked about, but I want to give some credit right now is the issue of schools and mascots because if you walk into a school the first day and you are already feeling that stereotypes are embedded in the culture, that kid is feeling set apart and different," the president continued.
The audience was comprised of leaders from the 566 federally recognized Indian tribes across the country were invited to attend – as well as youth delegates.
"So I want to give credit to Adidas," Obama said, referring to the company's new policy. "They've really come up with a smart, creative push, which is to say, if we can't get states to come up with laws to prohibit these mascots, how can we incentivize schools to think differently. So what Adidas has done is it has said to the 2,000 plus schools that have Native America, Alaska Native mascots, it said, we will work with you to redesign your entire sports brand."
"For Adidas to make that commitment is a very smart thing to do because those schools now really don't have an excuse when one of the top sports companies in the world, one of the top brands in the world is willing to come up with something that is really going to work and that the entire community can feel proud of," Obama said.