Black Lives Matter activist and New York Daily News columnist Shaun King had his Twitter account locked Wednesday night after he posted a CNN producer's personal contact information on the social media website.
CNN editorial producer Andrea Lewis had emailed King to ask him to appear on Don Lemon's show to talk about the latest developments about Fox Lake, Illinois, police officer Lt. Charles Gliniewicz who died in September and Hollywood director Quentin Tarantino's controversial comments about law enforcement.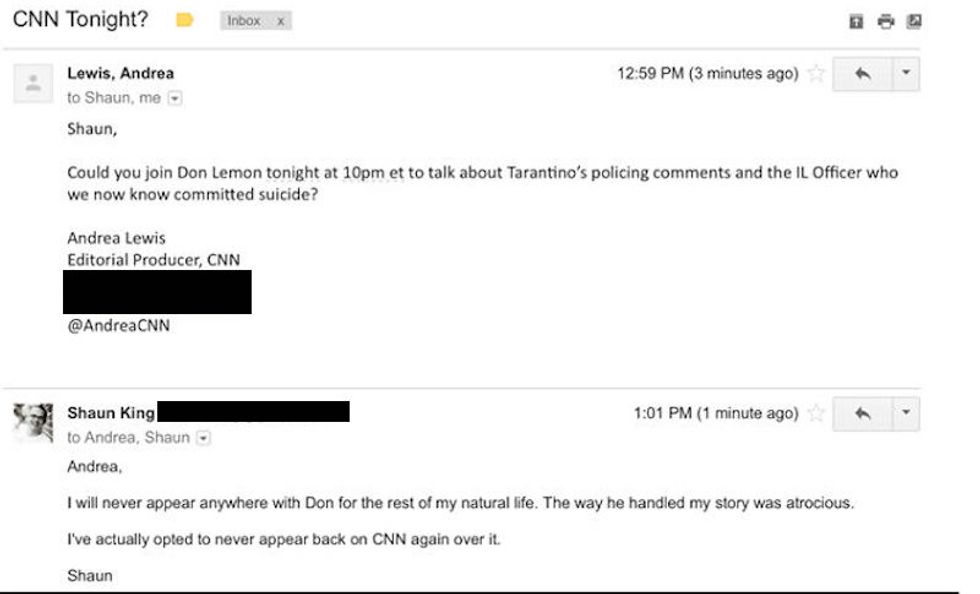 Image source: Jezebel
"Could you join Don Lemon tonight at 10pm et to talk about Tarantino's policing comments and IL Officer who we now know committed suicide?" Lewis asked King in an email.
Gliniewicz's death was initially thought to have been the result of homicide and some speculated that the Black Lives Matter movement was to blame for his death, but on Wednesday investigators revealed that the Illinois officer instead committed suicide.
King responded, "I will never appear anywhere with Don for the rest of my natural life. The way he handled my story was atrocious."
King even went so far as to say that he will "never appear back on CNN again over it."
The Black Lives Matter activist then posted a screenshot of the exchange on Twitter, resulting in the social media company locking his account, Jezebel reported.
"Oh wow. @CNN had Twitter lock my account over that Don Lemon tweet. Madness. Getting my haircut. Hold on..." King tweeted at around 4 p.m. Wednesday.
King later wrote that said the email said his account would stay locked if he did not delete the tweet in question. But King added that we would "say it again, but a bit differently."
He later appeared to have changed his mind, however.
"You know what. Screw it. Screw them. I'm not in a pissing contest with @cnn over this foolishness. I have work to do. You got my point?" King tweeted.
Others suggested to King that, had he just redacted the CNN producer's personal information, his account would have still been active.
@ShaunKing Yeah, it's because your screenshot had private contact info in it. I bet if you posted again with that blurred it would be OK.

— Justin Walton (@Justin Walton) 1446671914.0
@ShaunKing It is not foolishness, you doxed someone. That is inappropriate and they had every right to suspend your account. Last straw.

— Sheri Rubin (@Sheri Rubin) 1446671594.0
(H/T: Mediaite)
–
Follow Jon Street (@JonStreet) on Twitter